Above: Willy Lott's House at Flatford, East Bergholt, Suffolk, 2014
Flowers Gallery is pleased to present a new series of photographs by Simon Roberts, 'National Property: The Picturesque Imperfect'.
PRIVATE VIEW: TUESDAY 7 JULY 6 – 8PM
Building on his previous major bodies of work: We English (2009); The Election Project (2010) and Pierdom (2013); Roberts has turned his attention to heritage sites across England, exploring themes of identity, memory and nationhood through our everyday interactions with the landscape.
In 2014, Roberts travelled around the country to photograph popular scenic destinations, heritage sites and historic properties owned on behalf of the nation. Capturing the activities and interactions of visitors at each location, his photographs reflect on how the countryside has been modeled and managed for the purposes of leisure, and in turn, how our sense of belonging is determined by a connection to place.
The elevated perspective of his large-format tableaux sets the viewer at a critical distance from the scene. Taking his photographs from a high vantage point, often from the roof of his motorhome, Roberts attempts to map the patterns of contemporary life, which he describes as "governed by forces that are not possible to see from a position within the crowd". Presenting an alternative viewpoint to the pastoral idyll, Roberts highlights our shared and sometimes imperfect experience of the landscape, inviting wider questions about private ownership and public usage of land.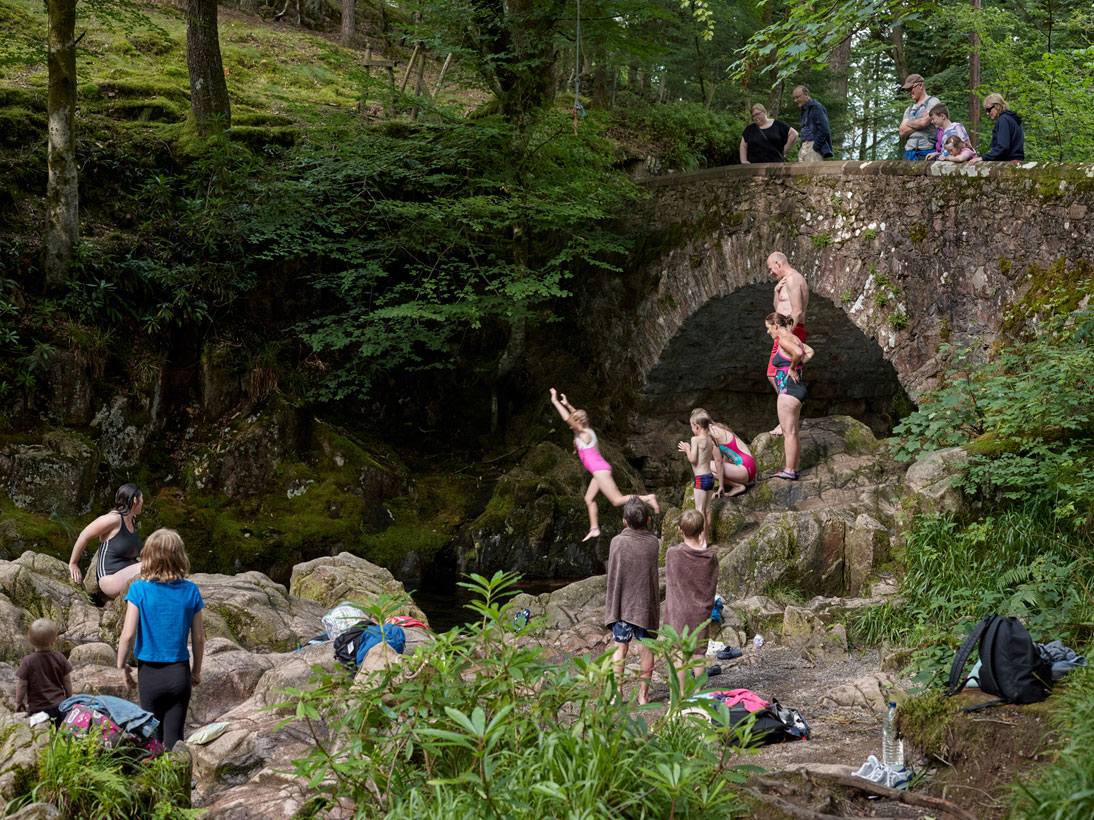 Image: River Esk at Trough House Bridge, Eskdale, Cumbria, 2014
"Roberts' work explores senses of belonging in landscapes. Since land invariably belongs to somebody, landscape is closely linked to notions of ownership, by individuals or institutions. Landscapes are also linked, beyond legal ownership, to larger worlds of nature and nation, beauty and history, as the term belonging extends to more shared senses of attachment, citizenship and entitlement." – Stephen Daniels. Excerpt from the upcoming publication: Landscapes of the National Trust (Pavilion Books, October 2015).
More details here.
The printing of National Property is sponsored by Spectrum Photographic.

My second solo exhibition at Flowers Gallery in London will be Pierdom, opening on 10th September. An associated book, published by Dewi Lewis Publishing, will be launched on the same night.
For more details, visit http://www.flowersgallery.com/exhibitions/flowers/2013/simon-roberts-pierdom
British photographer Simon Roberts has spent the past three years creating Pierdom, a comprehensive survey of Britain's piers. Predominantly constructed during the 19th Century in the context of expanding Victorian seaside resorts and railways, these structures were often erected as landing docks for pleasure steamers and other sea craft. Growing to accommodate the needs of day-trippers escaping the smog of the city, engineers began to incorporate bandstands, cafes and music halls into their designs, embracing the growing notion of 'pleasure seeking' by the seaside.
Pierdom addresses the historical significance of these architectural structures placed in comparison with their modern interpretation and functionality. Roberts' photographs of ruinous piers such as Birnbeck Pier (2012) are in contrast with those such as Ryde Pier (2012) in which the local community and everyday usage of the landscape is represented by a skate boarding park which dominates the composition. It is this socio-cultural element of the landscape that has sustained Roberts' interest, revealing a deep fascination with the way humans interact with their environment, and in eccentric British pastimes.
At the turn of the century the British coastline boasted over 100 piers, some modest and functional, others elegant, exotic Victorian structures thrusting out into the sea. Now under half remain, the others destroyed by fierce weather and fires, with many dismantled during the 2nd World War to prevent German landings. Britain's piers have become cultural landmarks, tracing history, national identity and economic fortunes from Victorian industrialism to the post-war boom, and finally now to the recent economic downturn.
Roberts' large format photographs are taken with great technical precision, often from elevated positions encorporating peripheral details and the elements, thus enriching the viewing experience of each print. Through formal devices associated with the picturesque; perspective, asymmetry and juxtaposition, the photographs engage us with contemporary issues about our uneasy and fragile relationship to both nature, and our urban environments.The series is at once factual yet warm, a broad architectural and anthropological study of our coastline as a microcosm of British society.