Images: Simon Roberts
Where are you from? Cuba Photography Missions is a group exhibition being shown at Cultuurecentrum Mechelen, Belgium, before touring to Havana in 2023. It will feature new work I've made looking at the role of religion in Cuban society.
In 2019, Cuba celebrated the 60th anniversary of the Revolution. In 1959, Fidel Castro and Ché Guevarra ousted the dictator Fulgencio Batista and the country began working towards a utopian future. However, caught between the hammer and the anvil of Soviet communism and an American embargo, the country entered a period of sustained economic hardship whilst remaining fundamentally committed to the socialist values of the Revolution.
Against this background, an extensive photography project was set up with four Cuban and four European artists. Taking the current social and economic reality of the island as their starting point, each developed a photographic project that together provide a nuanced picture of this complex country. The eight works juxtapose the photographic interpretations of the local artists with those of the Europeans, who produced their work during several intensive working trips. The project starts from the idea of 'heritage', in the broadest sense of the word, and explores Cuba's past, present and future.
Who we are and from which perspective we view each other determines the richness of this unique photography mission.
This VLIR-UOS project is the result of a collaboration between ISA, Universidad de las Artes in Havana and the Royal Academy of Fine Arts in Antwerp.
Participating photographers: Ossain Raggi Gonzalez, Bert Danckaert, Linet Sanchez, Charlotte Lybeer, Liudmila & Nelson, Ulla Deventer, Ricardo Elias and Simon Roberts.
Curator: Joachim Naudts.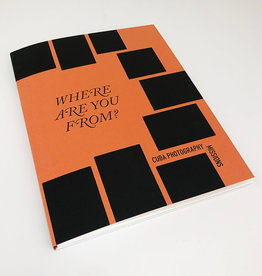 An exhibition catalogue is published alongside the exhibition, which includes an essay by a text by Alison Nordström. Available here: https://www.stockmansartbooks.be/nl/cuba-photography-missions-where-are-you-from.html
After its first showing at the Imperial War Museum in 2021, Generations: Portraits of Holocaust Survivors, now moves to RPS Gallery in Bristol. The exhibition brings together over 50 contemporary portraits of Holocaust survivors and their families, shining a light on the full lives they have lived and our collective responsibility to cherish their stories. It will include my series of video portraits.
In partnership with the Imperial War Museum, Jewish News, and the Holocaust Memorial Day Trust the exhibition showcases new works from 13 contemporary photographers, members and Fellows of RPS, alongside photography by RPS patron, Her Royal Highness The Duchess of Cambridge.
The majority of the photographs in Generations: Portraits of Holocaust Survivors were captured in Spring 2021, presenting a brand-new body of work from contemporary photographers including Frederic Aranda, Sian Bonnell, Jillian Edelstein, Arthur Edwards, Anna Fox, Joy Gregory, Jane Hilton, Tom Hunter, Karen Knorr, Carolyn Mendelsohn, Simon Roberts and Michele Sank.
More information here: https://rps.org/Generations
**** Daily Telegraph "a stirring testament to lives fully lived"
Evening Standard "a connection built from one generation to another in order to benefit us"
Daily Express "revealing how joy can come from even the darkest of beginnings"
UNESCO and the Royal Photographic Society of Great Britain present the exhibition "Generations: Portraits of Holocaust Survivors" in partnership with the Holocaust Memorial Day Trust, the Imperial War Museum, Jewish News, the Association of Jewish Refugees, the Permanent Delegation of the United Kingdom of Great Britain and Northern Ireland to UNESCO, the Permanent Delegation of the Principality of Monaco to UNESCO and the World Jewish Congress.
It showcases over 50 contemporary photos of Holocaust survivors and their families, shining a light on the full lives they have lived and the collective responsibility to cherish their stories.
Photographs from my video portrait series will be installed in the Hall Ségur of the Unesco Headquarters, alongside other photgraphs diplayed on the exterior fences of the building. Exhibition runs 20 January – 4 February 2022.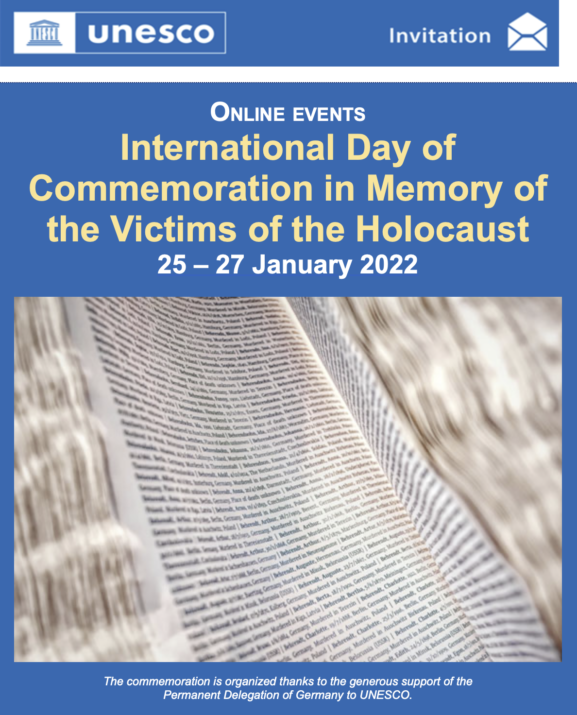 In addition, one of my video portraits will be broadcast during UNESCO's online ceremony 'Remembering the Holocaust' on 27 January 2022, Holocaust Memorial Day, at 6pm (Paris time GMT+1). The livestream will be broadcast on their YouTube channel here.
Songs of the Sky: Photography & the Cloud is a group exhibition at c/o Berlin in Germany and features a collection of The Celestials cyanotype works.
ABOUT:
Humans have always looked to the sky in order to predict the future. No other motif has driven science and art over the past century like that of clouds. Today we look into the cloud – the central metaphor of the digital age. As global corporations use the nebulous concept of the cloud to conceal the material body of our contemporary computer and internet technology, artists look to cloud motifs to reveal the databased ways in which our lives are organized and stored. Whereas photographs of the heavens allowed photographers to display their technical prowess in the nineteenth century, today they are proof of our machine's digital intelligence.
In the international group show Songs of the Sky, C/O Berlin places contemporary artworks into dialogue with selected materials from the history of photography, in order to explore the metaphor of the cloud as a motif in photography as parallels the technical cloud, investigating decentralized network structures that have determined our everyday lives for some time now.
The exhibition will be shown at Les Rencontres d'Arles in 2022.
The show is curated by Kathrin Schönegg and includes works by Marie Clerel, Raphael Dallaporta, Noemie Goudal, Harun Farocki, Noa Jansma, Stefan Karrer, Evan Roth, Adrian Sauer, Shinseungback Kimyonghun, Lisa Oppenheim and others.
This year's RA Summer Exhibition includes one of my Celestial cyanotype prints.
Held every year without fail, the Summer Exhibition is a celebration of contemporary art and architecture. Anyone can enter their work – leading artists, household names, new and emerging talent – and it provides a platform for the artistic community to showcase what they're doing. This year's exhibition includes over 1,300 works selected by coordinator Yinka Shonibare and a panel of artists, under the theme of 'Reclaiming Magic'.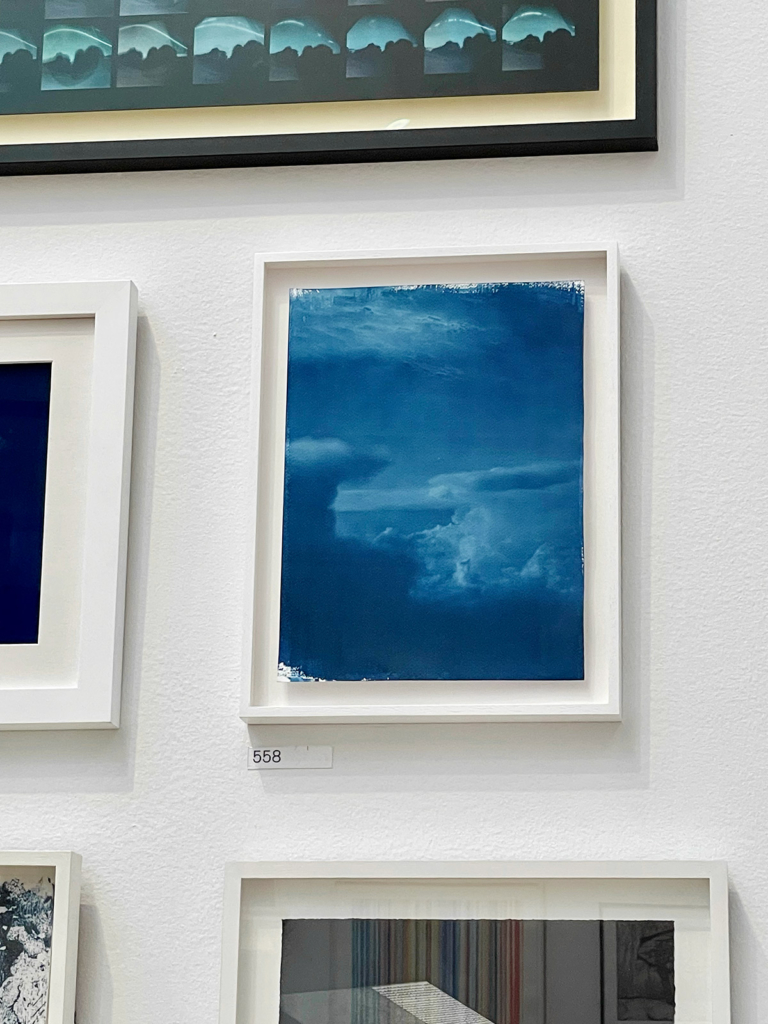 Image: Ivor Wieder with his grandchildren Nadav, Daniella and Adiel, London, May 2021 (04:03 mins)
In partnership with the Royal Photographic Society (RPS), Jewish News, the Holocaust Memorial Day Trust and Dangoor Education, Generations: Portraits of Holocaust Survivors showcases new works from 13 contemporary photographers, all members and Fellows of the RPS, alongside photography by RPS patron, Her Royal Highness The Duchess of Cambridge.
My contribution to the exhibition is six video portraits of survivors, which are accompanied by the words of family members, each of whom describes the legacy their relative's experience of the Holocaust has had on their own lives and upbringing. These family members are revealed later in the video portrait, as is an object the survivor sees as particularly significant, such as a tattooed identification number, religious text or family photograph.
ABOUT:
Displayed for the very first time, these powerful photographs capture the special connections between Holocaust survivors and the younger generations of their families.
The systematic persecution of Europe's Jews by the Nazis between 1933 and 1945 led to the mass extermination of 6 million lives. For those who survived, its memory and impact were life changing.
Through a series of individual and family portraits, the moving photographs in this exhibition present a group of survivors who made the UK their home after beginnings marked by unimaginable loss and trauma. While offering a space to remember and share their stories, these portraits are a celebration of the rich lives they have lived and the special legacy which their children and grandchildren will carry into the future.
Photographers include Frederic Aranda, Sian Bonnell, Jillian Edelstein, Arthur Edwards, Anna Fox, Joy Gregory, Jane Hilton, Tom Hunter, Karen Knorr, Carolyn Mendelsohn, Simon Roberts, Michelle Sank and Hannah Starkey.
The exhibition will move to the Royal Photographic Society in Bristol from January 2022.
Image: Eve listening to the voice by Edward Hodges Bailey, 2020 (photograph on fabric)
I'm showing a new series of work, Waldeinsamkeit, as part of this group exhibition organised by Meadow Arts. All Alone is installed in the grounds of Croft Castle in Herefordshire and also includes works by the artists Adam Chodzko, David Bethell, Edie Jo Murray and ….kruse.
Waldeinsamkeit
Each inhabiting their own space in the deep woods above Fishpool valley, a series of shrouded statues are revealed, almost as apparitions. Elegant and melancholic, the statues seem absorbed in timeless contemplation, trapped in their own mineral universe. Evoking the tradition of using sculptures in landscape design, the marble figures represent mythological and allegorical subjects. The images, printed on weather resistant fabric, are photographs taken in 2020 during the second Covid-19 lockdown whilst the Victoria and Albert Museum was closed to the public. Although the statues were covered for their protection during refurbishment, Roberts uses them as a metaphor for our wider experience of the pandemic. Wrapped in a plastic membrane, their features and expressions are partially obscured, and they seem to push against their coverings. The tension caused by the juxtaposition between the Neo-classical forms and 21st Century plastic and gaffa tape renders them somehow more vulnerable. Tethered between trees, the static figures become almost life-like as they respond to gentle gusts of wind and the change of light during the day. Waldeinsamkeit is an untranslatable German term that evokes the enlightening, sublime feeling that can come from being alone in the woods. Roberts' images encourage visitors to experience just that.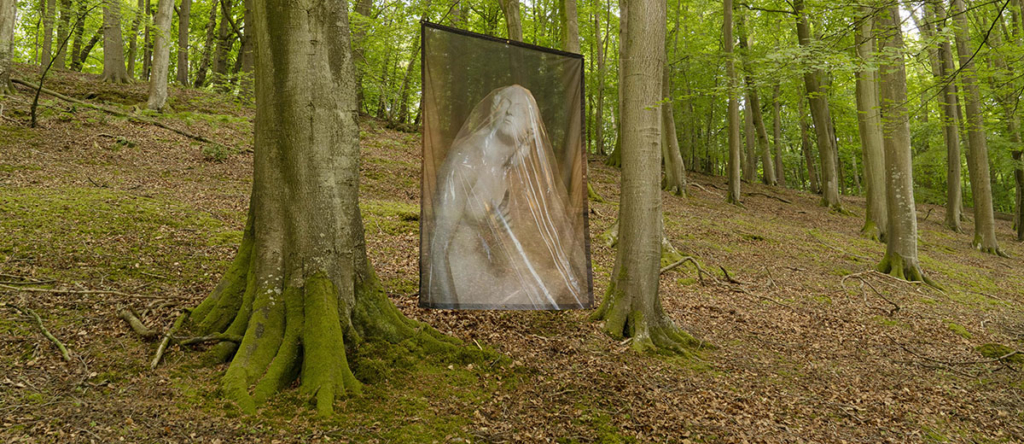 All Alone
Meadow Arts returns to Croft Castle to take up residence in the very special landscape of Fishpool Valley. All Alone unfolds on two levels, an outdoor exhibition with sculpture and installations, and an ambitious online component that holds the digital elements of some of the artworks in the valley, as well as artists' films.
Through the work of five artists, All Alone proposes a creative re-examination of the human condition of aloneness, a topic that has known many interpretations over the centuries, but has recently, through the Covid-19 crisis, been brought sharply to the forefront of our collective consciousness. Beyond the physical pressures of being isolated, lockdown is/was a communal experience, but each individual experience is unique, which is isolating in itself. The title, All Alone, reflects on the paradoxical commonality of aloneness.
Aloneness could be best defined by its two opposite poles; on one end of the spectrum is isolation, a state mostly enforced on an individual, and on the other solitude, which might be the result of choice and has a more positive aspect. Loneliness is a relatively recent concept, although almost nine million people in Britain today define themselves as 'lonely', according to the Campaign to End Loneliness.
The project aims to start conversations around aloneness; accompanying events include workshops, tours, artists' talks and projects with local communities and groups. There are opportunities to interact with the artworks, the artists and the wider community (see Events pages for details).
A series of my Celestial prints will be on show in this group exhibition at Heinzer Reszler in Lausanne, Switzerland.
Other artists include:
Mirko Baselgia
Mathieu Bernard-Reymond
Sophie Bouvier Ausländer
Kaspar Flück
Christian Gonzenbach
Andreas Hochuli
Mingjun Luo
Nathalie Perrin
Sebastian Stadler
&
Mengzhi  Zheng
After its exhibition at the Rouen Normandie Photographic Center in 2017 and then in 2018 at the Abbaye aux Dames in Caen, my Normandy exhibition moves to the Cotentin peninsula at the Château de Flamanville.
From Seine-Maritime to Manche, I traveled throughout the Normandy region in search of outdoor leisure activities surveying local festivals, parades, commemorations, sport events and garage sales. The exhibition on offer at Château de Flamanville commits the (re) discovery of this photographic ensemble in the light of the last months of confinement and the radical changes that have taken place in our social practices.
As a counterpoint to my contemporary landscapes, also presented in the exhibition are extracts from amateur films from the Normandy Images collections, produced between the years 1920 and 1960, old postcards as well as some reproductions from the Gain collection and the Victor Lefrançois Archives collection from the departments of Manche.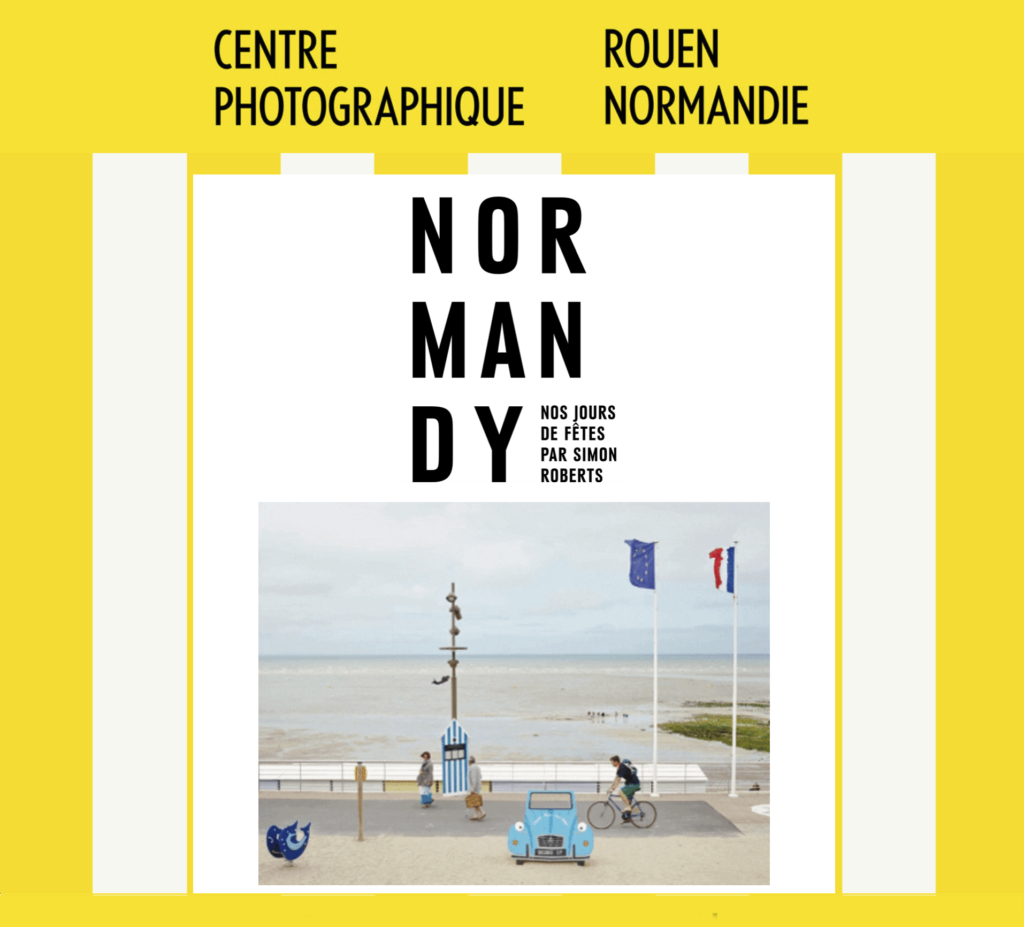 As part of Photo London's online talks programmed, I will be doing an In Conversation with curator Susanna Brown:
Wednesday, 16 June
6.30 pm BST | 7.30 pm CET | 1.30 pm ET
You can register here: https://photolondon.org/online-artist-talk-simon-robert-in-conversation-with-susanna-brown/
Susanna Brown is a curator and writer specialising in twentieth-century and contemporary photography. She is the author of numerous books and has curated exhibitions shown at twenty venues around the world. Her recent projects include 'Tim Walker: Wonderful Things', 'Horst: Photographer of Style', 'Selling Dreams: One Hundred Years of Fashion Photography', and 'Queen Elizabeth II by Cecil Beaton'. She lectures and teaches regularly and has been a juror for awards including the Hyères International Festival of Fashion and Photography and the Hasselblad Foundation International Award in Photography.