Image: Ivor Wieder with his grandchildren Nadav, Daniella and Adiel, London, May 2021 (04:03 mins)
In partnership with the Royal Photographic Society (RPS), Jewish News, the Holocaust Memorial Day Trust and Dangoor Education, Generations: Portraits of Holocaust Survivors showcases new works from 13 contemporary photographers, all members and Fellows of the RPS, alongside photography by RPS patron, Her Royal Highness The Duchess of Cambridge.
My contribution to the exhibition is six video portraits of survivors, which are accompanied by the words of family members, each of whom describes the legacy their relative's experience of the Holocaust has had on their own lives and upbringing. These family members are revealed later in the video portrait, as is an object the survivor sees as particularly significant, such as a tattooed identification number, religious text or family photograph.
ABOUT:
Displayed for the very first time, these powerful photographs capture the special connections between Holocaust survivors and the younger generations of their families.
The systematic persecution of Europe's Jews by the Nazis between 1933 and 1945 led to the mass extermination of 6 million lives. For those who survived, its memory and impact were life changing.
Through a series of individual and family portraits, the moving photographs in this exhibition present a group of survivors who made the UK their home after beginnings marked by unimaginable loss and trauma. While offering a space to remember and share their stories, these portraits are a celebration of the rich lives they have lived and the special legacy which their children and grandchildren will carry into the future.
Photographers include Frederic Aranda, Sian Bonnell, Jillian Edelstein, Arthur Edwards, Anna Fox, Joy Gregory, Jane Hilton, Tom Hunter, Karen Knorr, Carolyn Mendelsohn, Simon Roberts, Michelle Sank and Hannah Starkey.
The exhibition will move to the Royal Photographic Society in Bristol from January 2022.
Image: Eve listening to the voice by Edward Hodges Bailey, 2020 (photograph on fabric)
I'm showing a new series of work, Waldeinsamkeit, as part of this group exhibition organised by Meadow Arts. All Alone is installed in the grounds of Croft Castle in Herefordshire and also includes works by the artists Adam Chodzko, David Bethell, Edie Jo Murray and ….kruse.
Waldeinsamkeit
Each inhabiting their own space in the deep woods above Fishpool valley, a series of shrouded statues are revealed, almost as apparitions. Elegant and melancholic, the statues seem absorbed in timeless contemplation, trapped in their own mineral universe. Evoking the tradition of using sculptures in landscape design, the marble figures represent mythological and allegorical subjects. The images, printed on weather resistant fabric, are photographs taken in 2020 during the second Covid-19 lockdown whilst the Victoria and Albert Museum was closed to the public. Although the statues were covered for their protection during refurbishment, Roberts uses them as a metaphor for our wider experience of the pandemic. Wrapped in a plastic membrane, their features and expressions are partially obscured, and they seem to push against their coverings. The tension caused by the juxtaposition between the Neo-classical forms and 21st Century plastic and gaffa tape renders them somehow more vulnerable. Tethered between trees, the static figures become almost life-like as they respond to gentle gusts of wind and the change of light during the day. Waldeinsamkeit is an untranslatable German term that evokes the enlightening, sublime feeling that can come from being alone in the woods. Roberts' images encourage visitors to experience just that.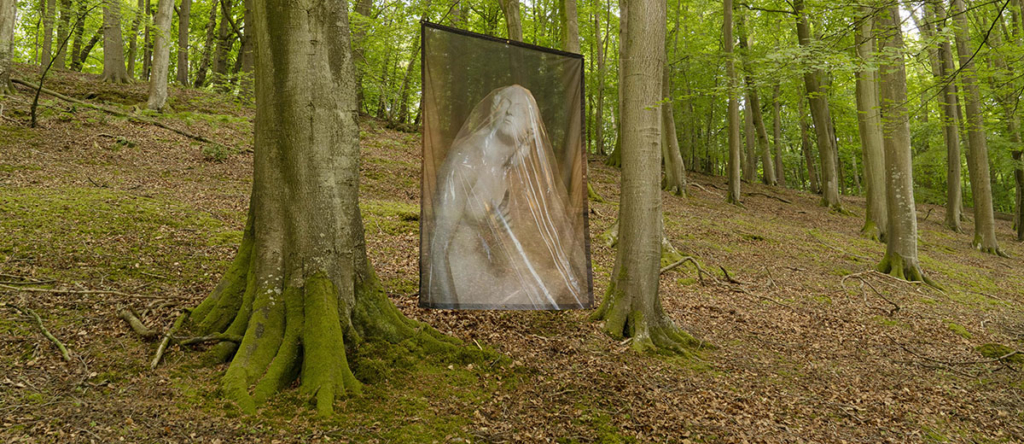 All Alone
Meadow Arts returns to Croft Castle to take up residence in the very special landscape of Fishpool Valley. All Alone unfolds on two levels, an outdoor exhibition with sculpture and installations, and an ambitious online component that holds the digital elements of some of the artworks in the valley, as well as artists' films.
Through the work of five artists, All Alone proposes a creative re-examination of the human condition of aloneness, a topic that has known many interpretations over the centuries, but has recently, through the Covid-19 crisis, been brought sharply to the forefront of our collective consciousness. Beyond the physical pressures of being isolated, lockdown is/was a communal experience, but each individual experience is unique, which is isolating in itself. The title, All Alone, reflects on the paradoxical commonality of aloneness.
Aloneness could be best defined by its two opposite poles; on one end of the spectrum is isolation, a state mostly enforced on an individual, and on the other solitude, which might be the result of choice and has a more positive aspect. Loneliness is a relatively recent concept, although almost nine million people in Britain today define themselves as 'lonely', according to the Campaign to End Loneliness.
The project aims to start conversations around aloneness; accompanying events include workshops, tours, artists' talks and projects with local communities and groups. There are opportunities to interact with the artworks, the artists and the wider community (see Events pages for details).
A series of my Celestial prints will be on show in this group exhibition at Heinzer Reszler in Lausanne, Switzerland.
Other artists include:
Mirko Baselgia
Mathieu Bernard-Reymond
Sophie Bouvier Ausländer
Kaspar Flück
Christian Gonzenbach
Andreas Hochuli
Mingjun Luo
Nathalie Perrin
Sebastian Stadler
&
Mengzhi  Zheng
After its exhibition at the Rouen Normandie Photographic Center in 2017 and then in 2018 at the Abbaye aux Dames in Caen, my Normandy exhibition moves to the Cotentin peninsula at the Château de Flamanville.
From Seine-Maritime to Manche, I traveled throughout the Normandy region in search of outdoor leisure activities surveying local festivals, parades, commemorations, sport events and garage sales. The exhibition on offer at Château de Flamanville commits the (re) discovery of this photographic ensemble in the light of the last months of confinement and the radical changes that have taken place in our social practices.
As a counterpoint to my contemporary landscapes, also presented in the exhibition are extracts from amateur films from the Normandy Images collections, produced between the years 1920 and 1960, old postcards as well as some reproductions from the Gain collection and the Victor Lefrançois Archives collection from the departments of Manche.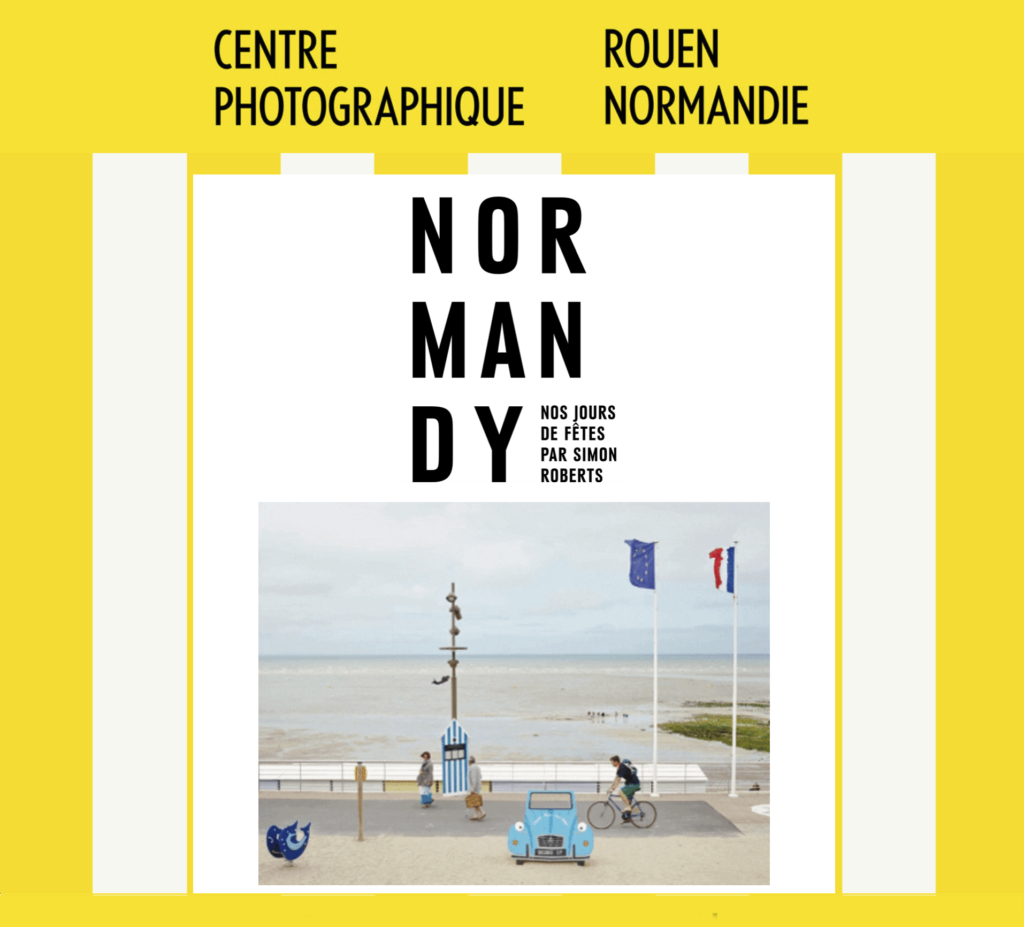 As part of Photo London's online talks programmed, I will be doing an In Conversation with curator Susanna Brown:
Wednesday, 16 June
6.30 pm BST | 7.30 pm CET | 1.30 pm ET
You can register here: https://photolondon.org/online-artist-talk-simon-robert-in-conversation-with-susanna-brown/
Susanna Brown is a curator and writer specialising in twentieth-century and contemporary photography. She is the author of numerous books and has curated exhibitions shown at twenty venues around the world. Her recent projects include 'Tim Walker: Wonderful Things', 'Horst: Photographer of Style', 'Selling Dreams: One Hundred Years of Fashion Photography', and 'Queen Elizabeth II by Cecil Beaton'. She lectures and teaches regularly and has been a juror for awards including the Hyères International Festival of Fashion and Photography and the Hasselblad Foundation International Award in Photography.
I have several works included in this new group show curated by Tim Clark on show in the Centro Português de Fotografia
, as part of Ci.CLO Bienal 2021.
The Horizon is Moving Nearer takes the symbiotic nature of society, politics and ecology as the basis to explore how modern humans have reached a crossroads. In this era of various global health emergencies, from Covid-19 to anti-Black violence, we are confronted by a series of critical and interrelated issues which call for us to radically reimagine the ways we relate to the environment and each other.
The exhibition brings together works from eight artists who use visual strategies of narrative and fragmentation as a means of dealing with the mounting complexities that define our troubled times, all the while examining the ontology of the photographic image. Through a mix of image, film, text, archival material and advanced visualisation technologies, The Horizon is Moving Nearer explores topics including toxic masculinity, climate emergency, eco-fascism, conflict, nationalism, populism, cyber-security, mass incarceration, gendered violence, abuses of Indigenous rights, Trump, Brexit and other phenomena. The context is the Anthropocene, and histories unfold individually and collectively, at a hyper-local level as well as on the global stage.
Featuring Lisa Barnard, Poulomi Basu, Nancy Burson, Maxime Matthys, Gideon Mendel, Simon Roberts, Salvatore Vitale, Stanley Wolukau-Wanambwa
Curated by Tim Clark
Curatorial Assistant Alex Merola
Island Life draws upon photographs from the Martin Parr Foundation collection to show the changing fabric of our cities, society and collective identities. Focusing on post-war from the UK and Ireland, the exhibition will bring together images by over 60 photographers including Khali Ackford, Pogus Caesar, Elaine Constantine, Sian Davey, Chris Killip, David Hurn, Ken Grant, Markéta Luskačová, Graham Smith, Simon Roberts and Tom Wood. Collectively the images form a compelling study of national behaviour.
The exhibition includes photographs which document moments of historical significance including the poll tax riot, the Aberfan mine disaster and most recently, the BLM movement. These will be displayed alongside images depicting the everyday – weddings, shopping, football and Butlin's holidays. Island Life traces the evolution of documentary photography in Britain, the photographers who influenced Parr and the younger generation he is influencing in turn.
Included in the exhibition is my photograph: Holy Island of Lindisfarne, Northumberland, 2nd September 2008 from the series, We English.
Find out more here: https://www.bristolmuseums.org.uk/bristol-museum-and-art-gallery/whats-on/bristol-photo-festival-island-life-martin-parr/
Image: Simon Roberts, Shrouded Statue #1 (Antonio Canova's Theseus and the Minotaur), Brighton 2021 © Helen Goodwin
Pause ။ is a temporary exhibition on billboards around the city of Brighton (UK) displaying works by Judith Alder, Helen Goodwin and Simon Roberts. Organised by Brighton Artists Network, Pause ။ aims to bring art into the public realm during a time when cultural venues remain closed to the public.
Each of the artist's works reflect current events and circumstances in subtle and often poetic ways, exploring the abstract or intimate narratives behind many of the issues 2020 confronted us with. Together the works create unexpected, thought-provoking contributions to the urban spectacle, turning the street into a visual platform to encourage conversations around how we are experiencing our new reality living with the pandemic.
My work, Shrouded Statue #1 was photographed at the V&A Museum while it was closed to the public during the second Covid-19 lockdown, and is on display on Trafalgar Street. Helen and Judith's work are located on:
New England Road: Helen Goodwin, Impermanent Edge, Edgelandia (2019)
Upper Hollingbury Road: Judith Alder, Cascade: Origins in Parallel (2020)
Exhibition dates: 8th of March – 8th April
Supported by Ground Up Media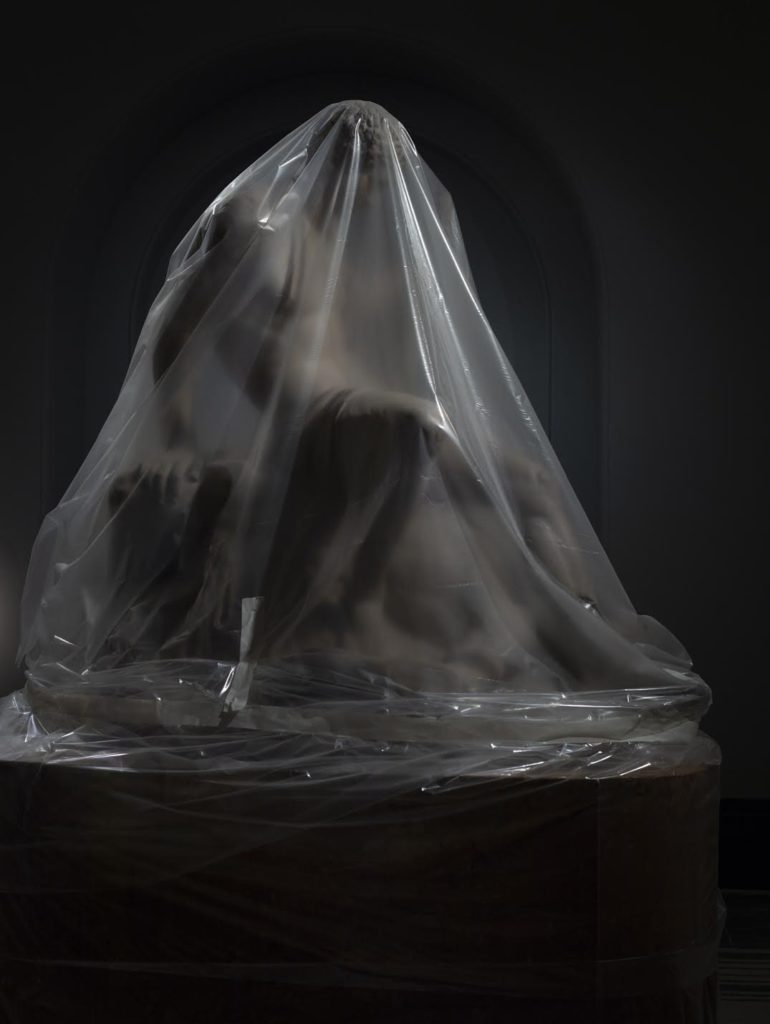 About Brighton Artists Network:
Brighton Artists Network is Brighton's first interdisciplinary, artist-led network. Our mission is to provide a space for Brighton based artists of all disciplines to connect, collaborate, and take the lead on matters that affect them and their communities. Established in May 2020, the network currently comprises 360+ members from a variety of disciplines, backgrounds and levels of professional experience, from visual artists through to writers, dancers, sound artists and theatre makers.
I'll be participating in next week's Sound and Vision | Virtual drawing class. Each week hosts Mat Cahill (Royal Museums Greenwich), Phin Jennings (Rise Art) and special guests open the doors to the collections of their organisation as well as their record collections. See the latest contemporary art from Rise Art and the rich archive of Royal Museums Greenwich alongside with a broad variety of music from experimental jazz to folk and classical to electronica.
I will be presenting a new video work based on my A Daily Sea series of photographs.
Participants will be given the time of each playlist to respond to each visual work, with time to share and discuss what they have created after each playlist.
All you need to do is bring your favourite drawing implements and your creativity to respond to the rich stimuli provided. No experience required.
You can book for free here: https://www.eventbrite.com/o/rise-art-10607636293 
The latest edition of Civilization: The Way We Live Now photography exhibition will one show at Musée des Civilisations de l'Europe et de la Méditerranée (Mucem) in Marseille, France from February 24 – June 28 2021. See website for updated opening hours and programming. I have several works included in the show.