The current edition of Colors Magazine, Issue 88 themed Protest, has published a series of my work from Let This Be A Sign, including a gate-fold of my protest poster photographs (see below).
You can buy the magazine online here.

Over the past three years, people in more than 80 countries across the world have taken to the streets to protest
against their governments. But only in six of the above countries did governments finally fall.
COLORS 88 – Protest tells stories of how protests start, spread, triumph, are repressed and sometimes become revolutions. From South Korea's anti-uprising volunteer corps to female drivers in Saudi Arabia; from Mexico's labor rights superheroes to fully-armed guns rights demonstrators in the United States; from the pigs left to roam the main square of Nairobi, Kenya, to Palestinians dressing like blue aliens from Hollywood film Avatar, we've interviewed, photographed, and illustrated popular uprising across the world. Plus, Occupy, Tahrir, FEMEN sextremists and a series of illustrated DIY protest techniques and strategies: how to use a mattress as a shield, chain yourself to a tree, and hold your breath until it's all over.
Photograph: Placards from demonstrations across the UK, 2010 – 2012 (Digital collage) © Simon Roberts
As part of this year's Format Photography Festival I will be exhibiting an eclectic collection of original protest placards collected from UK demonstrations against economic cuts.
The placards form part of my Let This Be A Sign series and will be exhibited in Derby's stunning Silk Mill building, which stands on the site of the world's first factory and is the gateway to the UNESCO World Heritage Site.
Trade Union artefacts from The Silk Mill collection will also be on display.The museum is the location of the historic 'Derby Turn Out' when the silk workers, supported by their colleagues in other trades, left work from November 1833 to March 1834 to defend the right to combine in a Trade Union.
For more information, visit http://www.formatfestival.com/artists/simon-roberts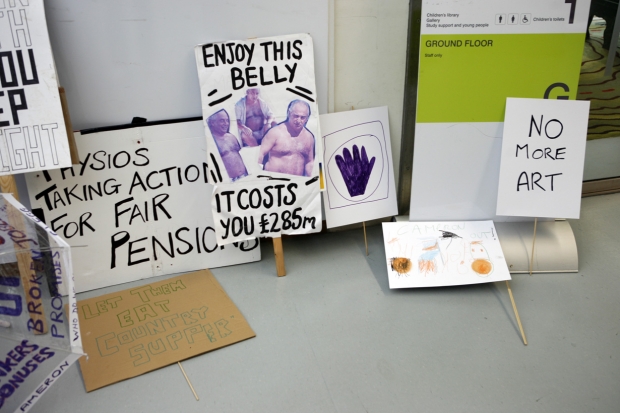 As part of the exhibition, we've also organised a Placard Making Workshop. So what would you protest about? Taking inspiration from 'Let this be a sign' you can make your own placard, photograph yourself and upload the images to Derby At Work. The event is being run in collaboration with Guy Atkins from Make The March and 50K Club.
The workshop will take place on-
16 March 10.00 – 16:00
17 March 13:00 – 16:00
You can find out more here- http://www.formatfestival.com/events/make-your-own-placard-workshop.
In the build up to 20 October, MAKE THE MARCH will be sharing protest material that people are making for the rally.
Make The March is an independent project set up to support the March For A Future That Workson 20 October 2012. The march is a major mobilisation of trade unions, community groups and individuals, all concerned about the dead end of austerity that our government are leading us down. The march, along with a rally in Hyde Park, is being organised by the TUC, and you can find out more about the march at the TUC's official website for the day: AFutureThatWorks.org
You can read a short article I've written about photography and protests here.

Made something great? A placard, a banner, a video? Upload it here and share it with everyone! Need some inspiration? Have a look at what others are making… and then tweet and share the ones you like.
Cutting, witty and often darkly beautiful. The anti-cuts protests have at times been staggeringly creative. Clegg as a naked Cameron's fig leaf (*shudder*), the campaign of TEA CUPS AGAINST KETTLING, Claire Rayner's beyond-the-grave promises to protect the NHS…
We know people will again be making great stuff for October 20. This site is a way for as many people as possible to see the banners, placards and costumes.
It's a chance to cut through mainstream media to show material off. And explain how and why it's been put together.
We hope the project will inspire more people to make things, and to come on the rally. Don't worry if the last time you did art involved crayons. Or if all you've got to hand are a biro and a postcard. Just have a go, and share what you come up with!
We're also interested in any pics and videos showing how you're making things. Whether you're in a workshop or stenciling on the kitchen floor, it would be great to see you as well as your works of art.
Finally, there is a little sweetener. We've five £100 prizes for our favourite placards and online graphics. Cash will go to individuals or protest groups and could help make more great anti-cuts material.
See you on the Embankment on 20 October!
An interesting video of a protest in Warsaw, shot from the perspective of the protestors via a drone, not by the police.
I will be exhibiting Let This Be A Sign in the XI Edition: WORK of the International Festival of Rome. The festival is curated by Marco Delogu with Alessandro Dandini de Sylva.
My work will be in the exhibition – Camera Work, alongside that of Roger Ballen, Yto Barrada, Claire Chevrier, Raphaël Dallaporta, Joseph Koudelka, Chris Killip, Fosco Maraini, Nina Poppe, Lars Tunbjörk and Florian van Roekel.
Visit their Facebook page here and festival blog here for more details.
Here's some general information about the theme:
The 2012 edition of FOTOGRAFIA – Rome International Photography Festival is on its way, with a project that confirms the event's growing prestige and international scope, promoting contemporary photography in its various forms and languages and valorising up-and-coming talents with increasingly concrete attention to original works.
The theme of the 11th edition will be "work", a keyword in the history of photography and recent years, reinterpreted with great attention to the differences and changes in the languages of photography and contemporary work. The Festival, in its new MACRO version, has thus chosen a classic theme of 20th-century documentary photography and revives it, with a return to the central role of man, taking up a challenge that involves new languages and new narratives in photography.
What remains of "20th-century" work? Its "vision", which was often also mythological, full of physical exertion and large masses, has changed and in many cases endures alongside more sophisticated, often solitary, technological kinds of work that are frequently difficult to transform into visions. How do these old visions marry the new ones? What unites them? Perhaps some of the answers to these questions contain a global vision of the world and a vision of photography that we consider the most effective tool for the analysis of contemporary society and its languages.
A photograph from my upcoming exhibition at Swiss Cottage Gallery Let This Be a Sign is featured in current issue of Wonderland magazine.
Protestors in the Public Gallery, angered by comments made by a Liberal Democrat councillor, shout abuse during the budget meeting at Manchester City Council. 9th March 2011. From the series 120 seconds.
In the early hours of this morning the Occupy London Stock Exchange protest camp outside St. Paul's Cathedral was cleared by bailiffs and police, enforcing a High Court order.
You can read a timeline of the night's events, including interviews with some of the protestors, on the Guardian website here. Occupy London, which campaigns against corporate greed, had held occupied the site since 15 October 2011.
On their website, the Occupy movement have posted a notice: "This is only the beginning". Read their statement here.