I recently had the pleasure of photographing Tim Andrews, for his project 'Over the Hill': A photographic project involving a guy with Parkinson's Disease who has been photographed during the last six years by over 300 different photographers.
My portrait of Tim was number 306. I chose to photograph him creating a self-portrait of himself (see his results above). You can read Tim's account of our collaboration on his blog here:
http://timandrewsoverthehill.blogspot.co.uk/2014/07/self-portrait-brighton-8-july-2014.html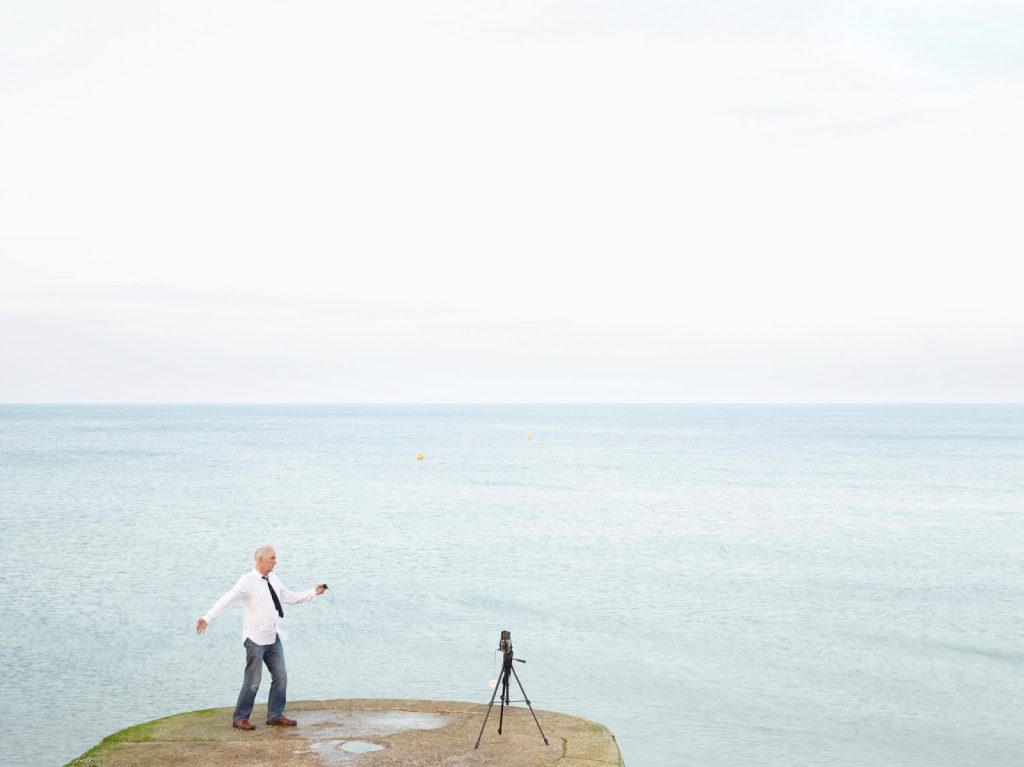 Tim Andrews © Simon Roberts, Brighton, 8 July 2014, 6.03AM
Tim Andrews, then a solicitor, was diagnosed with Parkinson's Disease in 2005. He took early retirement and, in May 2007, he answered an advert in Time Out for nude models for a book of 'real' nudes being compiled by photographer Graeme Montgomery. Since then he has been photographed by over 300 photographers, some amateur, some student but mostly professional including such luminaries as Steve Bloom, Michael Birt and Clare Park. His intention has not been to document his illness but rather to document himself at a time when he "happens to be ill". There is a huge range of diverse styles and approaches made by the photographers in the project all of which combine to present the many facets of Tim's character. This compelling exhibition includes over 50 images and several films from the project which has already been the subject of exhibitions in Guernsey, London, Woking, Southport and Farley Farm and has been featured in The Culture Show on BBCTV and in several newspapers and journals.
A selection of portraits of Tim will be exhibited at Create Studios in Brighton from 04–17 Oct as part of the Brighton Photo Fringe festival.
Creat Studios
Unit D&E, Level 2 South
New England House
New England St
Brighton  BN1 4GH
Mon-Fri 09:00-16:30 / Sat 10:00-16:30 / Sun 11:00-16:30
Jemima and the cross, Brighton, 13 March 2013 © Simon Roberts
This photograph of my daughter was taken for the project Someone I Know, conceived and curated by Stuart Pilkington it brings together newly produced portraits taken by over 100 photographers around the world.
The brief for the photographers was to take a portrait of someone they know, no matter how loosely. And the results were published on the site on 2nd April 2013.  See the results on the project website: http://someoneiknow.net/
And here's the project facebook page- https://www.facebook.com/someoneiknowproject?ref=ts&fref=ts
The World in London is an ambitious outdoor photography project for 2012 by The Photographers' Gallery, showing London's diversity and photography's unique role in capturing the human form.
Over the past three years the gallery have commissioned acclaimed and emerging British and international photographers to take portraits of Londoners of all ages and from all walks of life. Each portrait is unique in its composition, setting and style.
Coinciding with the London 2012 Olympic and Paralympic Games, this project brings together 204 portraits of 204 Londoners, each originating from one of the competing nations. Mine depicts the Reverend David Haokip, Vicar of St George's Parish Church in East Ham, and an exile from Burma (see above).
The World in London celebrates London as a place where individuals from all parts of the world live side by side, each of them contributing to make London the unique city it is.
All photographs will feature on the project's website here, which includes background stories on each of the participating Londoners. You can listen to David talking about his life here.
You can see a photograph of David and I at the launch in Victoria Park this morning via Getty images here.
The prints will also be on show at Park House, 453 – 497 Oxford Street, London, W1: 27 July – 30 August 2012.
British Prime Minister, David Cameron, prepares a fruit salad for lunch in his constituency home in Witney, Oxfordshire. There's no pasty in sight, but there is a pork pie!
The photograph was taken while I was on commission with the Sunday Times Magazine in 2007 to do a profile of Cameron when he was opposition leader.
Photographing Guido Guidi at his home in Italy. September 2011.