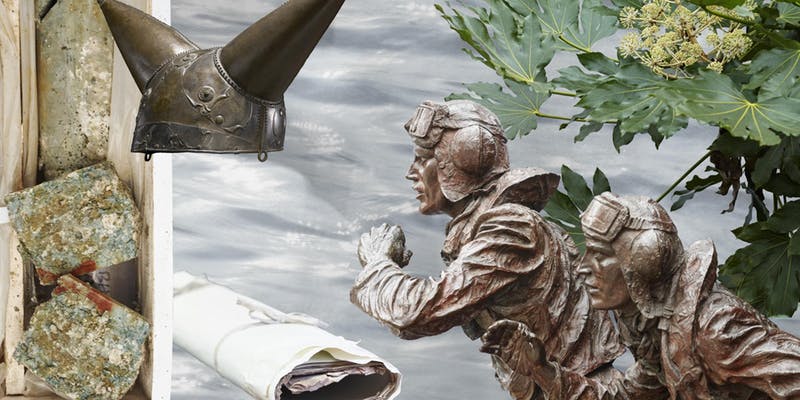 The Thames Wunderkammer: In-Conversation
Image: Extract from 'The Thames Wunderkammer: Tales from Victoria Embankment in Two Parts' An artwork commissioned by Tideway, 2017
Wednesday 5 September, 7pm (doors open 6.30pm)
Tideway Cottons Centre, SE1
Free but booking required (please see below)
An 'in-conversation' between Simon Roberts and David Prior, Head of Public Services and Outreach at the Parliamentary Archives, chaired by curator, Rachel Fleming-Mulford.
Using his large-scale artwork for the Victoria Embankment, commissioned by Tideway, as a starting point, Simon Roberts will discuss his photography and his approach to the creation of the artwork, which references the rich and varied history of that section of the Victoria Embankment and the River Thames. Roberts took photographs at the site but also researched objects and images from a wide variety of archives and collections in London to create the work.
"The design is created to reflect the literal and metaphorical layering of the landscape, in which objects from the past and present are juxtaposed to evoke new meanings. The hoarding represents an aesthetic excavation of the area, so that diverse elements, both manmade and natural, can co-exist in new ways.
"All the objects are presented as a metaphoric Victorian 'Cabinet of Curiosities'. Modern terminology would categorise the objects included as belonging to natural history, geology, ethnography, archaeology, religious or historical relics, works of art, and antiquities."
Simon is joined by David Prior, who is Head of Public Services and Outreach at the Parliamentary Archives. The Parliamentary Archives holds the records of both Houses of Parliament. The records, which date from 1497, reflect the ways in which Parliament has affected the lives of individuals and communities and the processes by which people have been able to influence the work of Parliament. David's responsibilities include the curation and management of exhibitions and displays, the development of community outreach activities and the provision of facilities for public access to the Archives. He will bring his fascinating perspective as a heritage expert to the discussion.
Part of Totally Thames Festival 2018 that runs from 1-30 September.
Book free tickets here: https://www.eventbrite.co.uk/e/the-thames-wunderkammerin-conversation-with-photographer-simon-roberts-tickets-46525090799