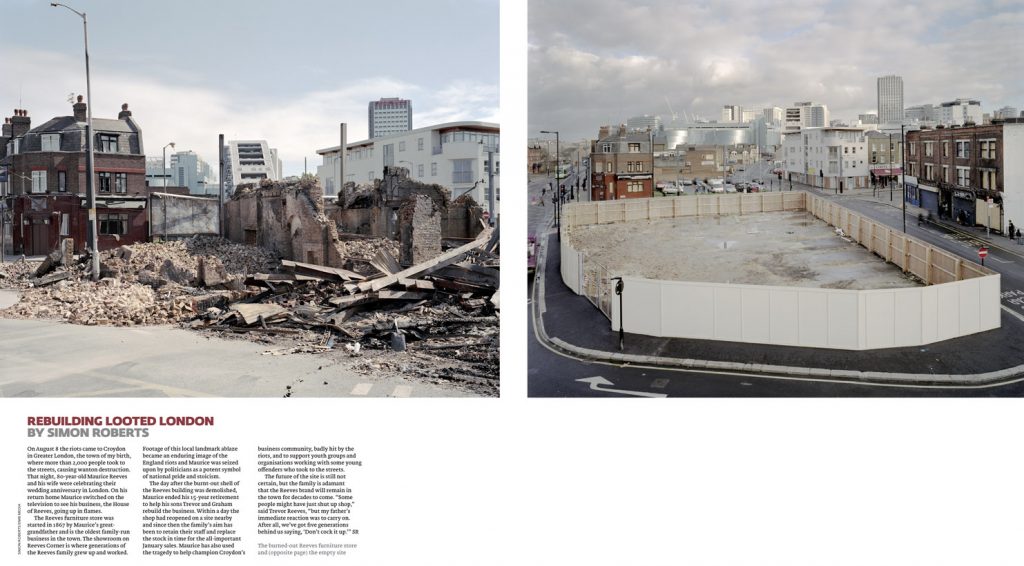 Rebuilding looted London
I have two pictures in today's Financial Times Magazine special photography issue, which looks at the people and places after the disasters of the past year. My piece looks at the aftermath of the England riots in Croydon, notably the Reeves Furniture store.
"On August 8 the riots came to Croydon in Greater London, the town of my birth, where more than 2,000 people took to the streets, causing wanton destruction. That night, 80-year-old Maurice Reeves and his wife were celebrating their wedding anniversary in London. On his return home Maurice switched on the television to see his business, the House of Reeves, going up in flames.
The Reeves furniture store was started in 1867 by Maurice's great-grandfather and is the oldest family-run business in the town. The showroom on Reeves Corner is where generations of the Reeves family grew up and worked. Footage of this local landmark ablaze became an enduring image of the England riots and Maurice was seized upon by politicians as a potent symbol of national pride and stoicism.
The day after the burnt-out shell of the Reeves building was demolished, Maurice ended his 15-year retirement to help his sons Trevor and Graham rebuild the business. Within a day the shop had reopened on a site nearby and since then the family's aim has been to retain their staff and replace the stock in time for the all-important January sales. Maurice has also used the tragedy to help champion Croydon's business community, badly hit by the riots, and to support youth groups and organisations working with some young offenders who took to the streets
The future of the site is still not certain, but the family is adamant that the Reeves brand will remain in the town for decades to come. "Some people might have just shut up shop," said Trevor Reeves, "but my father's immediate reaction was to carry on. After all, we've got five generations behind us saying, 'Don't cock it up.'"