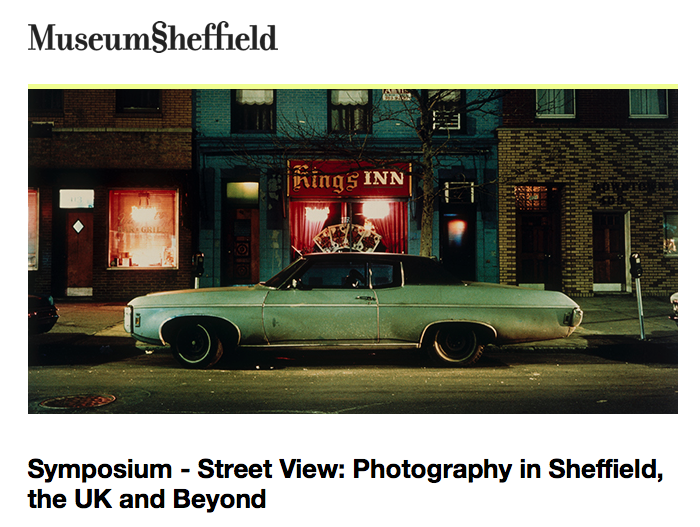 Symposium, Sheffield Millennium Gallery
Join us for a one-day symposium accompanying Museums Sheffield's new exhibition at the Graves Gallery, Street View: Photographs of Urban Life.
Featuring images primarily drawn from Sheffield's own photographs collection, the exhibition explores the diversity of the street; as a social space, as a battleground for protest and as a source of artistic inspiration. Visitors will discover a range of works which, in many cases, have not been exhibited for over 20 years.
This symposium will contextualise the exhibition within the broader theme of street photography and the long-term development of photography in Sheffield. It also aims to emphasise the importance of UK-wide photography networks to continued development and research in the field. The symposium will offer the first chance to find out about the Photographic Collections Network. This is a new organisation, supported by Arts Council England, for anyone involved with photography archives and collections. It launches in October 2016 and Paul Herrmann, one of the co-founders, will give more information about its aims and plans.
Speakers will include Susanna Brown (Curator, Photographs, Victoria and Albert Museum), Simon Roberts (UK-based contemporary photographer), Paul Herrmann (Director, RedEye: The Photography Network and Chairman of the Photographic Collections Network), Paul Hill (UK-based photographer and Professor of Photography) and Ken Phillip (Sheffield-based photographer and former Lecturer of Photography, Sheffield Hallam University).
The symposium will be followed by a special evening viewing of the Street View exhibition 5.45pm-7.45pm with curator Catherine Troiano. 
Tickets are priced 12 / £10 concessions and are available now – please book via Eventbrite
For further information please contact Catherine Troiano: [email protected]