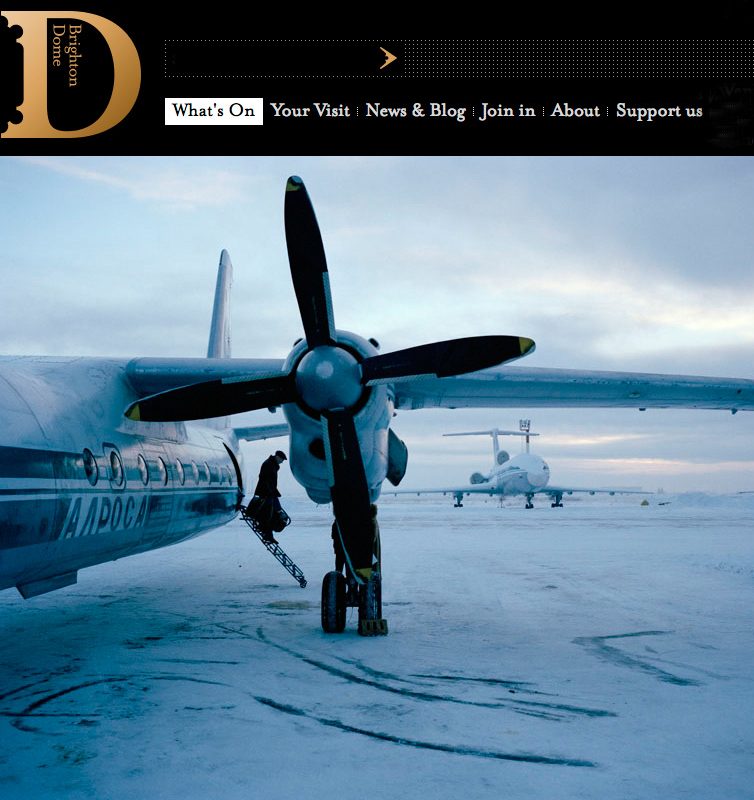 Polyarnye Nochi, Brighton Dome
In partnership with Crane Kalman Brighton is on show at the Brighton Dome:
Polyarnye Nochi (or Polar Nights) is part of acclaimed British photographer Simon Roberts' first major project, Motherland, an exploration of contemporary Russian society. This series focuses on winter in northern Russia, finding a region shrouded in darkness nearly 24 hours a day, a phenomenon known as Polyarnye Nochi (Polar Nights).
You can see images from the series here.
Opening times:
Wed 8 Jan – Closed
Thu 9 Jan – Closed
Fri 10 Jan -10am – 4pm
Sat 11 Jan – 10am – 5pm
Sun 12 Jan – 10am – 12pm
Mon 13 Jan – 10am – 5pm
Tue 14 Jan – 10am – 3pm
Wed 15 Jan – 10am – 5pm
Thu 16 Jan – Closed
Fri 17 Jan – 10am – 5pm
Sat 18 Jan – 1pm – 5pm
Sun 19 Jan – 10am -5pm
Mon 20 Jan – 10am – 5pm
Tue 21 Jan – 10am – 5pm
Wed 22 Jan – 12pm – 5pm
Thu 23 Jan – 10am – 5pm
Fri 24 Jan – 10am – 5pm
Sat 25 Jan – 1pm – 5pm
Sun 26 Jan – 10am – 5pm
Mon 27 Jan – Closed
Tue 28 Jan – Closed
Wed 29 Jan – Closed
Thu 30 Jan – 10am – 5pm
Friday 31 10am – 5pm

February

Sat 1 Feb – 1pm – 5pm
Sun 2 Feb- Closed
Mon 3 Feb – 10am – 5pm
Tue 4 Feb – 10am – 5pm
Wed 5 Feb – Closed
Thu 6 Feb – 10am – 5pm
Fri 7 Feb – 10am – 5pm
Sat 8 Feb – 1pm – 5pm
Sun 9 Feb – 10am – 12pm
Mon 10 Feb – 10am – 5pm