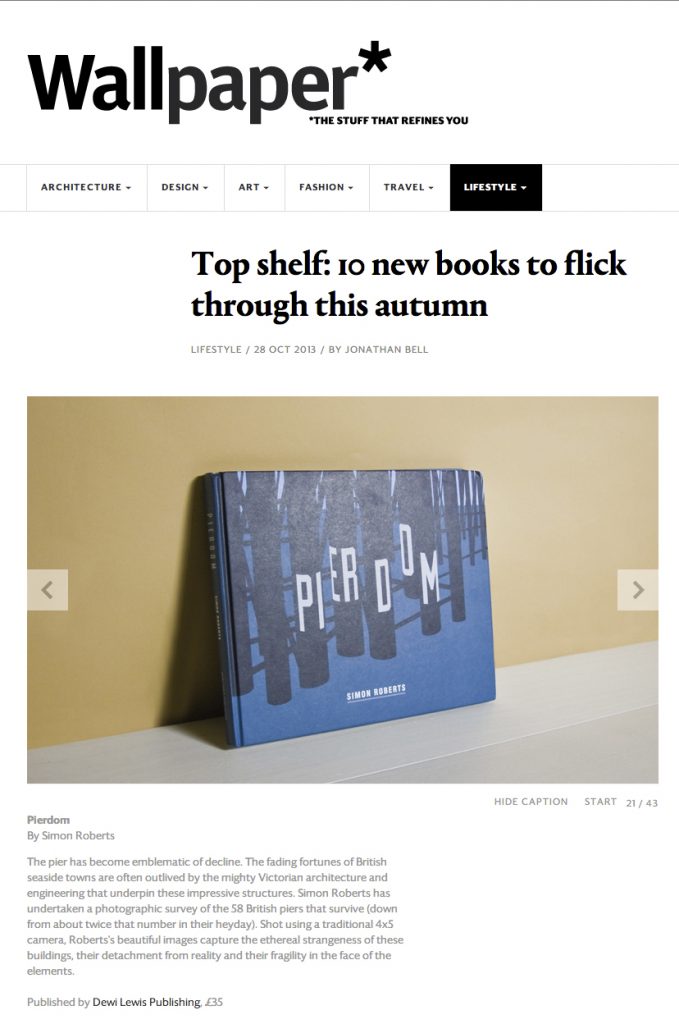 Pierdom Reviews
Pierdom has been reviewed widely in the press since launching in September.
Here are links to a few:
PhotoEye, "Book Review: Pierdom," 3 December 2013, Jenkins, Karen. (link)
Hotshoe, "Pierdom book review," Issue 186 / Winter 2013.
Photography & Architecture, "Pierdom review," 27 November 2013, Graham, Julie. (link)
Photomonitor, "Pierdom review," November 2013, Atwell, Oliver. (link)
Slow Wear Journal, "Victorian Remains," 18 November 2013. (link)
Klat Magazine, "Simon Roberts, Pierdom" 11 November 2013, Severo, Fabio. (link)
Gup Magazine, "Pierdom- Book Review," 30 September 2013, Giostrelli, Sofia. (link)
Fad, "ART STUFF on a train #21: Pierdom," 24 September 2013, Carey-Kent, Paul. (link)
One Stop Arts, "Simon Roberts: Pierdom at Flowers Gallery," 23 September 2013, Harbour, Stacey. (link)
The Telegraph, "Review: Pierdom by Simon Roberts," 29 October 2013, Newman, Cheryl. (link)
Wallpaper* Magazine, "Top shelf: 10 new books to flick through this autumn," 28 October 2013, Bell, Jonathan. (link)
Morning Star, "Pier Pressures," 14 September 2013, Hodgson, Francis.
Independent on Sunday, "Photography book review: Pierdom," 15 September 2013. (link)
Architects' Journal, "Welcome the onset of autumn with this seaside exhibition," 9 September, 2013, Pallister, James. (link)
The Observer, "Pierdom: photography book of the month," 1 September 2013, O'Hagan, Sean. (link)
Time Magazine Lightbox, "The Victorian Pleasure Piers of a British Summer," 10 September 2013, Harris, Katie. (link)
BBC News Online, "Britain's Piers in Focus," 10 September 2013, Coomes, Phil. (link)
Camden Review, "Art Diary: Sea Here," 29 August 2013, Smith, Amy. (link)
FT Weekend Magazine , "Piers of the Realm," 24 August 2013, Hodgson, Francis. (link)
Aesthetica Magazine, "Iconic Britain- Pierdom at Flowers Gallery," Issue 54 / August – September 2013. (link)