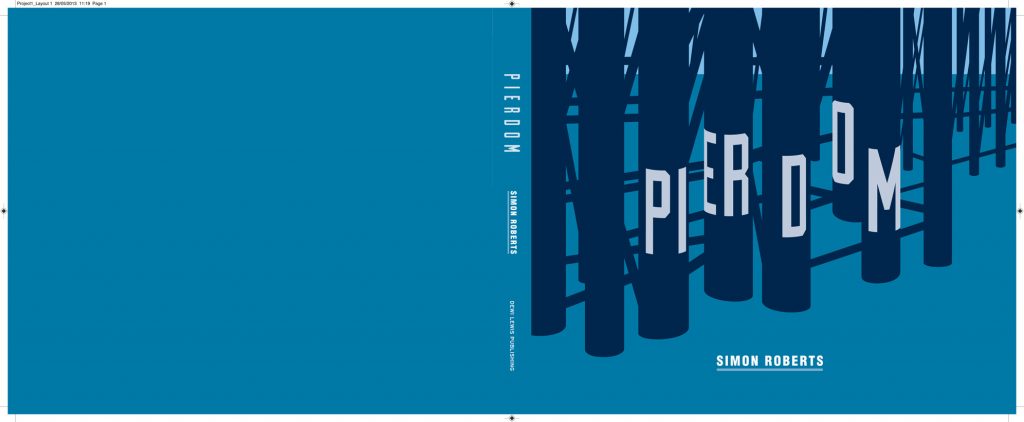 Pierdom monograph
My new monograph, Pierdom, will be published by Dewi Lewis Publishing in September 2013. It will be officially launched alongside an exhibition of the work at Flowers Gallery.
"These pictures may encompass some of the seaside things we know best through such photographers as Tom Wood or Martin Parr, but they put those scenes in a broad context where people live in a landscape and a country, not just a car park.  They also derive something from that quite different tradition, of the wild skies and unquenchable nature that we find in Turner.  These are cool careful pictures, alluding to a large number of variables and seeing what balances can be struck between them.  At the same time, they're the warm record of a large number of trips to that many-sided and unfathomable place, the British seaside." Francis Hodgson, 2013
About-
Pierdom is the most comprehensive photographic record of British Pleasure Piers by a photographer for decades. Presented as a landscape format monograph all 58 surviving pleasure piers are represented along with a handful of lost piers and seascapes; photographs marking where a pier once stood. The publication, designed by FUEL (who Roberts collaborated with for his two previous monographs Motherland and We English) contains a map identifying locations of all piers, an introductory essay by photography critic Francis Hodgson and an appendix containing a potted history of each pier.
Details–
Retail price:     £35
ISBN:                978-1-905712-14-4
Publication:     September 2013
Binding:           Hardback
Extent:             160 pages
Trim size:        246mm(H) x 305mm(W) (Landscape)
Photographs:  81 Colour

Piers photographed-
Aberystwyth Royal, Bangor Garth, Beaumaris, Blackpool Central,Blackpool North, Blackpool South, Bognor Regis, Boscombe, Bournemouth, Brighton Palace, Brighton West (Lost Pier), Burnham-on-Sea, Clacton-on-Sea, Cleethorpes, Clevedon, Colwyn Bay, Victoria Cromer, Deal, Douglas (Lost Pier), Dunoon, Eastbourne, Falmouth Prince of Wales, Felixstowe, Fleetwood Victoria (Lost Pier), Gravesend Town, Great Yarmouth Britannia, Great Yarmouth Wellington, Harwich Ha'penny, Hastings, Herne Bay, Hythe, Llandudno, Lowestoft Claremont, Lowestoft South, Margate Jetty (Lost Pier), Mumbles, Paignton, Penarth, Ramsey Queens, Redcar (Lost Pier), Rothesay, Ryde, St. Annes, Saltburn, Sandown Culver, Shanklin (Lost Pier), Skegness, Southampton Royal, Southend-on-Sea, Southport, Southsea Clarence, Southsea South Parade, Southwold, Swanage, Teignmouth Grand, Torquay Princess, Totland Bay, Walton-on-the-Naze, Weston-Super-Mare Birnbeck, Weston-Super-Mare Grand, Weymouth Pier Bandstand, Weymouth Pleasure, Worthing and Yarmouth. (Source: National Piers Society).
You can find out more details about the book here.