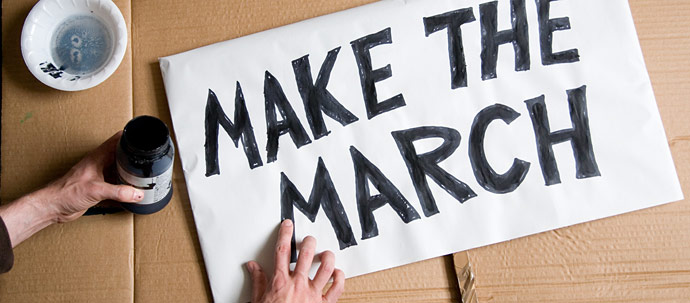 Make The March
In the build up to 20 October, MAKE THE MARCH will be sharing protest material that people are making for the rally.
Make The March is an independent project set up to support the March For A Future That Workson 20 October 2012. The march is a major mobilisation of trade unions, community groups and individuals, all concerned about the dead end of austerity that our government are leading us down. The march, along with a rally in Hyde Park, is being organised by the TUC, and you can find out more about the march at the TUC's official website for the day: AFutureThatWorks.org
You can read a short article I've written about photography and protests here.

Made something great? A placard, a banner, a video? Upload it here and share it with everyone! Need some inspiration? Have a look at what others are making… and then tweet and share the ones you like.
Cutting, witty and often darkly beautiful. The anti-cuts protests have at times been staggeringly creative. Clegg as a naked Cameron's fig leaf (*shudder*), the campaign of TEA CUPS AGAINST KETTLING, Claire Rayner's beyond-the-grave promises to protect the NHS…
We know people will again be making great stuff for October 20. This site is a way for as many people as possible to see the banners, placards and costumes.
It's a chance to cut through mainstream media to show material off. And explain how and why it's been put together.
We hope the project will inspire more people to make things, and to come on the rally. Don't worry if the last time you did art involved crayons. Or if all you've got to hand are a biro and a postcard. Just have a go, and share what you come up with!
We're also interested in any pics and videos showing how you're making things. Whether you're in a workshop or stenciling on the kitchen floor, it would be great to see you as well as your works of art.
Finally, there is a little sweetener. We've five £100 prizes for our favourite placards and online graphics. Cash will go to individuals or protest groups and could help make more great anti-cuts material.
See you on the Embankment on 20 October!