A video interview conducted recently with Michael Kurcfeld for Paris Photo; part of his series of conversations with artists and curators where they discuss their work and the medium of photography.
I've been interviewed for the latest issue of the Pictet Report on the Future of Cities. In the article I discuss my photographic series, Urban Parks. You can view a pdf here.
Here's a short interview I conducted with Fondazione Studio Marangoni in Florence discussing my new book, Merrie Albion.
The current issue of the British Journal of Photography carries a feature profile on my upcoming book, Merrie Albion. Interviewed by Michael Grieve. #BJP 7865: Journeys
You can download a pdf here.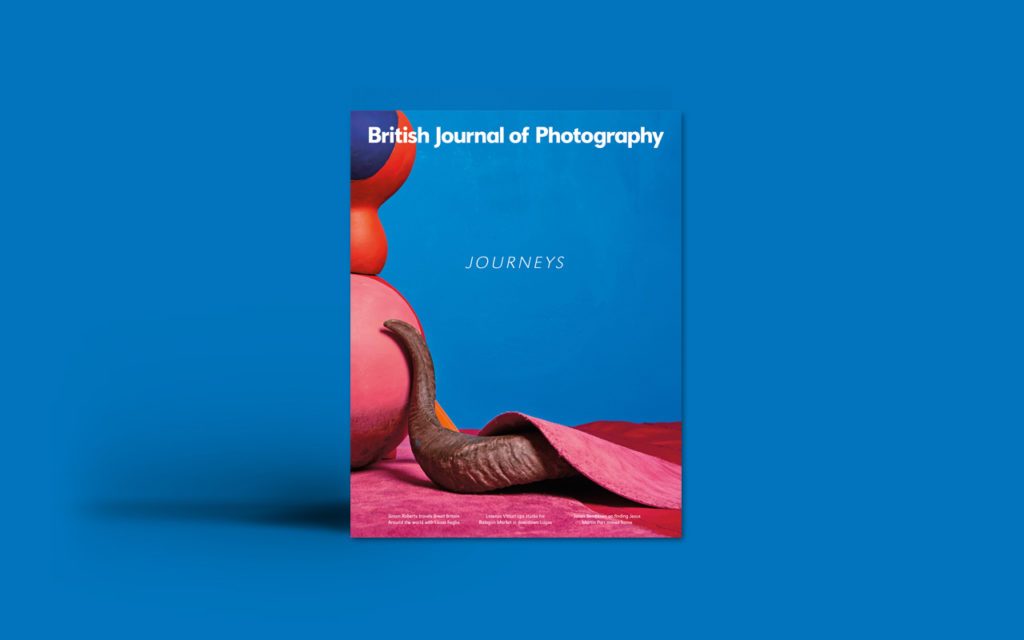 You can listen in to this podcast where I discuss my practice and making Motherland & We English: http://bensmithphoto.com/asmallvoice/simon-roberts
A Small Voice is fortnightly podcast, featuring in-depth interviews conducted by Ben Smith with a diverse range of talented, innovative, world-class photographers from established, award-winning and internationally exhibited stars to young and emerging talents, discussing their lives, work and process.

Pierdom is featured in the Autumn issue of NECSUS (European Network for Cinema and Media Studies), reviewed by Lavinia Brydon (University of Kent) and Olu Jenzen (University of Brighton).
NECSUS is an international, double blind peer-reviewed journal of media studies connected to NECS  and published by Amsterdam University Press.
You can read the piece here:
A profile of Simon Roberts' Pierdom project on the occasion of a major exhibition at Brighton Museum & Art Gallery (October 2015 – February 2016). The film, by Lindsey Smith, explores Roberts' working process, the inspiration behind the project and the history of the British Pleasure Pier.
An interview and selection of my work published in the May 2015 issue of Von Magazine, download a pdf here.
Here's a few sample spreads….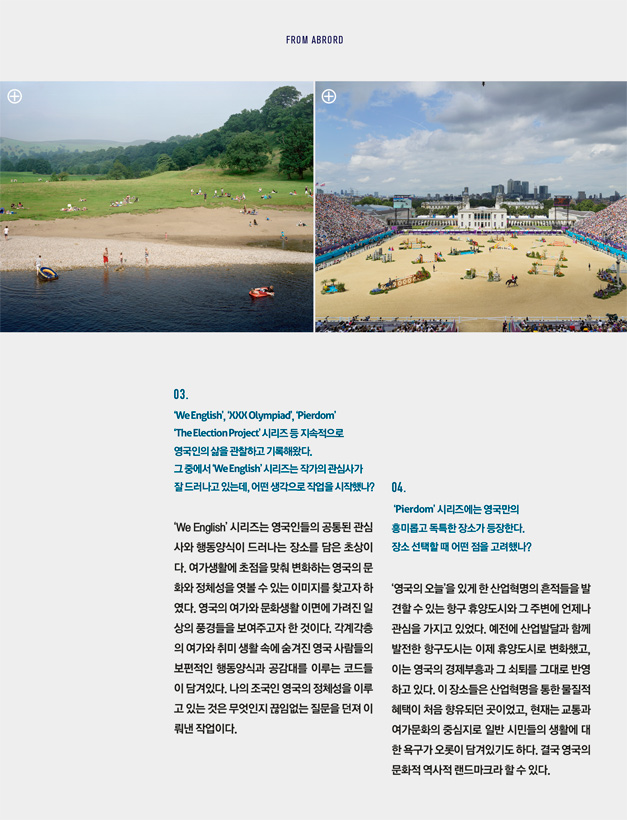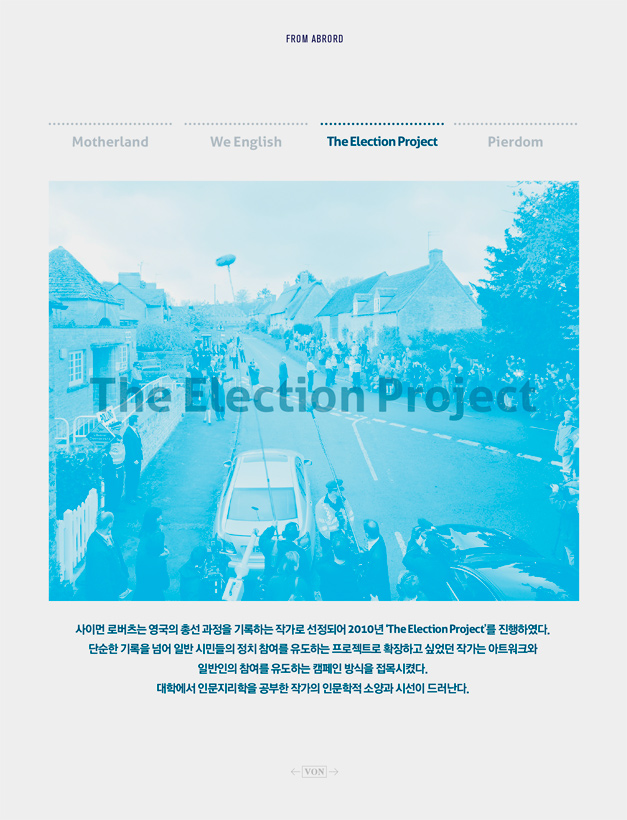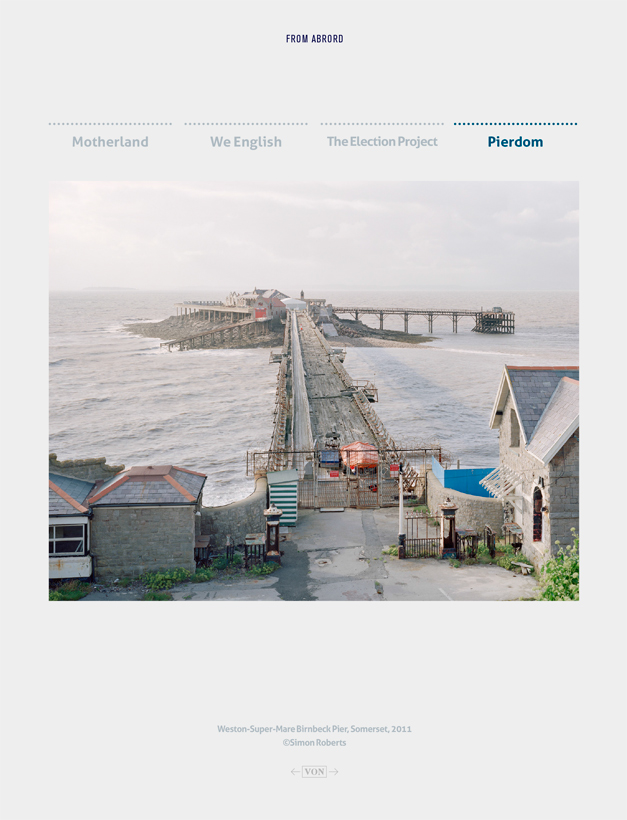 My Desert Island Pics interview with Stephen Bull is now available to listen to on the Photoworks website. In this talk for London Art Fair 2015, I reveal the eight photographs I'd like to have with me if castaway on a desert island. I discuss my choices and how they reflect on my life and career.
As a teaser, here's my first selected image taken by an unknown photographer with my Dad's camera. My Dad appears on the far left of the photograph with three university friends at the Houston Greyhound station during a three-month road trip across American in 1967.
See the rest of the photographs and listen to the interview here: http://photoworks.org.uk/projects/listen-simon-roberts-desert-island-pics/
I've got work featured in this new publication Generation '74, which profiles 11 European Photographers born in 1974. It is officially launching this weekend at the Vilnius International Book Fair.
Photographers: Simon Roberts (UK), Nick Hannes (Belgium), Kirill Golovchenko (Ukraine/Germany), Przemyslaw Pokrycki (Poland), Tomáš Pospěch (Czech Republic), Mindaugas Kavaliauskas (Lithuania), Vitus Saloshanka (Belarus/Germany), Gintaras Česonis (Lithuania), Borut Peterlin (Slovenia), Pekka Niittyvirta (Finland), Davide Monteleone (Italy).
From the publisher: Introductory texts of the book lead the reader from the idea of the joint project of the 74-ers generation in European photography to revealing their similarities, differences and unique features. Every photographer's work is presented in slots of 10 to 12 pages that start with a picture of childhood. The sequencing of photographers in the book is based on their birth date in 1974. The book ends with questions by Irina Chmyreva and every photographers' answers to them which help reveal individual roads photography through the labyrinths of the time rich in transformations.
Order the book here.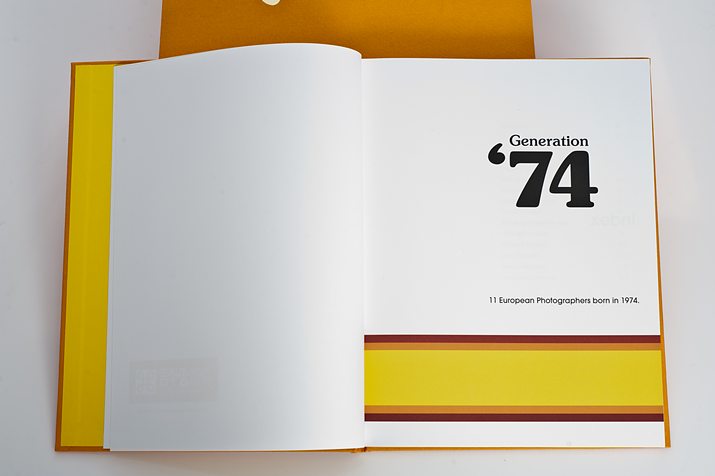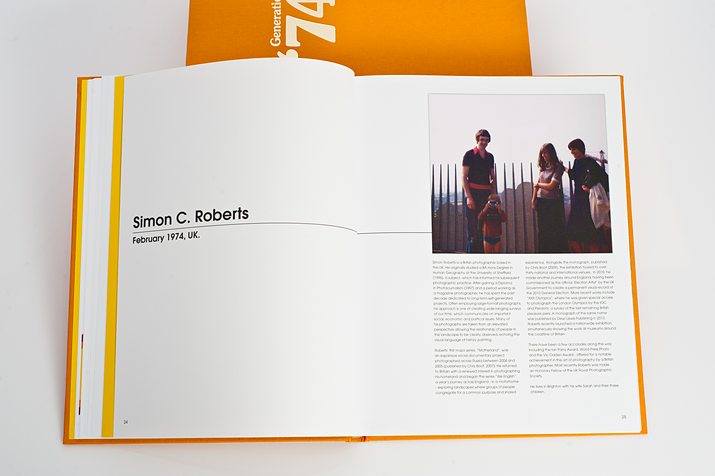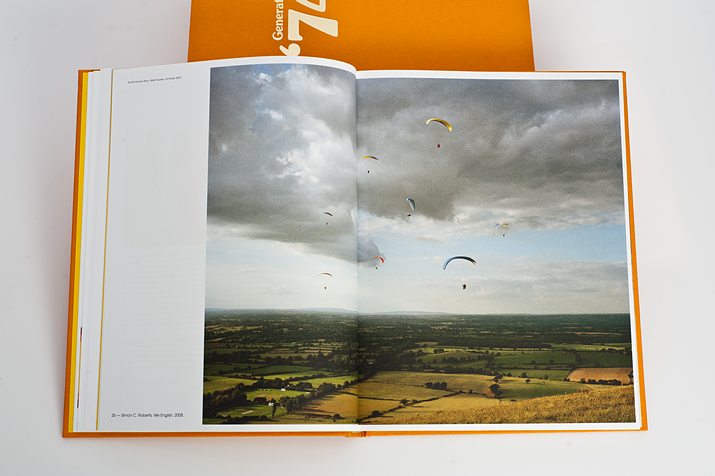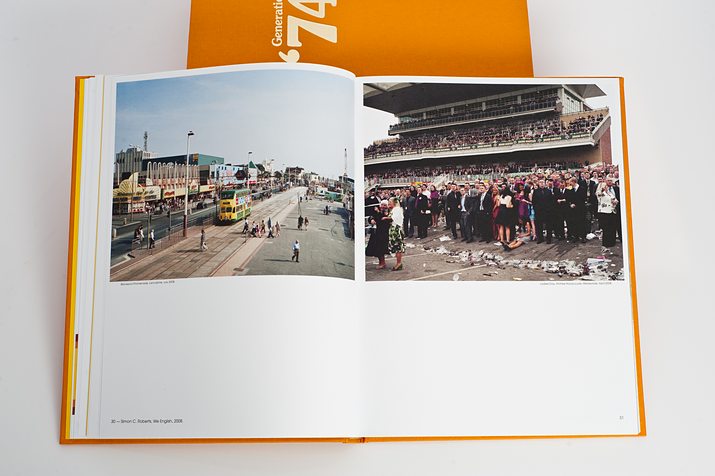 Editors Ángel Luis González (Spain/Ireland), Irina Chmyreva (Russia). Assistant editor Claudi Nir (Germany)
Design and layout Ángel Luis González
Texts: Mindaugas Kavaliauskas (Lithuania), Irina Chmyreva (Russia)
Print run 500
First Edition 2015
ISBN 978-609-8032-10-9
UDK 77.04(4)(084)
Ge223
168 pages, Hardcover
Dimensions: 30,7 cm (height) x 24 cm (width) x 2,4 cm (spine depth)
Weight 1200 g.
Published by Kaunas Photo festival