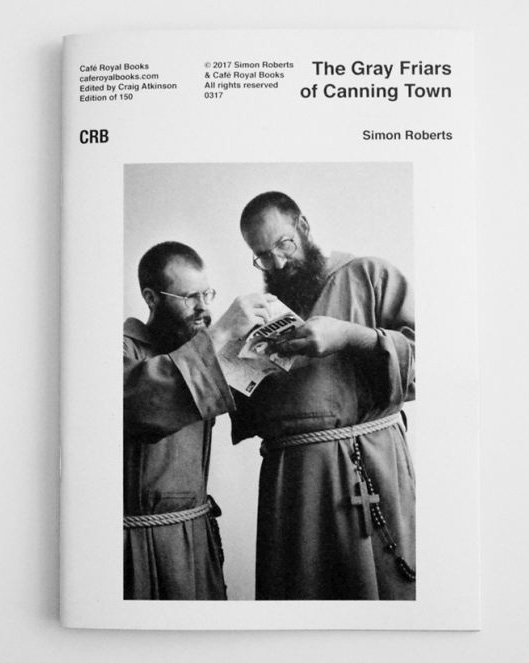 Gray Friars, Café Royal Books
The Gray Friars of Canning Town is a new collaboration with publisher Cafe Royal Books. The work was made in 2001 but has only now been released.
We have a limited number of signed books available here: https://www.simoncroberts.com/shop/gray-friars-cafe-royal-books-copy/
ABOUT:
The "Gray Friars" are Franciscan monks – members of a breakaway group of Capuchin Franciscans who wanted to return to the radical lifestyles of their predecessors. Their sole desire is to recapture the original spirit of St Francis by seeking out areas of poverty, by living in simplicity with the poor and attempting to renew and revitalise communities. On June 1st 2000, six of these young American monks arrived in Canning Town, East London, from their home in the Bronx, USA.
Father Richard (34), and Brothers John Paul (37), Nicholas (39), Peter (28), Sean Christopher (26) and Sylvester (32) chose to live in Canning Town in order to fulfil their calling. Their intention: to minister to the community of England's poorest borough. Thirty eight per cent of the population of Canning Town are living on state benefits and the area is widely regarded as the epitome of contemporary British poverty. On the edge of prosperous London, the area is a crucible of social disintegration, diversity and resilience. The lack of employment and retraining opportunities has led to economic depression, which is accompanied by social frustration and apathy.
Living in a former boxing club the Friars have no money, relying solely on donations. Even their daily food is supplied gratis. It's been hard. The monks have been met by cynicism, aggression and even violence. They've have been shocked by the depression and latent anger in the area, but they're slowly making a difference: former gangsters turning to them for help; thirty kids in their basketball club; and countless homeless at their daily drop-in centre.