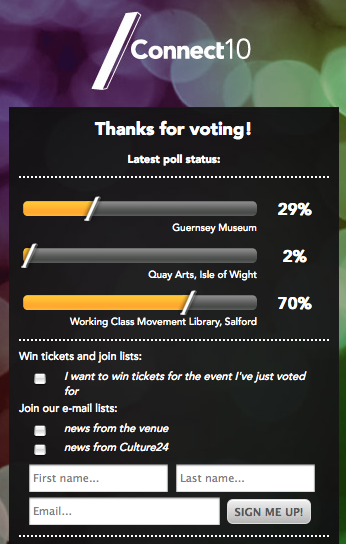 MUSEUMS AT NIGHT, VOTING NOW OPEN
The voting for Museums at Night 2012 is now open!
This is your chance to help send me to one of these three Museums:
Working Class Movement Library, Salford
From strikes and protests to tailors and the Spanish Civil War, the Working Class Movement Library tells 200 years of campaigning. Their books, pamphlets, leaflets and tape recordings date as far back as the mid-18th century, including the roots of British trade unions.
They say: "There are many stories in libraries. Usually they're written down. We want Simon to help us celebrate the image. He will photograph modern dissenters, drawing inspiration from the stories of past campaigns archived in our library. We'll use these, and the public's photographic responses, to debate the power of pictures and writing to move and to persuade.   We are a hidden treasure. Vote for us so more people hear about our amazing building and its stunning collection."

Quay Arts, Isle of Wight
Three galleries and a theatre are at the heart of the Isle of Wight's main arts centre, acting as a space for families and some of the Island's most talented artists in a former brewery warehouse complex. It was established in 1997.
They say: "We all know the Isle of Wight is a special place. Simon's work, which captures the beauty of piers around the UK – four of which are on the Island – highlights this even further. By voting, you could secure a chance for this acclaimed artist to come to the Island. This isn't just a talk – it's about celebrating the nostalgic beauty of the Island, and a chance to get in involved, show off your talent and possibly even win."
Guernsey's venue is surely one of the most impressive – an ancient harbour fortress which includes a Maritime Museum, Militia Museums and the expansive Hatton Gallery, filled with portraits.
They say: "Guernsey Museum's event takes place in the beautiful setting of Castle Cornet. We are open to suggestions about what Simon would like to do, but the place is not short of inspiration, with narrow Medieval passageways and breathtaking views of the neighbouring islands and France beyond. The night is a collaboration and we will be sharing the Castle with the lovely folk from the Guernsey Photography Festival. Simon's extensive travelling relates perfectly to the theme of this year's Festival: Journey."
You can VOTE here.
Voting closes at 5pm on March 5 2012.
Museums at Night is the annual after hours celebration when hundreds of museums, galleries, libraries, archives and heritage sites open their doors for special evening events. Friday May 18 – Sunday May 20 2012.