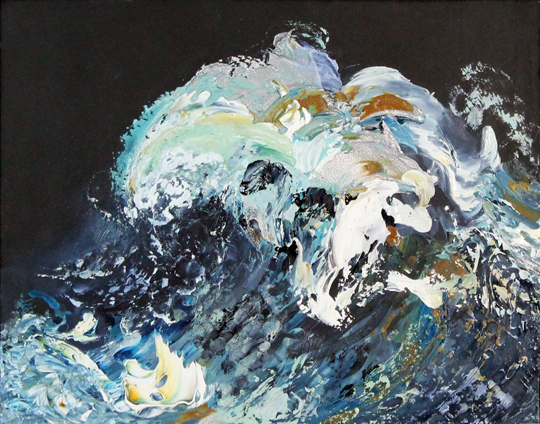 Paintings in Hospitals auction
Wave Crashing, Maggi Hambling, 2011, Oil on board, Framed 24.13 x 29.85 cm
Date for your diary…Paintings in Hospitals annual fundraising art auction will take place at Bonhams, Knightsbridge on Monday 28 May 2012, 6.30 – 8.00pm.
The inaugural PiH Contemporaries auction will feature works donated by some of the most interesting emerging artists working in Britain today alongside more established names. Among the many artists who have lent their support this year are Ian Davenport, Maggi Hambling, Alexis Harding, Jonathan Huxley, Jarik Jongman, HaYoung Kim, Ben Rivers, Simon Roberts, Tim Shaw, Jonathan Trayte and Mary Webb.
Paintings in Hospitals is a registered charity that uses art and creativity to improve the health, wellbeing and quality of life of adults and children living with illness and disability. Proceeds from the auction will enable us to continue to provide our art library at subsidised rates, ensuring everyone has access to the therapeutic benefits that art provides.
A formal email invitation will follow along with access to our online sale catalogue.
All enquiries [email protected] | 0207 407 3222