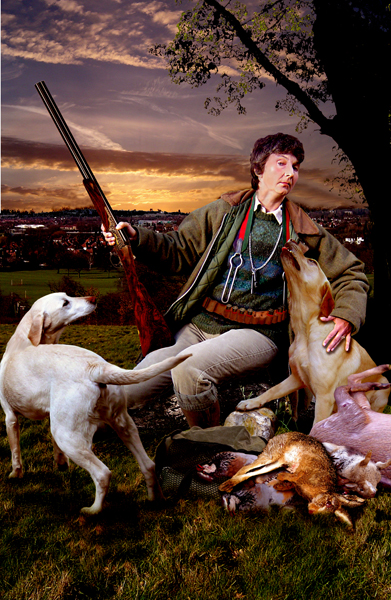 The English Way
Mary Jane Opie, Self portrait as a huntsman, 2005 (100 x 150 cm)
THE ENGLISH WAY Curated by Craig Patrick Edwards and Derek Curtis
The Aubin Gallery is pleased to present: The English Way, an exhibition uniting six artists – Claire Clutterbuck, Dmitri Galitzine, Mary Jane Opie, Simon Roberts, Andy Sewell and Kraig Wilson – all with an interest in our national identity, and the English countryside – who are questioning what it means to be English in the 21st century.
More information about the opening night here.
The United Kingdom is slowly dissolving, with both the impending Scottish referendum on independence – and our faltering position within Europe – causing national discomfort. The emergence of the coalition government is symptomatic of the fact that trusted left-right structures; represented by Conservative and Labour politicians, no longer seem relevant.
Where does this political dilemma leave our collective sense of English national identity? This theme of political uncertainty is captured in award-winning photographer Simon Roberts' 2011 three-channel video: Landscapes of Innocence & Experience – to be shown in London for journey across the UK during the official four-week campaigning period for the 2010 general election.
Another aspect of our national identity lies in the backdrop to our lives; our landscape. For city-dwellers, the countryside represents quintessential Britishness – but this is primarily constructed through imagery – in fine art, film, television or photography. Consequently, real rural England remains something of a mystery…
Andy Sewell, described by Martin Parr as "a photographer likely to make his mark on the future of photography", explores stereotypes associated with the countryside. Enamoured with quaintly-named villages – Sewell searches a map to find poetic place names such as: 'Cold Christmas', 'Nasty', 'Little Gidding', 'Good Easter' – then travels to these destinations and photographs what he finds there.
The English Way will offer six varying interpretations of England, by six artists, who will each reveal what it means – to them – to be English.