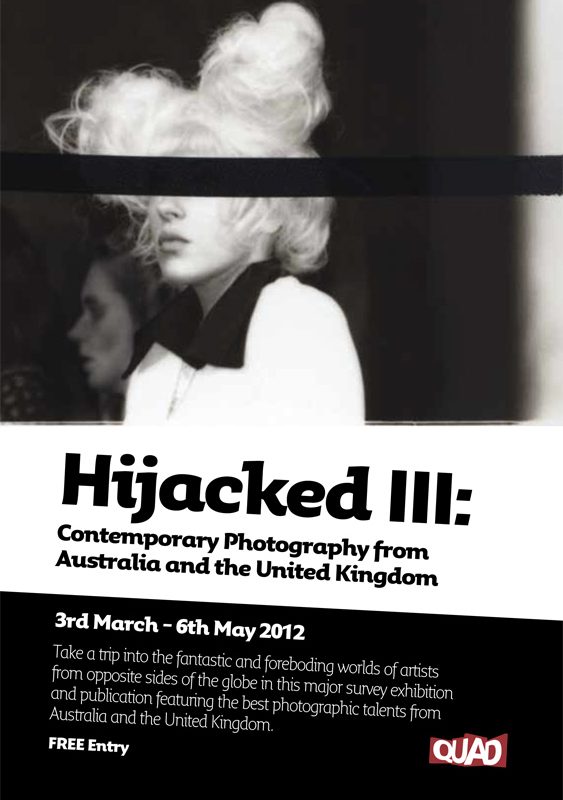 Hijacked III at Quad
The Hijacked III exhibition and publication launch will take place at QUAD Gallery on Friday 3rd March.
This major survey features some of the best photographic talents from or within Australia and the United Kingdom. My series We English, has been included.
Here's some of the press blurb: "Known for halting the status quo, arresting the scene and exploding a new perspective on the practices of contemporary photography, this third edition of the biennale Hijacked series explores the world through the eyes and works of 32 international photographers from or within the United Kingdom and Australia. Also featuring a series of specially commissioned films about participating photographers."
The exhibition will show simultaneously in QUAD with a partner version at PICA in Perth Australia. It will also tour to a couple of other Australian cities. Details here:
Perth Institute of Contemporary Art (PICA) Feb 17 – April 8, 2012
Griffith University Art Gallery (GUAG) April 20 – June 16, 2012
Australian Centre for Photography (ACP) June 29 – August 19, 2012
Curated by:
Louise Clements QUAD & FORMAT International Photography Festival UK, Mark McPherson Big City Press Aus, Leigh Robb PICA Aus.

Featuring:
AUS – Tony Albert, Warwick Baker, Bindi Cole, Christopher Day, Tarryn Gill & Pilar Mata Dupont, Toni Greaves, Petrina Hicks, Alin Huma, Katrin Koenning, David Manley, Jesse Marlow, Tracey Moffatt, Justin Spiers, Michelle Tran, Christian Thompson, Michael Ziebarth.
UK – Adam Broomberg & Oliver Chanarin, Natasha Caruana, Maciej Dakowicz, Melinda Gibson, Leonie Hampton, Rasha Kahil, Seba Kurtis, Trish Morrissey,  Laura Pannack, Sarah Pickering, Zhao Renhui, Simon Roberts, Helen Sear, Luke Stephenson, Wassink & Lundgren, Tereza Zelenkova.