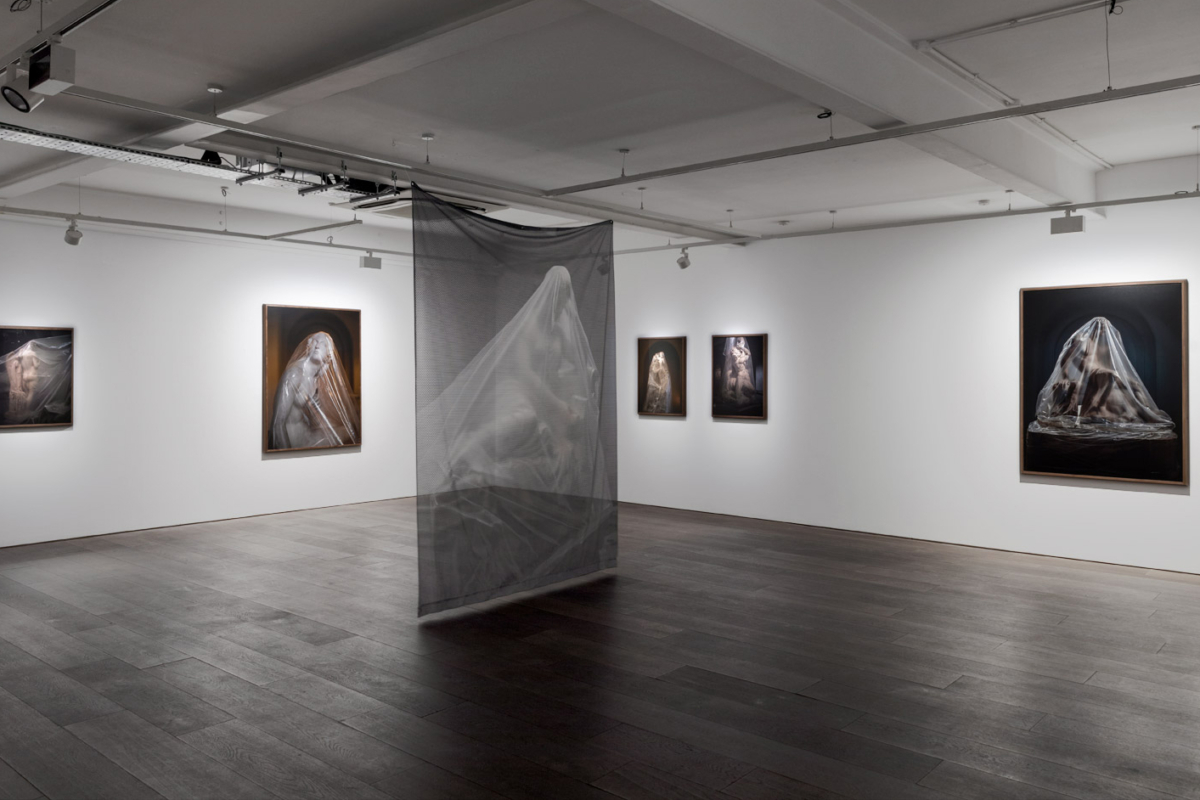 Beneath the Pilgrim Moon, Flowers Gallery
Flowers Gallery is delighted to present an exhibition of recent work by Simon Roberts. Beneath the Pilgrim Moon (2021) is a collection of photographs taken at London's Victoria and Albert Museum while it was closed to the public in the second COVID-19 lockdown. Photographing the marble sculptures housed in the Dorothy and Michael Hintze Galleries, which at the time were covered for their protection during the site's renovation, Roberts conceived of the veiled statues as metaphors for our wider experience of the pandemic.
The photographs in this exhibition fuse ancient mythology and elegant eighteenth-century neoclassicism with the harsh sterility of twenty-first century plastic and gaffa tape, a juxtaposition that is at once eerie, disorientating, and compelling. Roberts's decision to photograph the sculptures from unusual, unexpected angles gives the images a further sense of unease and vulnerability. In his image of Foggini's Samson and the Philistines, he crops out the scene's hero, concentrating only on the wailing victim, while his choice to photograph just the protagonist's pained face behind the plastic in Claude David's Vulcan (or possibly Prometheus) chained to a rock gives the appearance of suffering. His photograph of Canova's Theseus and the Minotaur taken at a sharp side angle and captured from a distance, appears despondent, pensive and lonely.
A central image, Shrouded Sculpture #8 (Monument to Lady Winchilsea by Lawrence MacDonald), is presented on translucent mesh fabric, tethered to the ceiling of the gallery. It was first shown in the outdoor exhibition curated by Meadow Arts entitled All Alone, held in the grounds of Croft Castle, Herefordshire in 2021, and is installed here in a gallery space for the first time. The printed fabric is subtly responsive to airflow and movements of passers-by, which endows the frozen marbles with a sense of fluidity and vitality, chiming with Robert's desire to "animate these figures and breathe life into their static forms."
Download a press release here and watch a video of me discussing the work here.