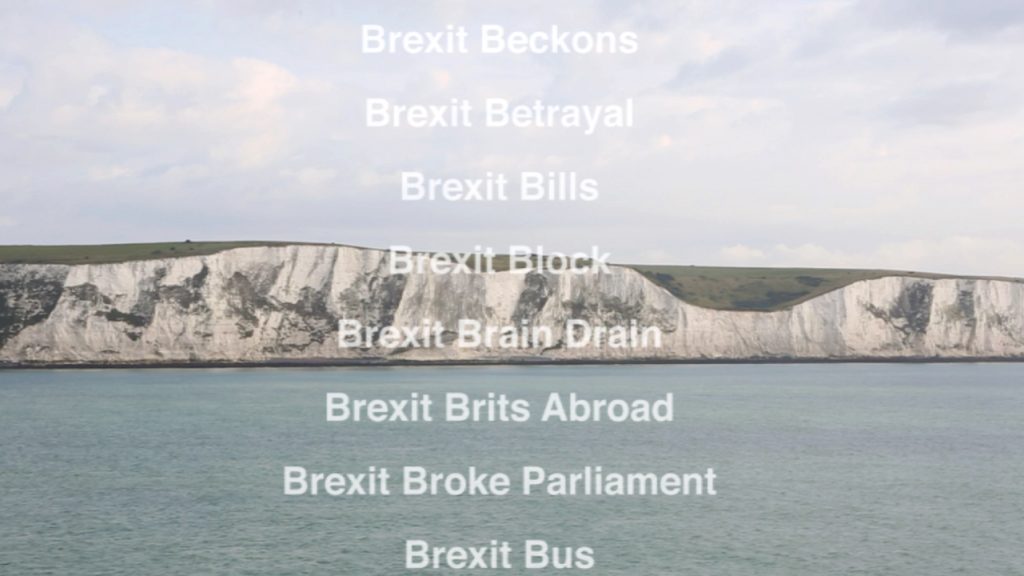 Brexit & The Arts, Panel Discussion
Image: Screengrab from The Brexit Lexicon by Simon Roberts, 2018
'Brexit will spell the end of British art as we know it. Discuss. – A Panel Discussion
According to the artist Bob and Roberta Smith leaving the EU will have a devastating impact on our artists, museums and galleries, with Brexit meaning the end of a period of British culture born out of the ashes of the Second World War that was open, intellectually curious and essentially generous. As the UK Government releases Technical Notices on a 'No Deal Brexit' and we approach the date of the People's Vote March for the Future in Central London on 20 October, our panelists will explore the possible impact of Brexit on the cultural sector and ask how we should respond as artists and stakeholders working within the arts. The panel will also discuss the changing funding landscape and our shifting relationship with Europe.
Free but tickets must be booked here:
https://www.eventbrite.com/e/brexit-will-spell-the-end-of-british-art-as-we-know-it-discuss-tickets-50216631296
Panelists will include:
Shoair Mavlian, Director of Photoworks and former Assistant Curator at Tate Modern.
Mahtab Hussain, whose work explores the relationship between identity, heritage and displacement. Mahtab was recently featured on the BBC 4 documentary 'What Do Artists Do All Day?'.
Natasha Caruana, artist and Senior Lecturer of Photography at the University for the Creative Arts, Farnham, UK
Michael Lightfoot, artist, illustrator, and director of Artists for Brexit, a network of artists, arts workers and arts enthusiasts who support the process of securing independence for the UK.
and Uta Kogelsberger, a London based artist working with photography, video installation and sound. Uta's new work 'Uncertain Subjects: Part II' being shown as part of the 2018 Brighton Photo Biennial gives a voice to those who feel they are not being heard in the current Brexit negotiations.
This event forms part of the 2018 Brighton Photo Biennial festival and is supported by Arts Council England, Photoworks and the Brighton Photo Fringe.
It has been convened by Brighton-based artist Simon Roberts, who is showing work during the festival exploring Brexit.