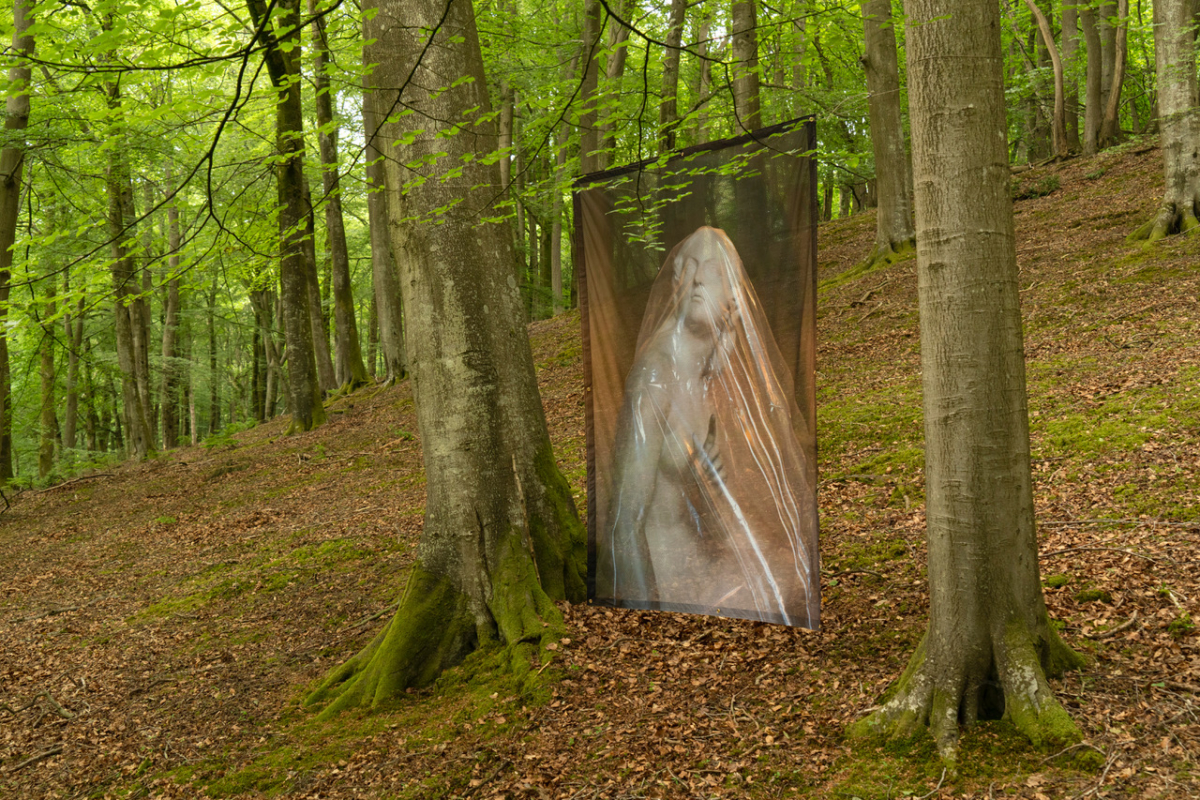 All Alone, Croft Castle
Image: Eve listening to the voice by Edward Hodges Bailey, 2020 (photograph on fabric)
I'm showing a new series of work, Waldeinsamkeit, as part of this group exhibition organised by Meadow Arts. All Alone is installed in the grounds of Croft Castle in Herefordshire and also includes works by the artists Adam Chodzko, David Bethell, Edie Jo Murray and ….kruse.
Waldeinsamkeit
Each inhabiting their own space in the deep woods above Fishpool valley, a series of shrouded statues are revealed, almost as apparitions. Elegant and melancholic, the statues seem absorbed in timeless contemplation, trapped in their own mineral universe. Evoking the tradition of using sculptures in landscape design, the marble figures represent mythological and allegorical subjects. The images, printed on weather resistant fabric, are photographs taken in 2020 during the second Covid-19 lockdown whilst the Victoria and Albert Museum was closed to the public. Although the statues were covered for their protection during refurbishment, Roberts uses them as a metaphor for our wider experience of the pandemic. Wrapped in a plastic membrane, their features and expressions are partially obscured, and they seem to push against their coverings. The tension caused by the juxtaposition between the Neo-classical forms and 21st Century plastic and gaffa tape renders them somehow more vulnerable. Tethered between trees, the static figures become almost life-like as they respond to gentle gusts of wind and the change of light during the day. Waldeinsamkeit is an untranslatable German term that evokes the enlightening, sublime feeling that can come from being alone in the woods. Roberts' images encourage visitors to experience just that.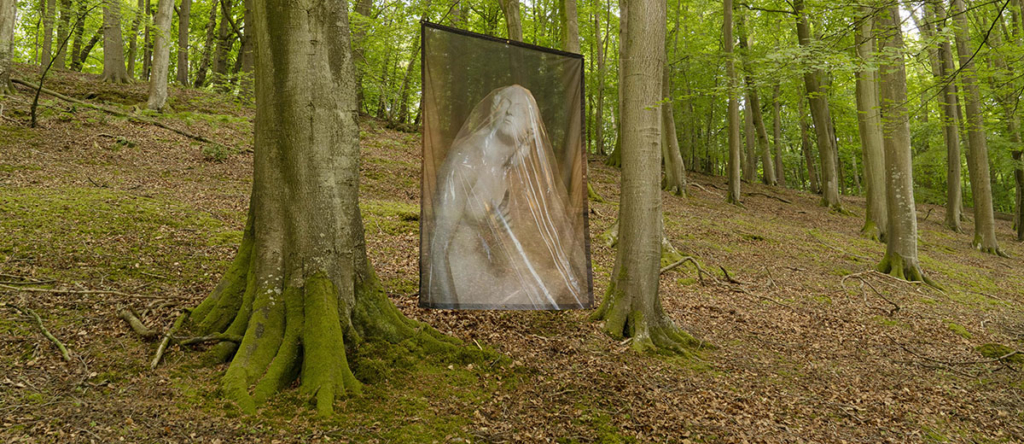 All Alone
Meadow Arts returns to Croft Castle to take up residence in the very special landscape of Fishpool Valley. All Alone unfolds on two levels, an outdoor exhibition with sculpture and installations, and an ambitious online component that holds the digital elements of some of the artworks in the valley, as well as artists' films.
Through the work of five artists, All Alone proposes a creative re-examination of the human condition of aloneness, a topic that has known many interpretations over the centuries, but has recently, through the Covid-19 crisis, been brought sharply to the forefront of our collective consciousness. Beyond the physical pressures of being isolated, lockdown is/was a communal experience, but each individual experience is unique, which is isolating in itself. The title, All Alone, reflects on the paradoxical commonality of aloneness.
Aloneness could be best defined by its two opposite poles; on one end of the spectrum is isolation, a state mostly enforced on an individual, and on the other solitude, which might be the result of choice and has a more positive aspect. Loneliness is a relatively recent concept, although almost nine million people in Britain today define themselves as 'lonely', according to the Campaign to End Loneliness.
The project aims to start conversations around aloneness; accompanying events include workshops, tours, artists' talks and projects with local communities and groups. There are opportunities to interact with the artworks, the artists and the wider community (see Events pages for details).