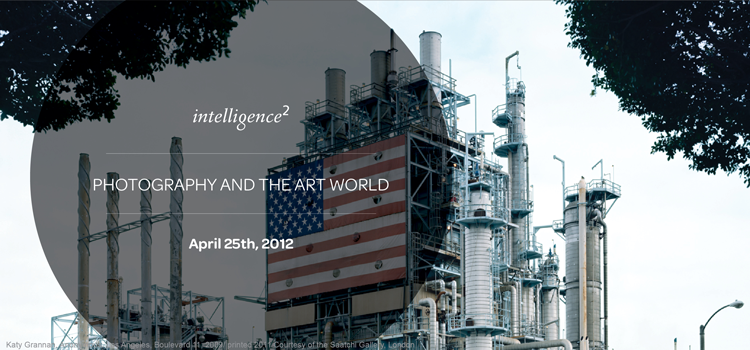 Photography and the Art World – debate at Saatchi Gallery
'Photography and the art world': debate organised by Intelligence Squared.
Wednesday 25th April, 2012, Saatchi Gallery
The discussion will begin at 7pm and finish at 8.45pm.
"In 2010 the artist-photographer Paul Graham delivered a blistering presentation to the MoMA Photography Forum in which he said that "there remains a sizeable part of the art world that simply does not get photography". Intelligence² recently ran a debate on the topic: "Photography will always be a lesser medium than paint." At the 2011 Deutsche Borse Photography Prize there was outrage from certain quarters that the documentary photographer Jim Goldberg should be on the same shortlist as Thomas Demand and Elad Lassry.
So why is it that there is still this complicated, rivalrous relationship between the worlds of art and photography? Why is photography still referred to in a semi-derogatory way? What is it about photography that makes it, for some people, inherently of less worth when held up against other art mediums? Are photographers such as Walker Evans and Diane Arbus really lesser artists than their painter contemporaries, Mark Rothko and Ellsworth Kelly respectively?
This event, organised to launch the Saatchi Gallery's major photography exhibition Out of Focus, comes at a time when the world of photography is going through one of its richest and also most challenging moments. Traditional boundaries between various territories within the world of photography – fashion, documentary, advertising and art – are blurring into one another in unexpected, exciting and not always tension-free ways; in some people's eyes 'straight' photography is being usurped by conceptual photography; and with that, even the labels 'artist' and 'photographer' are the subject of debate.
During this discussion photographers Mitch Epstein and Hannah Starkey will join writer Geoff Dyer and curator Susan Bright to explore the relationship between art and photography. They will attempt to define what it is that is unique about photography and the creative act of making a photograph, and enlarge the way we view the world of visual art."