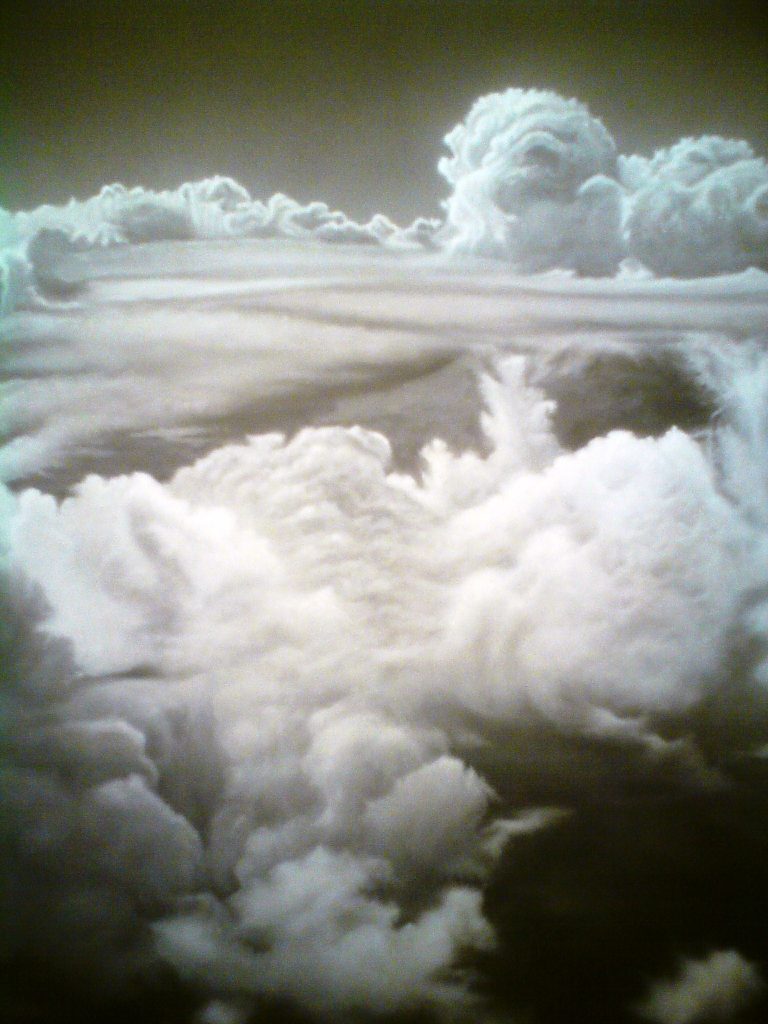 Image: Print from Keith Tyson"s Cloud Choreography
Keith Tyson won the Turner Prize in 2002, with an exhibition of humming machines and large-scale paintings dissecting the mysteries of the universe. In 2009 he invited Tate into his studio on the south coast of England, where new work was being prepared for an exhibition at Parasol Unit, London. Amongst them Alle diese kostenlosen Casino Spiele auf unserer Seite wurden von den Providern der Spiele entwickelt, um sofort in dem Browser geladen zu werden ohne die Notwendigkeit, weitere Software herunter zu laden. are his 'Cloud Choreography' paintings, which explore imagery ranging from the cloud of milk in your coffee to the vapour from an atomic bomb. He also talks about his alchemic 'Nature Paintings' which are the result of a chemical reaction; each composition unique and unpredictable. Finally, we take a stroll on the beach to muse on the sources of Keith's inspiration.
You can watch a video here.
The studio team of Josef Konczak and Lu-Lu Evans.
Photograph: Industrial House, courtesy of Apec Studios
Dear Friends
My studio, along with that of APEC artists' studios, in Hove are currently under threat of redevelopment. The building itself, Industrial House in Conway St, houses several other creative industries including Artizan Editions, Masquerade Costumes, Logo Sports, and Larchmont films. Current proposals for the site make no provision for secure affordable workspace and once again, artists and creative's will soon be trying to find somewhere to produce their work in a city that is becoming prohibitively expensive.
We"d like your help in joining our campaign for affordable artists' and creatives" workspaces in Brighton and Hove.
Here is more information about the campaign from Chris Stevens, at APEC Artist Studios:
Artists, creatives and makers play a vital part in our city's personality – they are the driving force behind many visual arts festivals, events and independent exhibitions. Most of these are produced on a shoestring budget, at little or no cost to the public purse, and are free to attend. Creative producers make an invaluable contribution to what makes Brighton & Hove a successful city. Yet each time there is a large redevelopment, the chances are, those who make these contributions will suffer. With a limited legacy of industrial buildings in the city and constraints on expansion due to its geographical location, space for us is running out fast.
We, the artists working at APEC, are concerned about the fate of all the businesses in the building. But we also know our campaign for recognition of the need for affordable workspace for artists and makers in Brighton & Hove must go further. Many creative producers across the city will face similar problems unless we can prevent further loss of affordable workspaces."
We are therefore petitioning Brighton & Hove City Council to ensure that in future, redevelopments provide adequate allocation of long-term, genuinely affordable, artists' and makers' studio/workshop space.
This isn't just about our building, this is about ensuring the preservation of affordable spaces across the whole city for artists and creative's to make art in.
How can we do this? By showing the Council that enough people think Brighton's unique personality relies on the culture that originates here, and that for this to continue, creative producers need affordable places to work.
Full details are attached on the pdf. If we can get 1250 signatures, the petition must be debated at a full council meeting. But there's a deadline: the petition closes on 21st December so we don't have much time!
If you feel you can, please sign our petition by following the link .
If you want to help MORE, please spread the word by forwarding this post. Write to your local Councillor too. Let them know this is important.
If you'd rather sign a paper copy, the attached pdf also works as a print version. Please print off a page or more and add your name, plus anyone else"s who might want to sign?
And if you"re involved in any kind of public space (shop, exhibition space, cafe, art class or anything else) and can pass a copy round for others to sign, or if you know someone who would be willing to put up the petition in their space, please do so.
For further information, and how to get signed sheets collected, please contact Chris Stevens on what@then.myzen.co.uk
We need all the help we can get, we've only got a month, but it's not impossible! A lot of people will be showing work in the run up to Christmas, our city is full of exhibitions and events, there are a lot of artists and makers in the city, many more enjoy what we do.
If you are any kind of creative producer, if you've ever visited an independent exhibition in the city, if you have enjoyed the work of any artist, maker or creative producing work in Brighton and Hove, please sign our petition, your support is an important contribution to keeping our city the unique place it is.
Chris Stevens
APEC Studios
My new publication has arrived at the studio, produced to coincide with the exhibition Let This Be A Sign at Swiss Cottage Gallery (May-July 2012). The work explores the economic, political and social effects of the UK recession.
Published on newspaper print it includes a series of landscapes photographs, digital collages and an extract of the Credit Crunch Lexicon. Produced in collaboration with Fuel, the cover design doubles as a protest poster where messages can be written by the owner.
You can purchase a copy here.
A new publication in the studio from The Simpson.
A new photography publication in my studio from Ian Beesley.
I've just received a copy of Iain McLean's publication 'What a Stramash – A fan's view of lower league Scottish football' in the studio. Iain has been photographing Albion Rovers since season 2000/2001, trying to take in as many home and away games as possible. He says "My aim is to capture a sense of what it is like to follow a small club and show the spirit of those who follow teams such as the Rovers".
"Albion Rovers may be an unfashionable club in these days of high salaries, flash cars and WAGs, but to me they play real football in the real world. The community spirit and resilience found at small clubs is the perfect antidote to the excesses of modern football".
The photographs will be exhibited at The Pod Gallery until 15 April 2012.
You
can watch a video slideshow of the work here.
Rainbow seen from my studio, Hove, UK. 7th March 2012.
A newly framed print for the studio: Sun-yellowed by TV by Millie Burton. This beautiful print comes from Millie's Home Improvements series (and that's Josef Konczak reflected in the glass!).
Jemima hangs out in my studio. August 2011.