Installation shots and recent press on National Property exhibition at Flowers Gallery.
FT Weekend Magazine, "Figures in a landscape," July 2015 (pdf)
Time Out, "Take a stately Brit tour in Cork Street: Simon Roberts: National Property," July 2015 (pdf)
Wall Street International, "Simon Roberts. National Property," July 2015. (link)
BA High Life Magazine, "Simon Roberts: social landscapes of England," July 2015 (link)
City Am, "Little Britain," July 2015 (pdf)
L'Oeil de la Photographie, "London: Simon Roberts, National Property at Flowers gallery," July 2015 (link)
BBC Online, "In pictures: National Property," July 2015 (link)
Walk to Free Art London, "361 Trough House Bridge, Eskdale by Simon Roberts," July 2015 (link)
Lens Culture, "National Property: The Picturesque Imperfect," July 2015 (link)
The exhibition runs until 8th August 2015.
Pierdom has been reviewed widely in the press since launching in September.
Here are links to a few:
PhotoEye, "Book Review: Pierdom," 3 December 2013, Jenkins, Karen. (link)
Hotshoe, "Pierdom book review," Issue 186 / Winter 2013.
Photography & Architecture, "Pierdom review," 27 November 2013, Graham, Julie. (link)
Photomonitor, "Pierdom review," November 2013, Atwell, Oliver. (link)
Slow Wear Journal, "Victorian Remains," 18 November 2013. (link)
Klat Magazine, "Simon Roberts, Pierdom" 11 November 2013, Severo, Fabio. (link)
Gup Magazine, "Pierdom- Book Review," 30 September 2013, Giostrelli, Sofia. (link)
Fad, "ART STUFF on a train #21: Pierdom," 24 September 2013, Carey-Kent, Paul. (link)
One Stop Arts, "Simon Roberts: Pierdom at Flowers Gallery," 23 September 2013, Harbour, Stacey. (link)
The Telegraph, "Review: Pierdom by Simon Roberts," 29 October 2013, Newman, Cheryl. (link)
Wallpaper* Magazine, "Top shelf: 10 new books to flick through this autumn," 28 October 2013, Bell, Jonathan. (link)
Morning Star, "Pier Pressures," 14 September 2013, Hodgson, Francis.
Independent on Sunday, "Photography book review: Pierdom," 15 September 2013. (link)
Architects' Journal, "Welcome the onset of autumn with this seaside exhibition," 9 September, 2013, Pallister, James. (link)
The Observer, "Pierdom: photography book of the month," 1 September 2013, O'Hagan, Sean. (link)
Time Magazine Lightbox, "The Victorian Pleasure Piers of a British Summer," 10 September 2013, Harris, Katie. (link)
BBC News Online, "Britain's Piers in Focus," 10 September 2013, Coomes, Phil. (link)
Camden Review, "Art Diary: Sea Here," 29 August 2013, Smith, Amy. (link)
FT Weekend Magazine , "Piers of the Realm," 24 August 2013, Hodgson, Francis. (link)
Aesthetica Magazine, "Iconic Britain- Pierdom at Flowers Gallery," Issue 54 / August – September 2013. (link)
My Star Chambers series is featured in the current issue of Vignette Magazine. You can see the whole issue online here.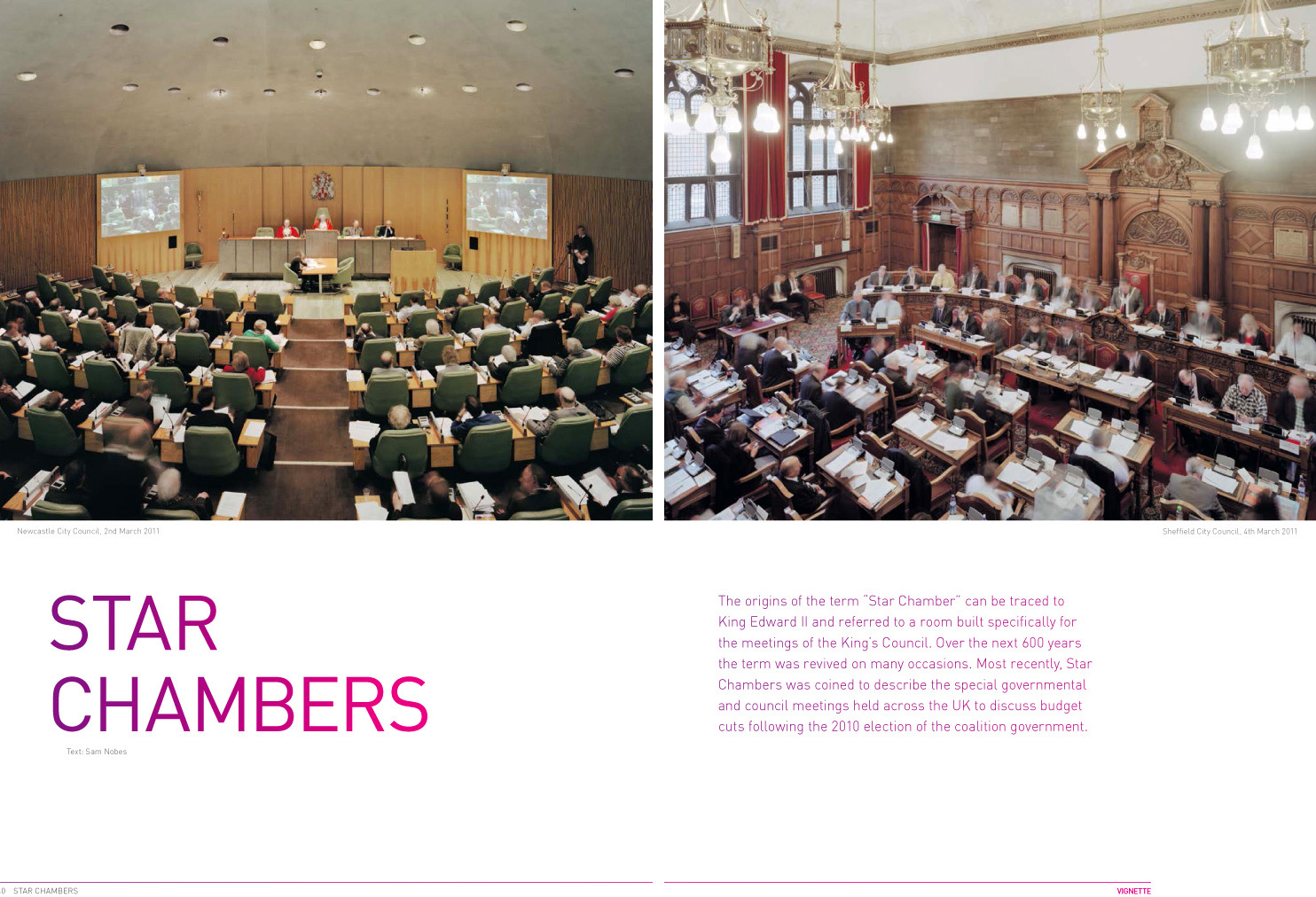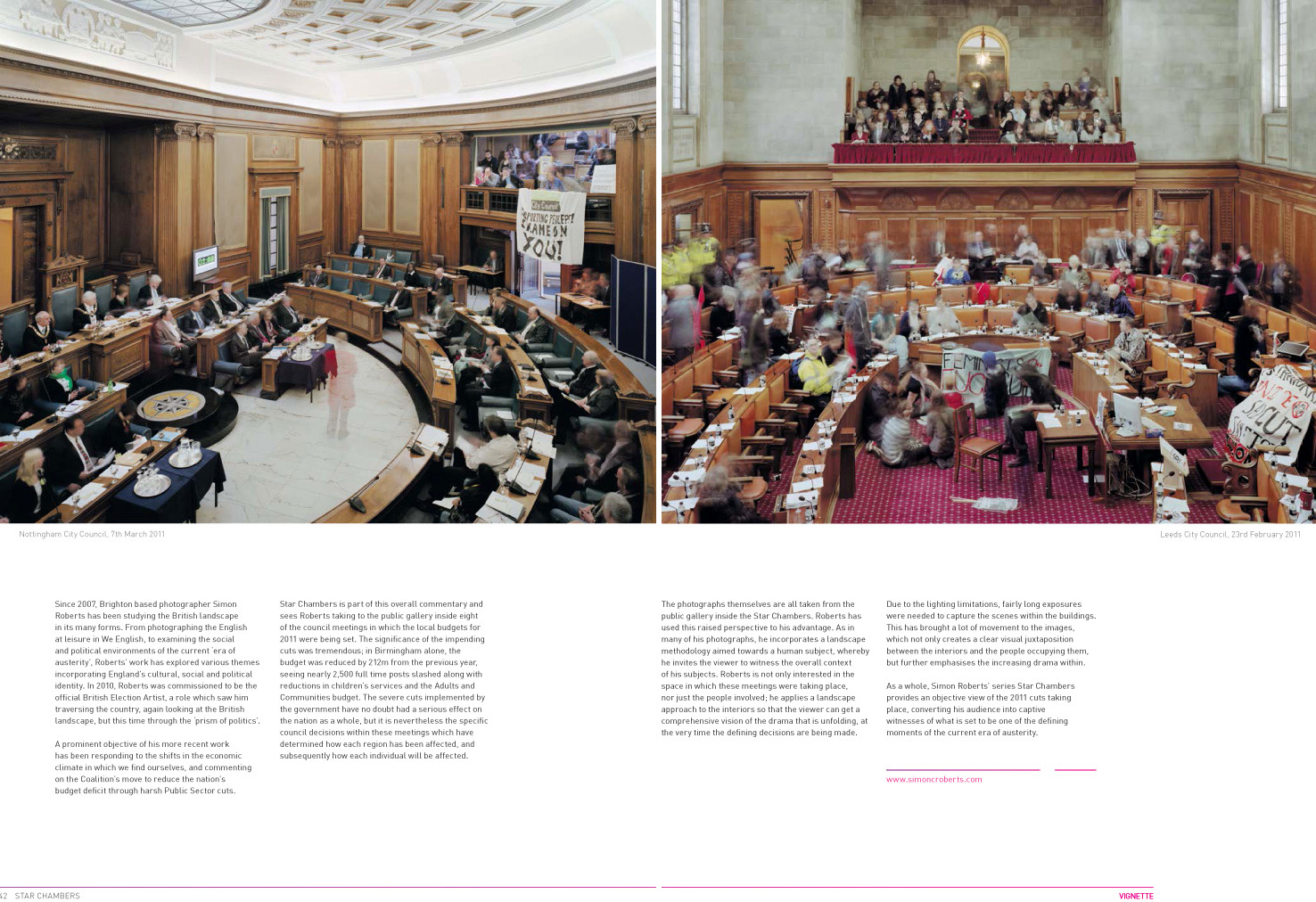 Here is the article by Sam Nobes, which accompanies the piece:
The origins of the term "Star Chamber" can be traced to King Edward II and referred to a room built specifically
for the meetings of the King's Council. Over the next 600 years the term was revived on many occasions. Most recently, Star Chambers was coined to describe the special governmental and council meetings held across the UK to discuss budget cuts following the 2010 election of the coalition government.
Since 2007, Brighton based photographer Simon Roberts has been studying the British landscape in its many forms. From photographing the English at leisure in We English, to examining the social and political environments of the current 'era of austerity', Roberts' work has explored various themes incorporating England's cultural, social and political identity.
In 2010, Roberts was commissioned to be the official British Election Artist, a role which saw him traversing the country, again looking at the British landscape, but this time through the 'prism of politics'. A prominent objective of his more recent work has been responding to the shifts in the economic climate in which we find ourselves, and commenting on the Coalition's move to reduce the nation's budget deficit through harsh Public Sector cuts.
Star Chambers is part of this overall commentary and sees Roberts taking to the public gallery inside eight of the council meetings in which the local budgets for 2011 were being set. The significance of the impending cuts was tremendous; in Birmingham alone, the budget was reduced by 212m from the previous year, seeing nearly 2,500 full time posts slashed along with reductions in children's services and the Adults and Communities budget.
The severe cuts implemented by the government have no doubt had a serious effect on the nation as a whole, but it is nevertheless the specific council decisions within these meetings which have determined how each region has been affected, and subsequently how each individual will be affected.
The photographs themselves are all taken from the public gallery inside the Star Chambers. Roberts has used this raised perspective to his advantage. As in many of his photographs, he incorporates a landscape methodology aimed towards a human subject, whereby he invites the viewer to witness the overall context of his subjects. Roberts is not only interested in the space in which these meetings were taking place, nor just the people involved; he applies a landscape approach to the interiors so that the viewer can get a comprehensive vision of the drama that is unfolding, at the very time the defining decisions are being made.
Due to the lighting limitations, fairly long exposures were needed to capture the scenes within the buildings. This has brought a lot of movement to the images, which not only creates a clear visual juxtaposition between the interiors and the people occupying them, but further emphasises the increasing drama within.
As a whole, Simon Roberts' series Star Chambers provides an objective view of the 2011 cuts taking place, converting his audience into captive witnesses of what is set to be one of the defining moments of the current era of austerity.