I have had work enter two permanent collections:
Southport Pier, Merseyside, 2011 from Pierdom has been acquired by the Royal Photographic Society.
David Cameron, Conservative, Spelsbury, 2010 from The Election Project has been acquired by the Eton College.

About the Royal Photographic Society collection-
The RPS Collection which consists of over 250,000 images and artefacts from the last 150 years of photography. The Society's Collection is one of the world's great photography collections. It, along with its archive and library is held for the nation at the National Media Museum in Bradford, UK. It was Queen Victoria's husband, Prince Albert, a staunch supporter of the Society, who suggested that The Society began to collect photographs to record the rapid technical process in photography, which was supplemented as time went on by collections of books and apparatus.
About the Eton College collection –
Since its foundation in 1440 Eton College has gathered an extraordinary collection of rare books, manuscripts, artefacts and documents, paintings and drawings, historic photographs, silver and natural history. Find out more here.
Photo: Installation of 'Eastbourne Pier, East Sussex, 2011', Towner Gallery, September 2014
My Eastbourne Pier print, recently acquired by Towner Gallery, is part of their new group exhibition Land and Sea.
Land and Sea: A selection of new acquisitions and existing works from the permanent collection. The display will tie in with Twixt Two Worlds and will focus on works that use film and photography in their depiction of sea and landscapes.
This display will include the first showing of our new acquisition by Swiss artist Uriel Orlow, his installation work The Short and the Long of It (2010).  We will also be showing our newest acquisition of five works by British artist Matthew Miller and Eastbourne Pier (2011) by Simon Roberts.
As part of the Let This Be A Sign exhibition at Swiss Cottage Library, I created a site-specific piece installing a quote from Shelley's The Masque of Anarchy in the window of the library building, which houses the gallery.
The quote was cut in frosted vinyl and mounted into one of the ground-floor windows of the library, mirroring  quotes – by the likes of Andre Maurois, Anne Frank and Malcolm X – already mounted in adjacent windows of the building. The piece, which will remain permanently in the window of the building, has become part of the London Borough of Camden's permanent art collection.
'Masque of Anarchy' was written in 1819 (but not published until 1832) in response to the Peterloo Massacre. The last verse, installed at Swiss Cottage Library, reads:
'Rise like Lions after slumber
In unvanquishable number –
Shake your chains to earth like dew
Which in sleep had fallen on you –
Ye are many – they are few.'
You can read the whole poem here.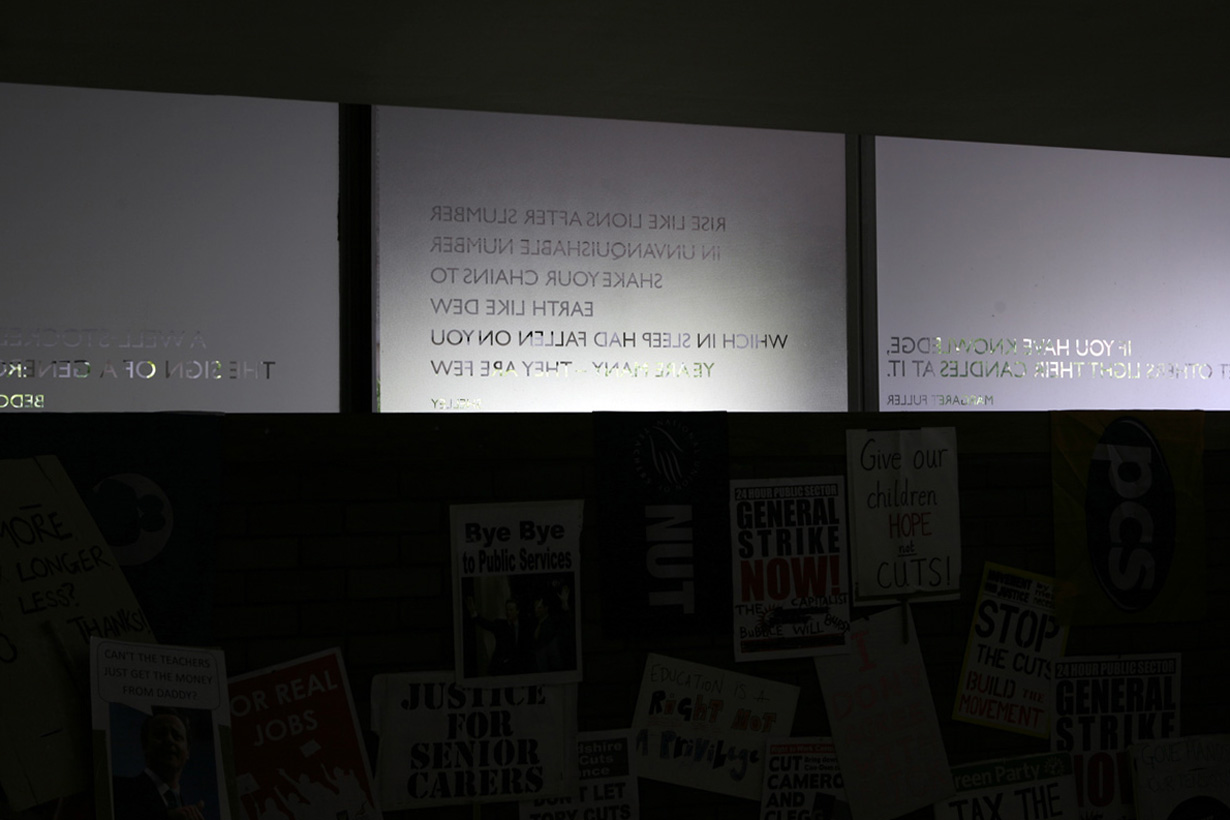 Swiss Cottage Library in the London Borough of Camden was designed by Sir Basil Spence (Coventry Cathederal, University of Sussex, British Embassy in Rome etc) and built from 1962 to 1964 and is now seen as a landmark in British modernist architecture. The Grade II building was remodelled by John McAslan & Partners in 2003.