Image: Detail of 'South Downs Way, East Sussex, 2007' from the series, We English
British Landscape and the Imagination: 1970s to Now
I have several pieces included in this group show, an Arts Council Collection National Partner Exhibition running from 30 SEP – 21 JAN 2018.
This major survey exhibition focuses on artists who have shaped our understanding of the British landscape and its relationship to identity, place and time. Exploring how artists interpret urban and rural landscape through the lens of their own cultural, political or spiritual ideologies, the exhibition reveals the inherent tensions between landscape represented as a transcendental or spiritual place, and one rooted in social and political histories.
Though primarily photography, A Green and Pleasant Land includes film, painting and sculpture by over 50 artists, illustrating the various concerns and approaches to landscape pursued by artists from the 1970s to now.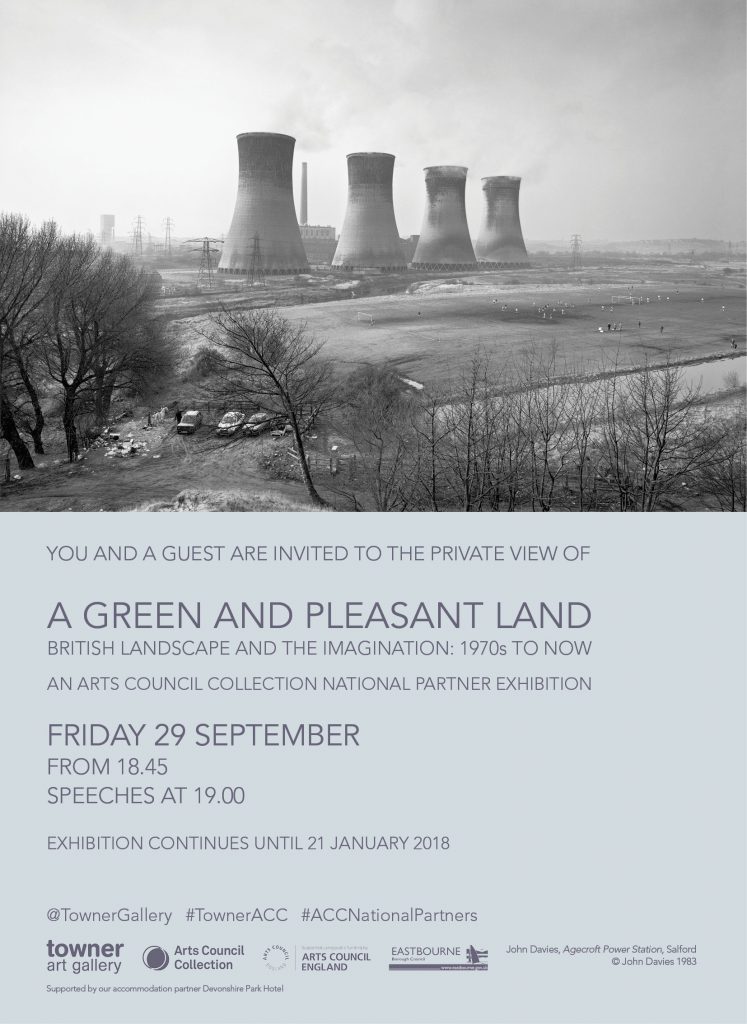 Artists included in the exhibition: Keith Arnatt, Gerry Badger, Craig Barker, John Blakemore, Henry Bond and Liam Gillick, Paul Caponigro, Thomas Joshua Cooper, John Davies, Susan Derges, Mark Edwards, Anna Fox, Melanie Friend, Hamish Fulton, Fay Godwin, Andy Goldsworthy, Paul Graham, Mishka Henner, Paul Hill, Robert Judges, Angela Kelly, Chris Killip, John Kippin, Karen Knorr, Ian Macdonald, Ron McCormick, Mary McIntyre, Peter Mitchell, Raymond Moore, John Myers, Martin Parr, Mike Perry, Ingrid Pollard, Mark Power, Paul Reas, Emily Richardson, Ben Rivers, Simon Roberts, Paul Seawright, Andy Sewell, Theo Simpson, Graham Smith, Jem Southam, Jo Spence, John Stezaker, Paddy Summerfield, The Caravan Gallery, Chris Wainwright, Patrick Ward, Clare Woods and Donovan Wylie.
http://www.townereastbourne.org.uk/exhibition/a-green-and-pleasant-land/
Landscapes of Innocence and Experience surveys a number of recent bodies of work by British photographic artist Simon Roberts (b. 1974). The exhibition begins with a single image from Roberts' Motherland series, an expansive social documentary project photographed across Russia between 2004 and 2005. This image marks a catalyst for Roberts and leads to over a selection of photographs taken in Britain since Roberts returned there with a renewed interest in photographing his homeland.
The exhibition weaves through various series including We English, The Election Project, XXX Olympiad and Pierdom. Brought together in the UK for the first time, the works demonstrate a sustained photographic investigation by Roberts into the terrain and shorelines of his native country. The works picture the social practices and customs, cultural landmarks, economic and political theatre that define the space as uniquely British.
Alongside his photographs, Roberts is also screening a 3-channel video which records a journey he made around the country during the official four-week period of campaigning for the 2010 General Election. The film goes in search of incidental spaces and moments across Britain's urban and rural landscapes set against a soundtrack of ambient noise and radio news bulletins. Juxtaposed alongside the large format landscape photographs, When did you last cry? explores the shifting perceptions of the country's economic and political geography, with its many anxieties; a rediscovery and revaluation of where we find ourselves today.
The exhibition is realised in collaboration with Flowers Gallery, London.
The Verey Gallery, funded by Sir David and Emma Verey, opened in 2011 as a space to exhibit the remarkable collection of art, manuscripts, rare books, silver, photography and antiquities built up over 500 years by Eton College.  It also enables the School to make links with the art world through temporary exhibitions curated by visiting curators and showing loaned art works.
If you have any queries, or would like to visit the gallery please contact Charlotte Villiers, Exhibitions & Outreach Coordinator.
Tel: 01753 671123  Email: c.villiers@etoncollege.org.uk
A selection of prints from We English are included in this new group show at Klompching Gallery, New York.
Also included are works by John Blakemore, Tessa Bunney, Odette England, Doug Keyes, Brad Moore, Lisa M. Robinson and Helen Sear.
I'm going to photograph at Westonbirt Arboretum, as inspiration I had a little read of this paper: GARDEN HISTORY – CULTURAL AND HISTORICAL GEOGRAPHIES OF THE ARBORETUM.
You can download the pdf here.
A truck trailor used for advertising parked in a field near the A1 motorway in Wentbridge, Doncaster, 3rd March 2011.
It is one of two prints that I've donated to the Rhubarb-Rhubarb postcard auction. Find out more here.