Image: "I will send you £35", La Mostra della Rivoluzione, (date unknown)
Work from my Rome Commission and Sight Sacralization series are on show at the Photo London Fair with Galerie Heinzer Reszler.
Heinzer Reszler are located in room F3.
Photo London is located at Somerset House, Strand, London WC2R 1LA
18th – 21st May 2017
Friday 19 May (12:00 – 19:30)
Saturday 20 May (12:00 – 19:30)
Sunday 21 May (12:00 – 18:30)
Installation shots and recent press on National Property exhibition at Flowers Gallery.
FT Weekend Magazine, "Figures in a landscape," July 2015 (pdf)
Time Out, "Take a stately Brit tour in Cork Street: Simon Roberts: National Property," July 2015 (pdf)
Wall Street International, "Simon Roberts. National Property," July 2015. (link)
BA High Life Magazine, "Simon Roberts: social landscapes of England," July 2015 (link)
City Am, "Little Britain," July 2015 (pdf)
L'Oeil de la Photographie, "London: Simon Roberts, National Property at Flowers gallery," July 2015 (link)
BBC Online, "In pictures: National Property," July 2015 (link)
Walk to Free Art London, "361 Trough House Bridge, Eskdale by Simon Roberts," July 2015 (link)
Lens Culture, "National Property: The Picturesque Imperfect," July 2015 (link)
The exhibition runs until 8th August 2015.
In 2012 I was commissioned to make a series of photographs that would help bring a sense of identity to acute inpatient departments within a major new hospital building in Bristol, UK. In response to this commission, I've created a new body of work reflecting the city's culture, landscape and history. My final set of photographs have now been installed across seven floors within the new adult ward block and emergency department of the Bristol Royal Infirmary (BRI) hospital and are intended to enrich the hospital environment for patients and staff.
The works follow the pattern of much of my previous studies, that is, photographs that deal with the relationship between landscape and people, and notions of identity and belonging. The final installed artworks explore the relationship that people living in the Bristol and South West have with their landscape, landmarks and pastimes, whilst depicting the multi-cultural and social diversity of the region.
As is common with my practice I also added a collaborative element to the commission, offering the public an opportunity to participate directly with the project. I felt it was important to give the public an opportunity to help steer the project, given that the BRI is at the heart of Bristol's community and that many people have an invested interest in the future of the hospital; be they former patients, current employees or visiting relatives.
Throughout the commission I worked with hospital staff and the local community, whilst also collaborating with cultural partners including M Shed, the Bristol Records Office and Artshine. Members of the public were invited to submit their own photographs inspired by the region and over 1,400 were uploaded to the project website (www.beholdrespondinspire.com), which has become a permanent online gallery and legacy for the project.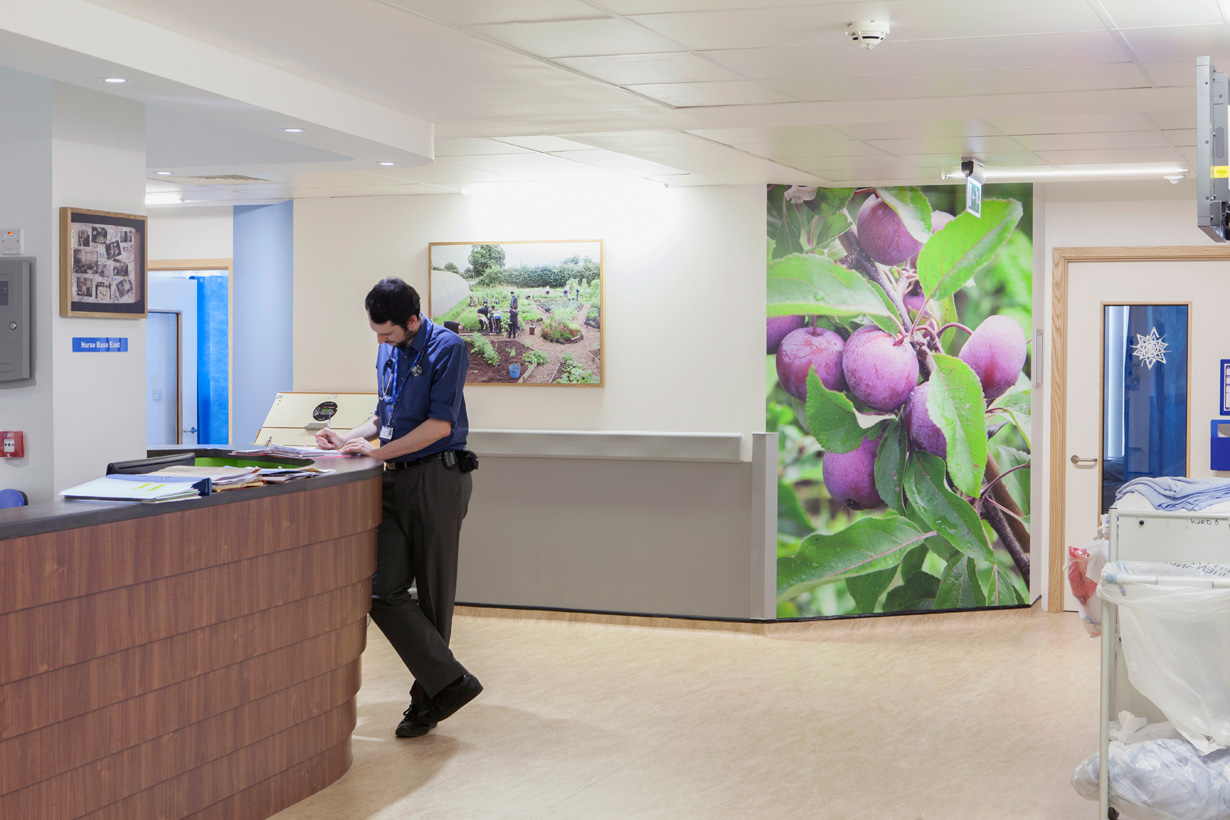 The final installed works include:
– Large-format framed landscape prints that reflect the unique culture, identity and interests of Bristol's community that the hospital serves.
– Alongside my own contemporary landscape scenes, I sourced historic photographs from the same locations to prompt memory for patients suffering with dementia.
– 'The Public Gallery', a large five-metre collage based on a photograph I took of the Clifton Suspension Bridge, made up from over 2000 photographs submitted by the public.
– A series of themed collage pieces made up of images submitted by the public.
– Floor-to-ceiling 'fauna portraits' photographed in allotments and communal gardens sited within the vicinity of the hospital, along with images from Westonbirt National Arboretum.
– Images printed directly on to ceiling tiles installed above ward beds featuring canopies of trees and hot air balloons photographed from the perspective of someone looking up.
You can download a pdf with more installation shots and a full description of the final works here.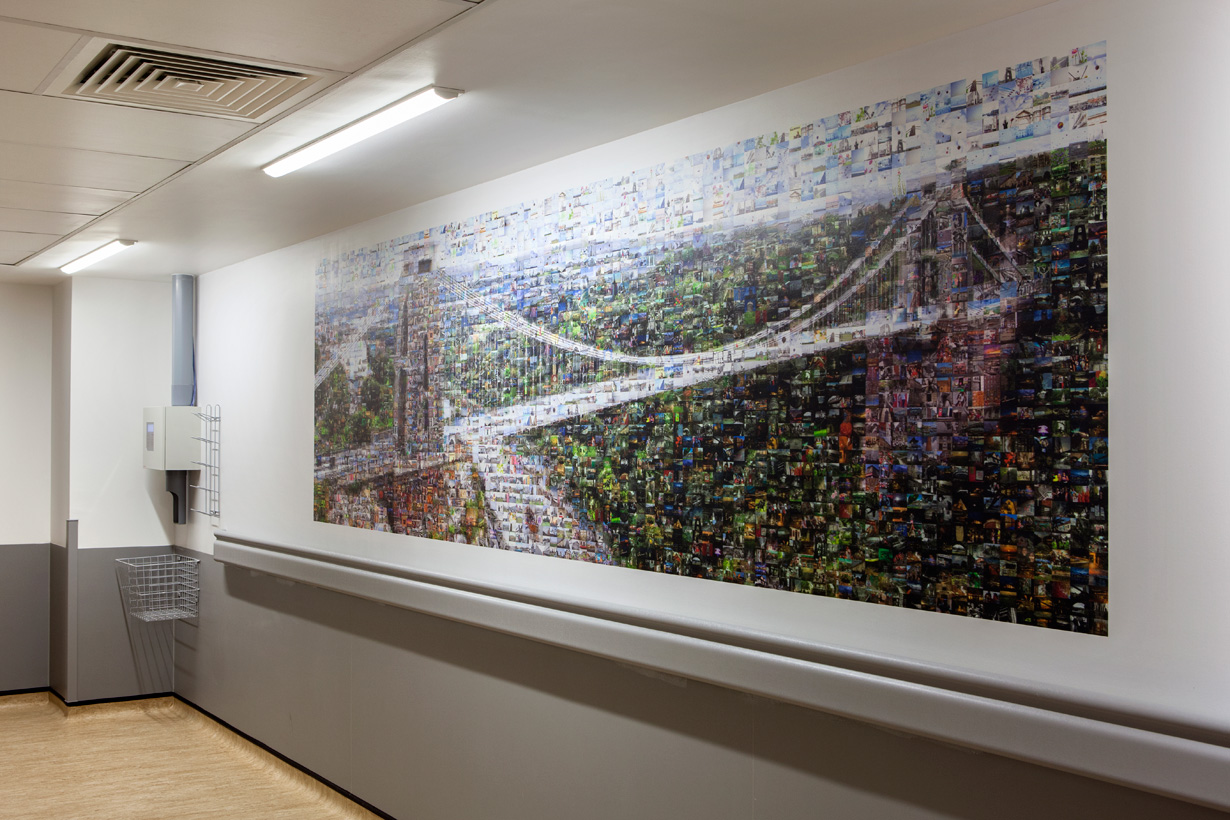 The project, commissioned by local hospitals' charity Above & Beyond, was part of an arts programme for the BRI redevelopment, which consisted of a number of refurbishments and new builds for University Hospitals Bristol NHS Foundation Trust.
Commissioner: University Hospitals Bristol NHS Foundation Trust
Partners: Laing O'Rourke, Coda, M-Shed, Artshine, Bristol Records Office
Supported by: Above & Beyond Golden Gift Appeal
Produced by: Willis Newson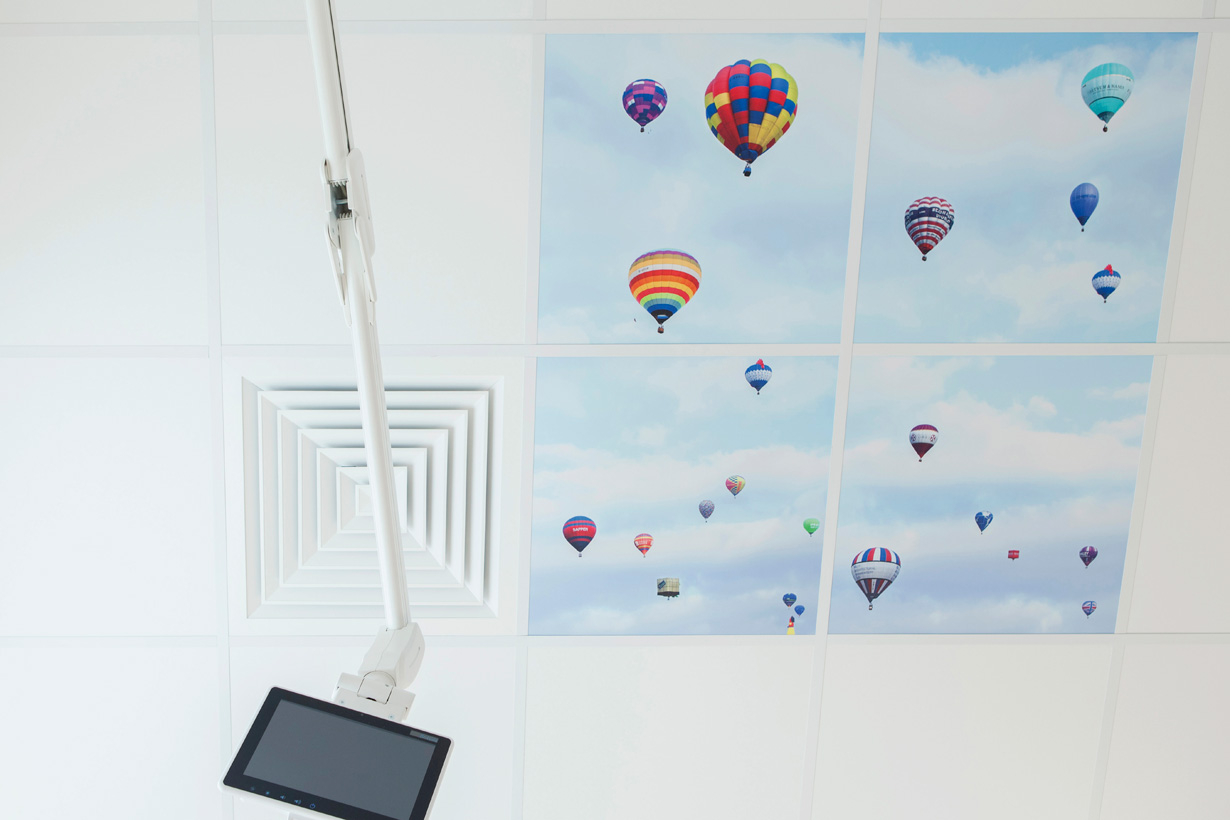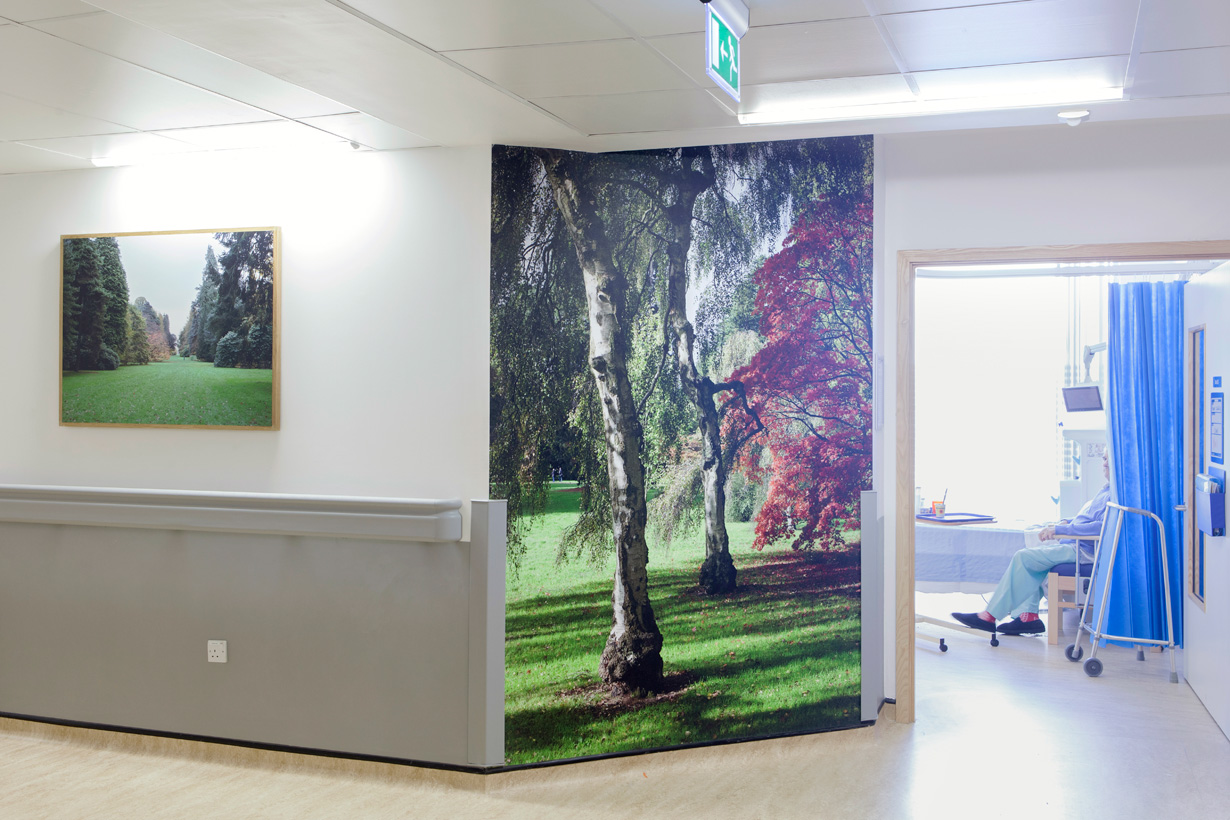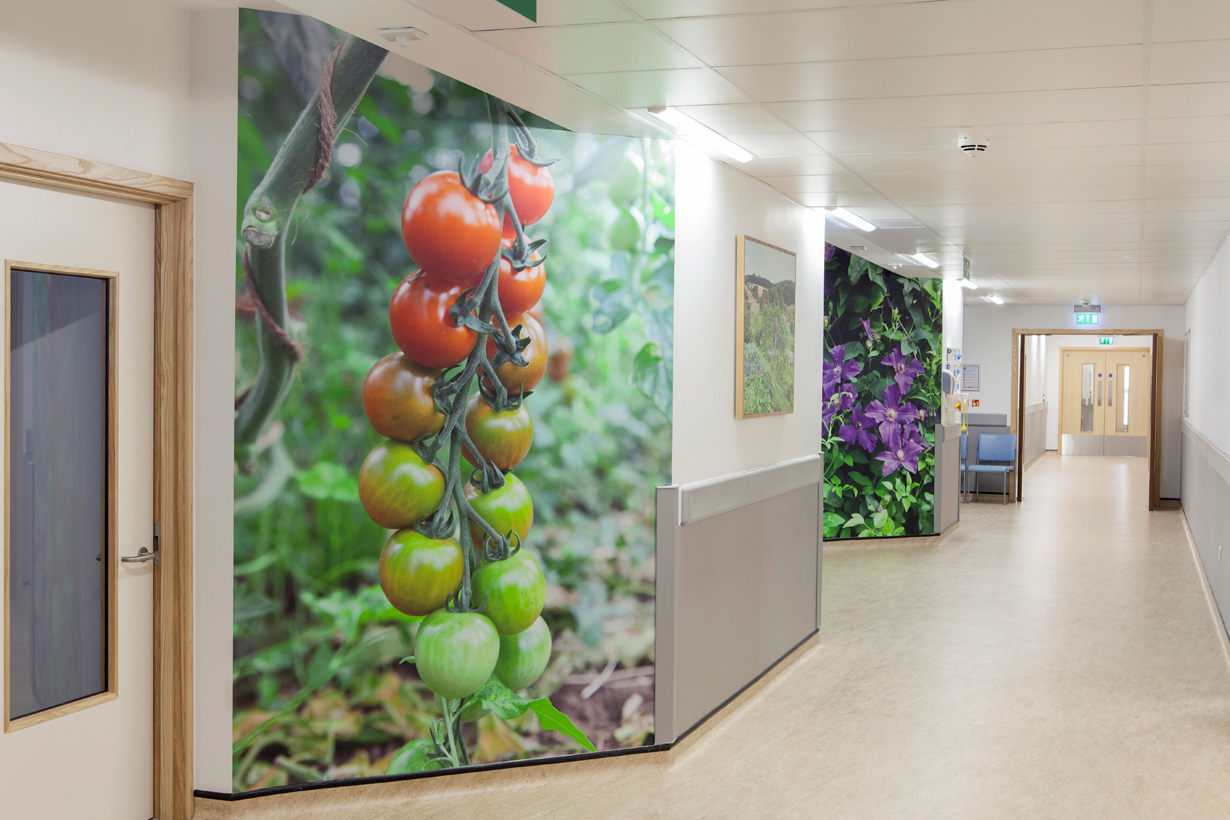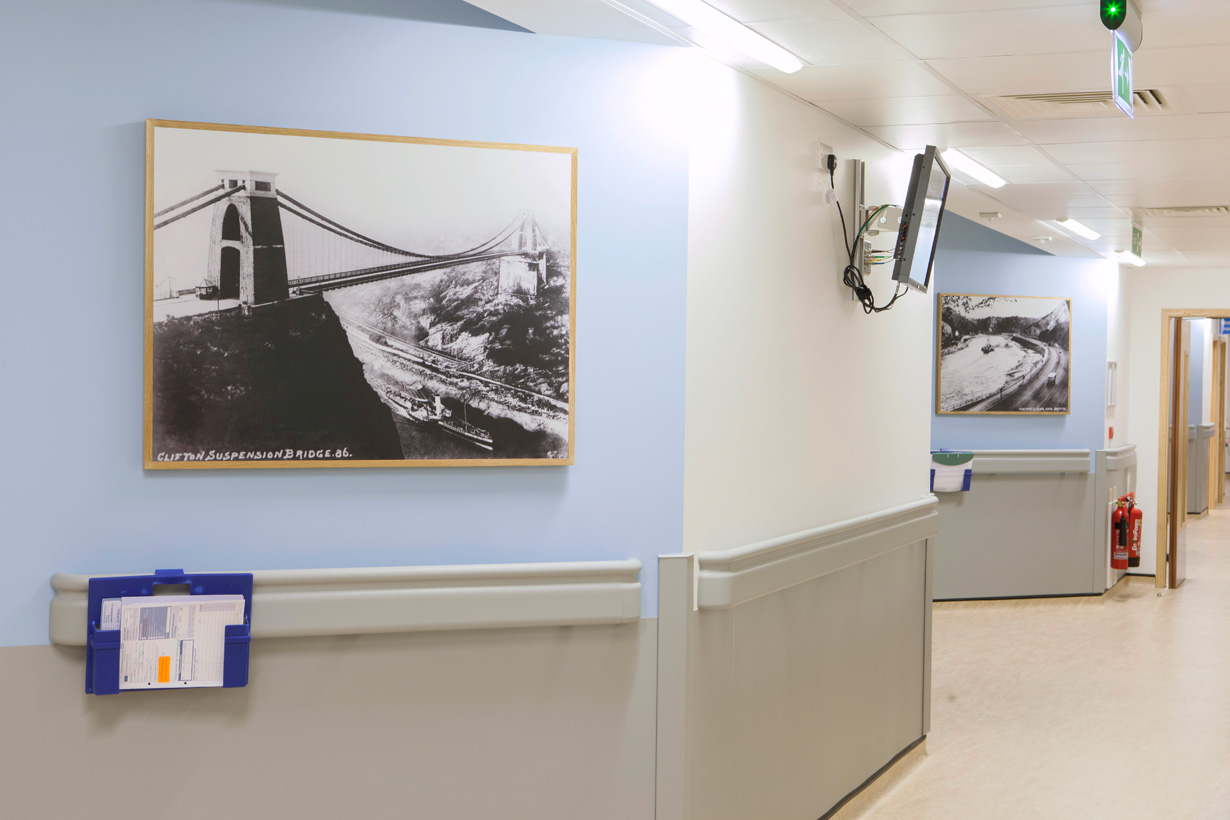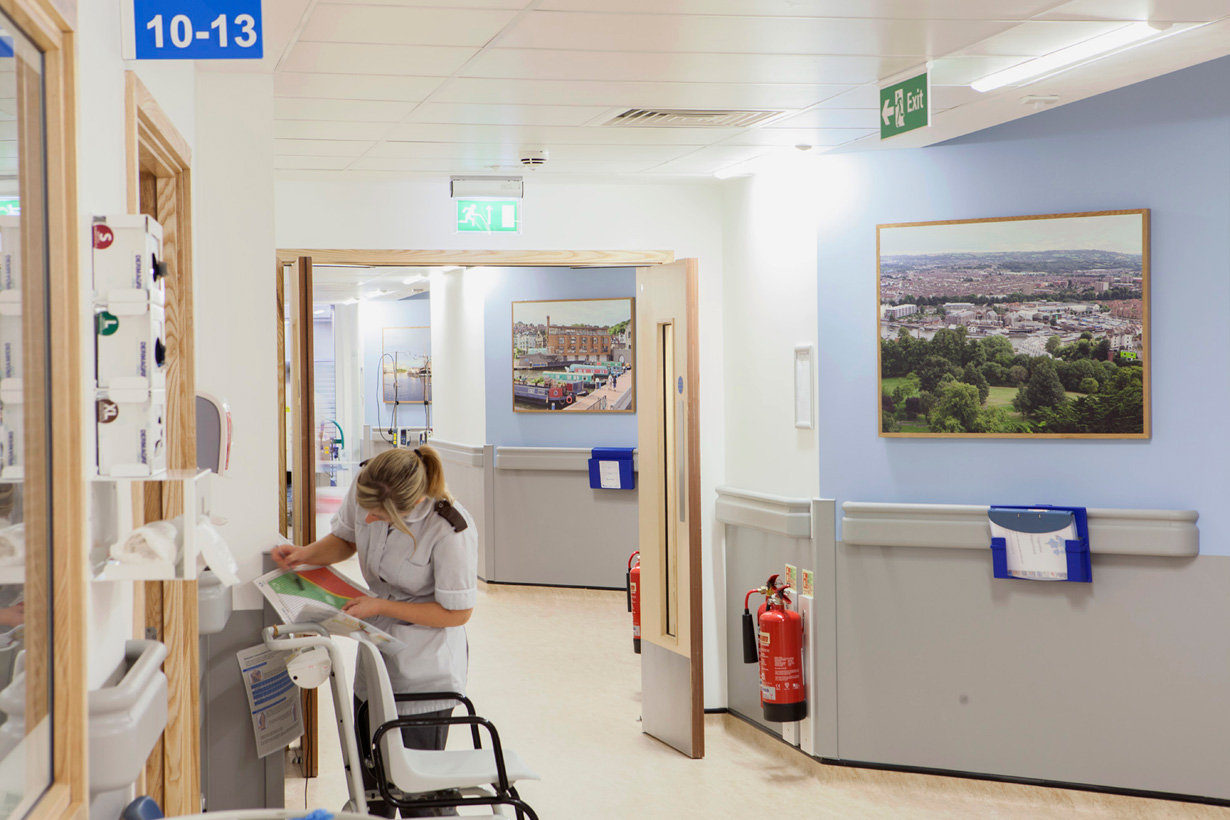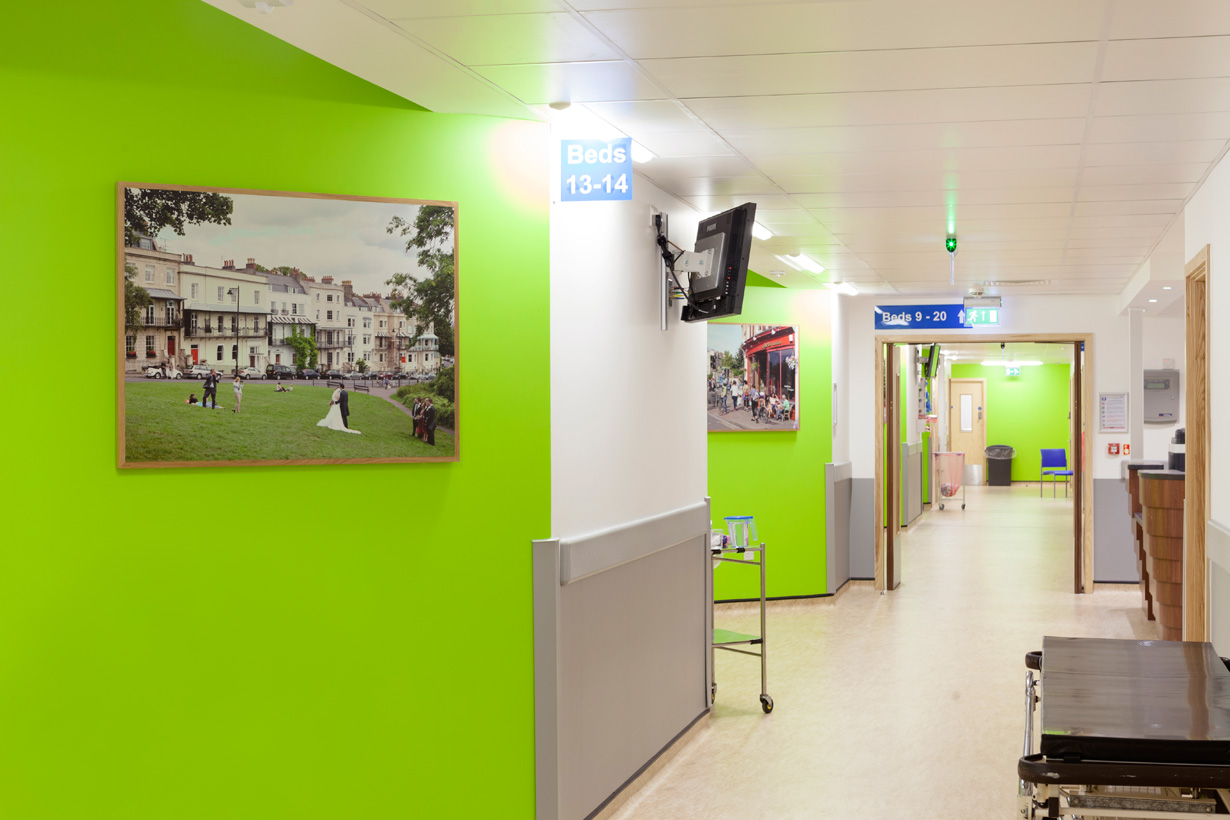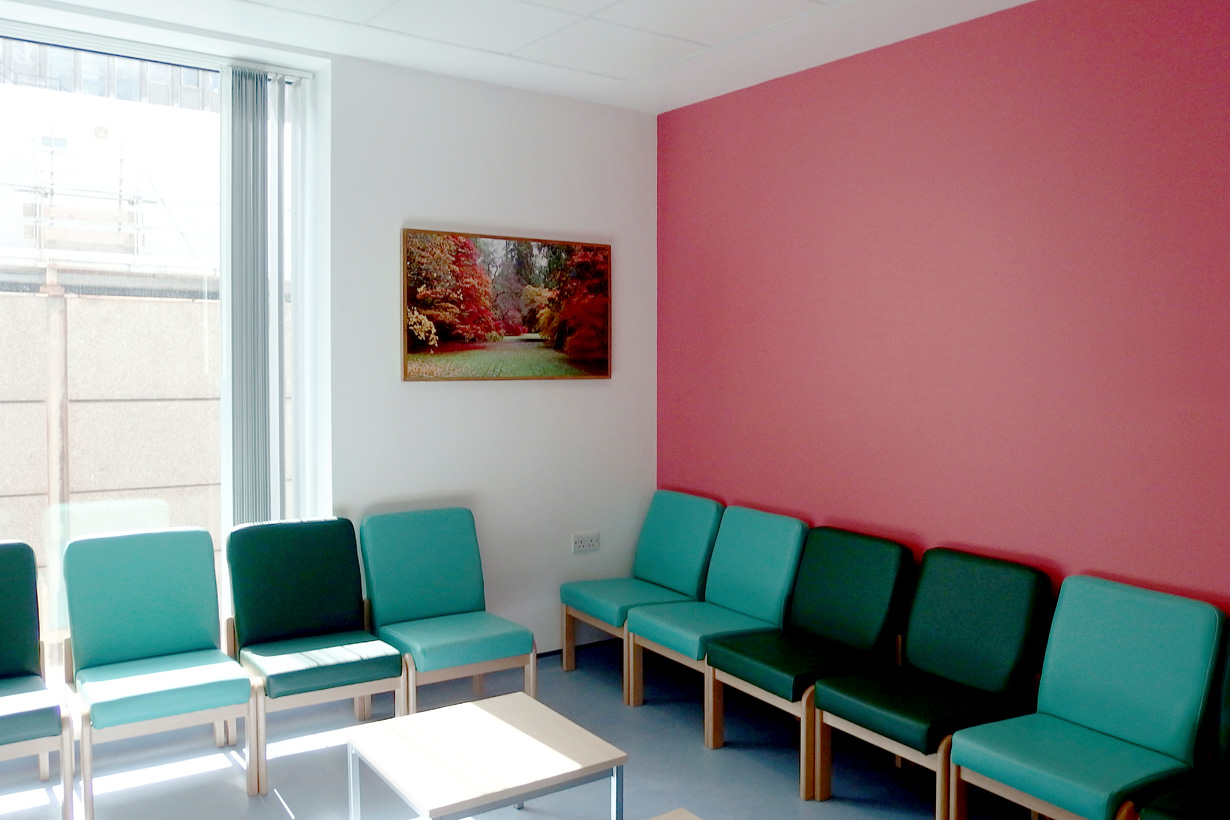 Photograph above © Bert Danckaert
There's just one more week left to see my Pierdom installation at the Breda Photo Festival.
Here are some installation shots from the display, © Tino van den Berg.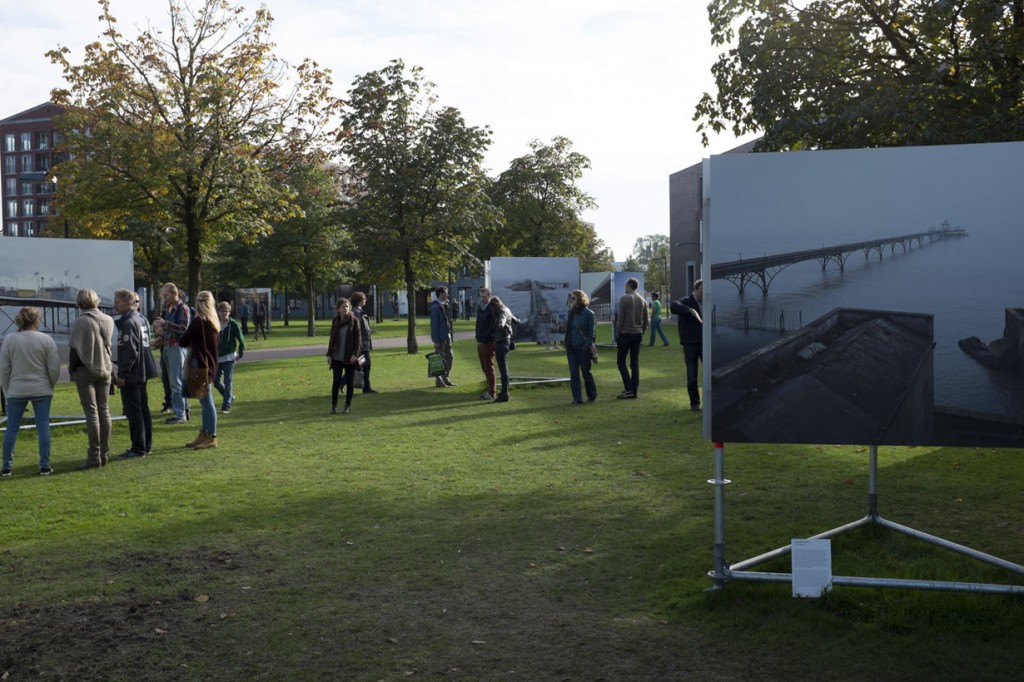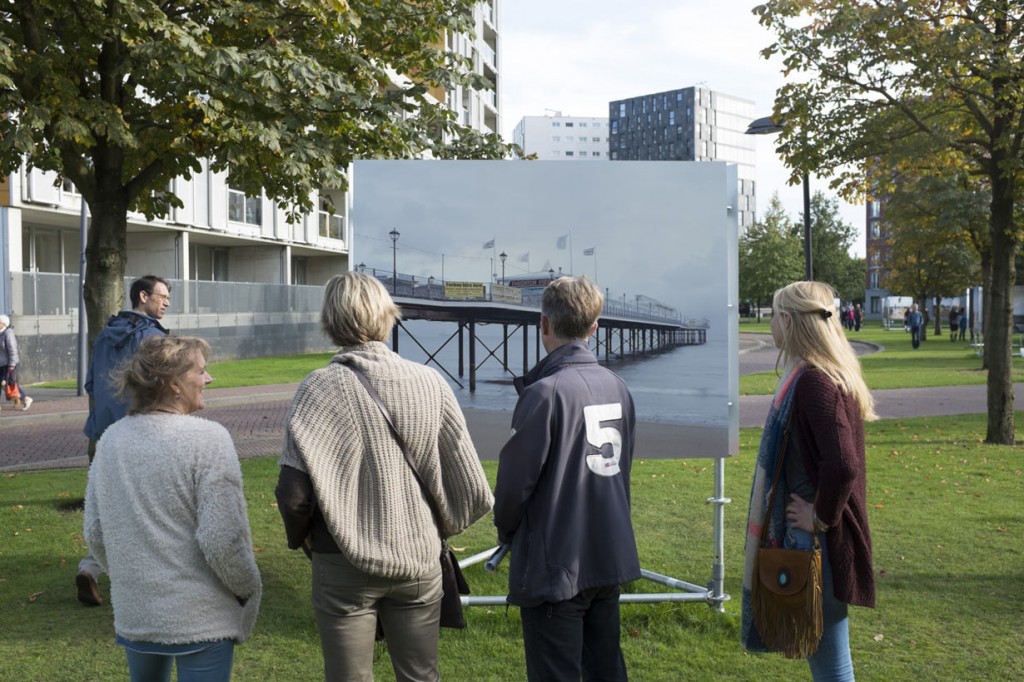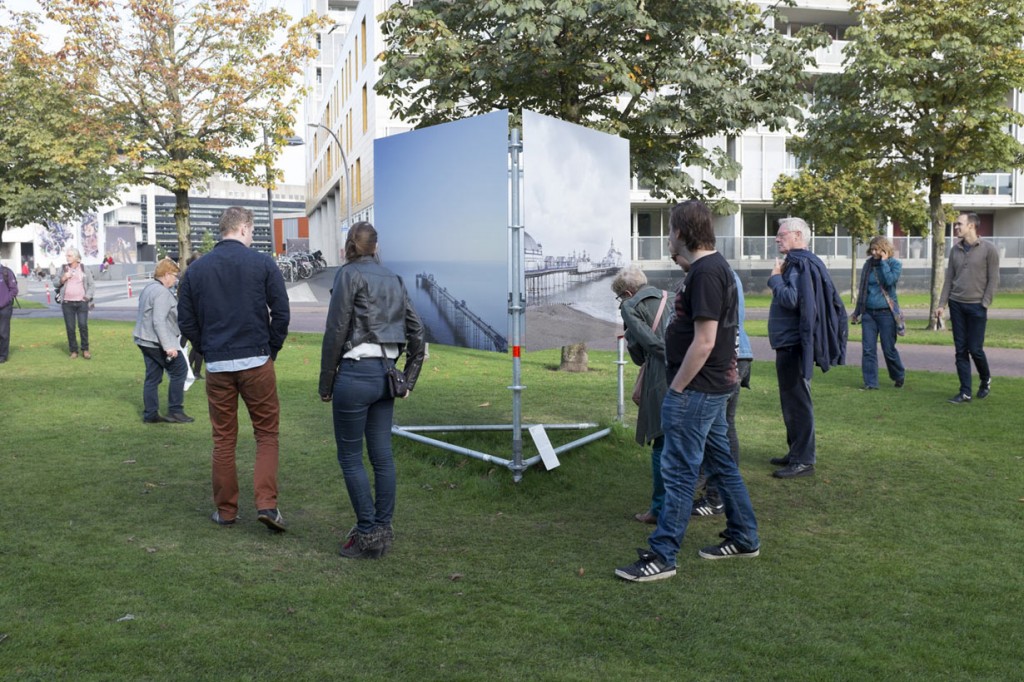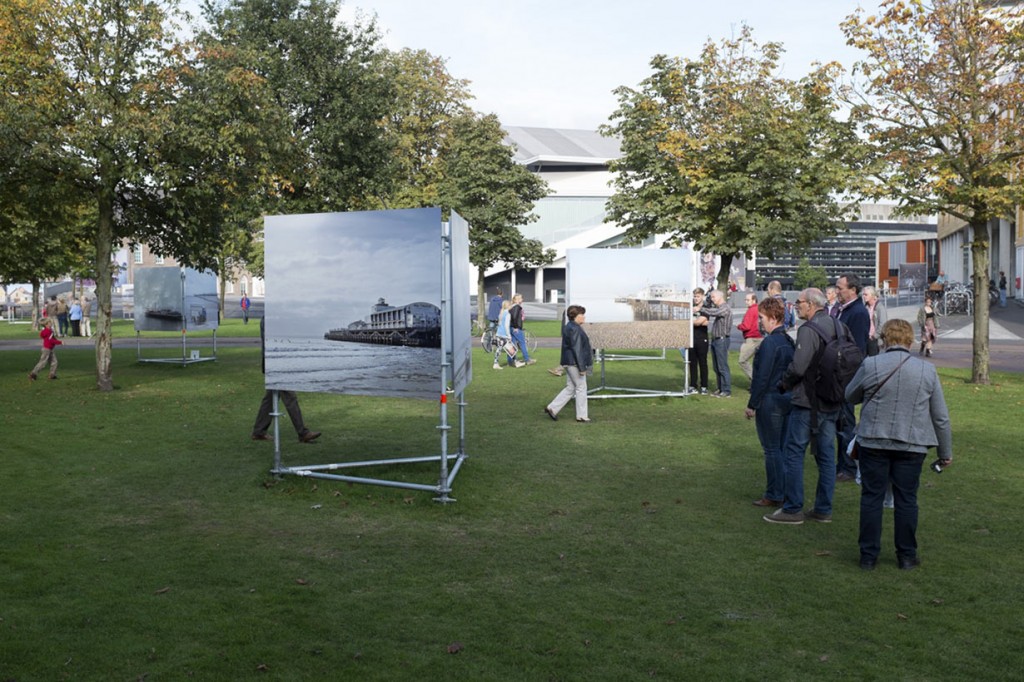 The respected Collector Daily, reviews Pierdom exhibition at Klompching.
The exhibition runs until 21st December 2013
JTF (just the facts): A total of 9 large scale color photographs, framed in white and unmatted, and hung against white walls in the single room gallery space. All of the works are c-prints, made between 2010 and 2013. The prints are each available in two sizes: 20×24 (in editions of 7) and 48×60 (in editions of 4); there are 3 large prints and 6 small prints on display. A monograph of this body of work was recently published by Dewi Lewis (here).
Comments/Context: Simon Roberts' recent series Pierdom is a terrific example of a photographic project that functions best when seen together as a group, either in book form or as a gallery show. While each of Roberts' well crafted images of English seaside piers can of course stand alone, the ideas that form the foundation of the project come through more clearly when the images can resonate with each other.
My first reaction to Roberts' effort to document each of the remaining 58 "pleasure piers" in England was that it had more than a passing conceptual kinship with the work of Bernd and Hilla Becher, even through their visual styles aren't remotely alike. Both have applied a patient, methodical approach to capturing vanishing forms of vernacular architecture, with the goal of preserving their details before they disappear completely. Roberts' images are a taxonomy of Victorian decorations and construction methods: sturdy pilings, arched canopies and pavilions, elegant ironwork light posts, and long boardwalks dotted with booths and carnival rides. Seen side by side, the photographs provide a comprehensive picture of these variations, and of the many modern additions and entertainments that have transformed some of the piers in recent years.
What also comes through when seen in a group is the compositional innovation Roberts' has applied to this subject. The off season piers are captured from nearly every possible angle, from straight down the boardwalk and up underneath the pilings, to down from an elevated vantage point somewhere nearby and stepped way back to see the piers in the context of the surrounding cities and land forms. There are close ups and long views, sweeping asymmetrical vistas taken from the beach, and images that revel in the atmospheric weather (fog, greyness, snow and even the occasional glory of sunlight that pokes through). The photographs find balance between land and seascapes, interrupted by the long fingers of man stretching out from the shoreline.
What resonates most strongly in these works is a sense of faded romance, of comfortable nostalgia for the quirkiness and fun that these piers represent. Donkey rides, trampolines, and the Crazy House roller coaster point to the easy going escapist joy to be found here, and the continued presence of hulking iron carcasses and algae covered concrete foundations is a testament to how ingrained in the collective consciousness these landmarks have become – better to let them rot and decay in the shallow water (and use them for an impromptu wine party) than to tear them down and forget their warm memories entirely.
All in, this is a deftly self-contained project, with a deceptively rich and sophisticated set of underlying constructs. Everyone loves a carnival, and these pictures record for posterity the nuances of a quintessentially English variant.
Collector's POV: The prints in this show are priced in rising editions, based on size. The 20×24 prints range between $2400 and $8000, while the 48×60 prints range between $4800 and $12800. Roberts' work has not yet reached the secondary markets with any regularity, so gallery retail likely remains the best option for those collectors interested in following up.
Some installation photographs from my exhibition at 4RT Contemporary in Lausanne, Switzerland.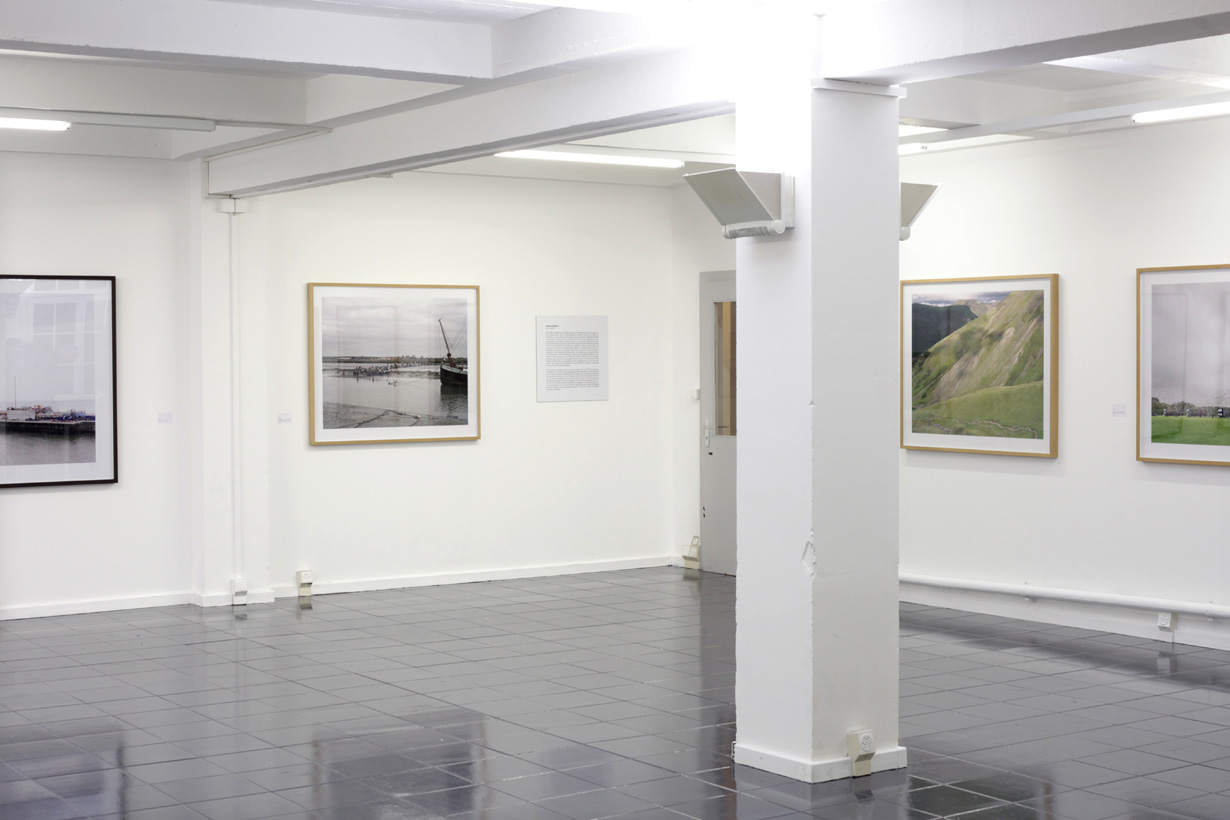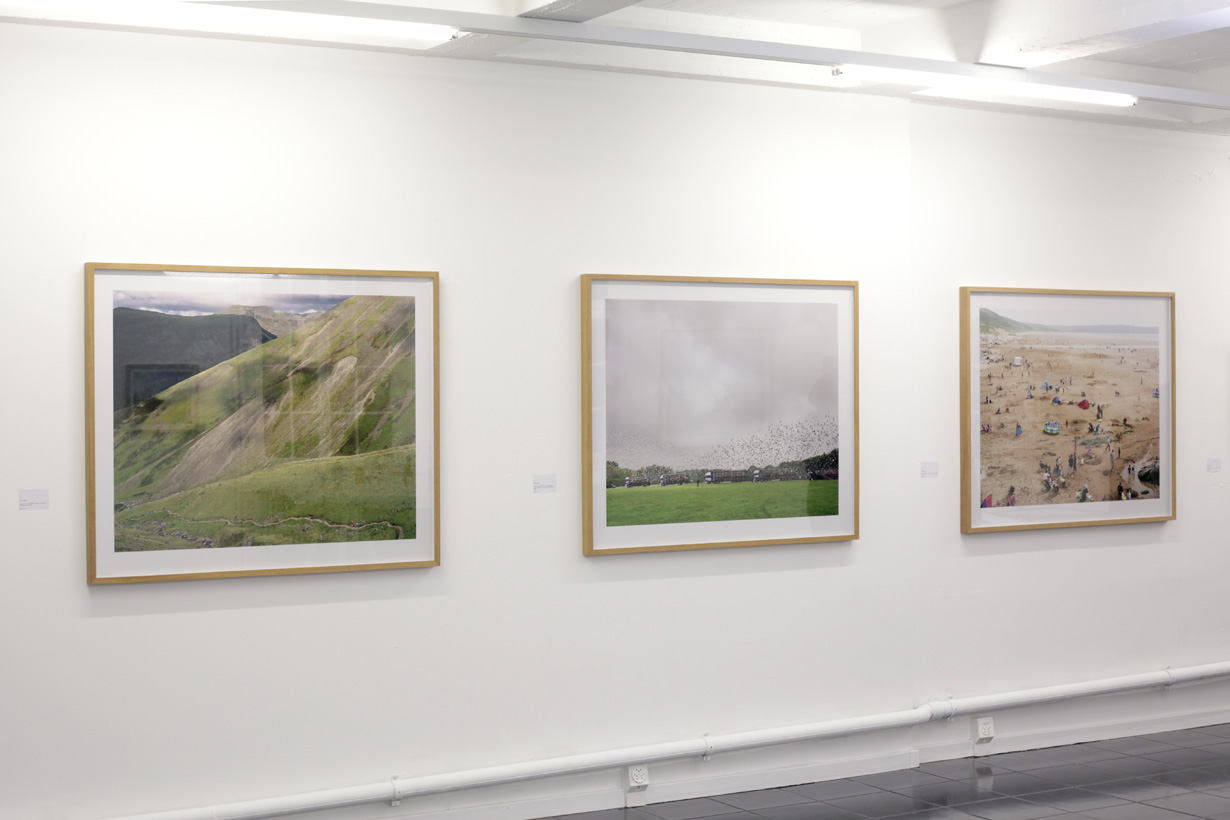 My installation of Let This Be A Sign as part of the FotoDoks exhibition in the Münchner Stadtmuseum museum in Munich, Germany. The exhibition runs until 25th November.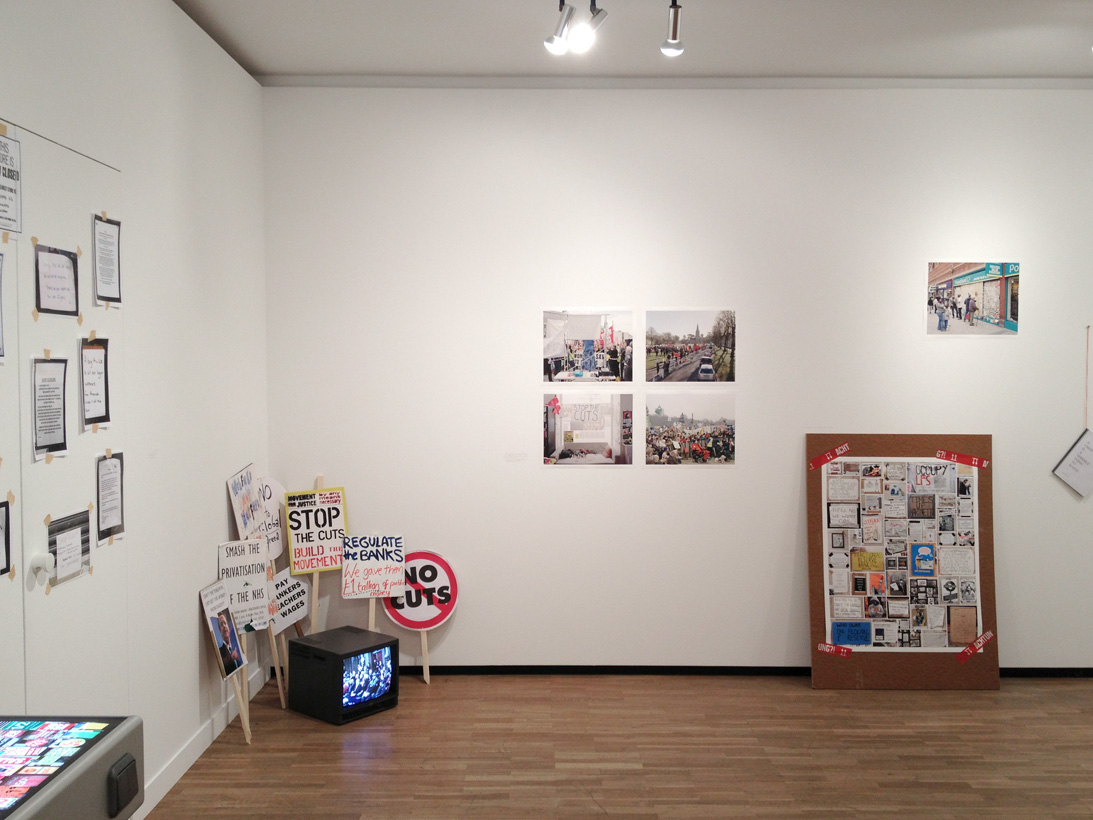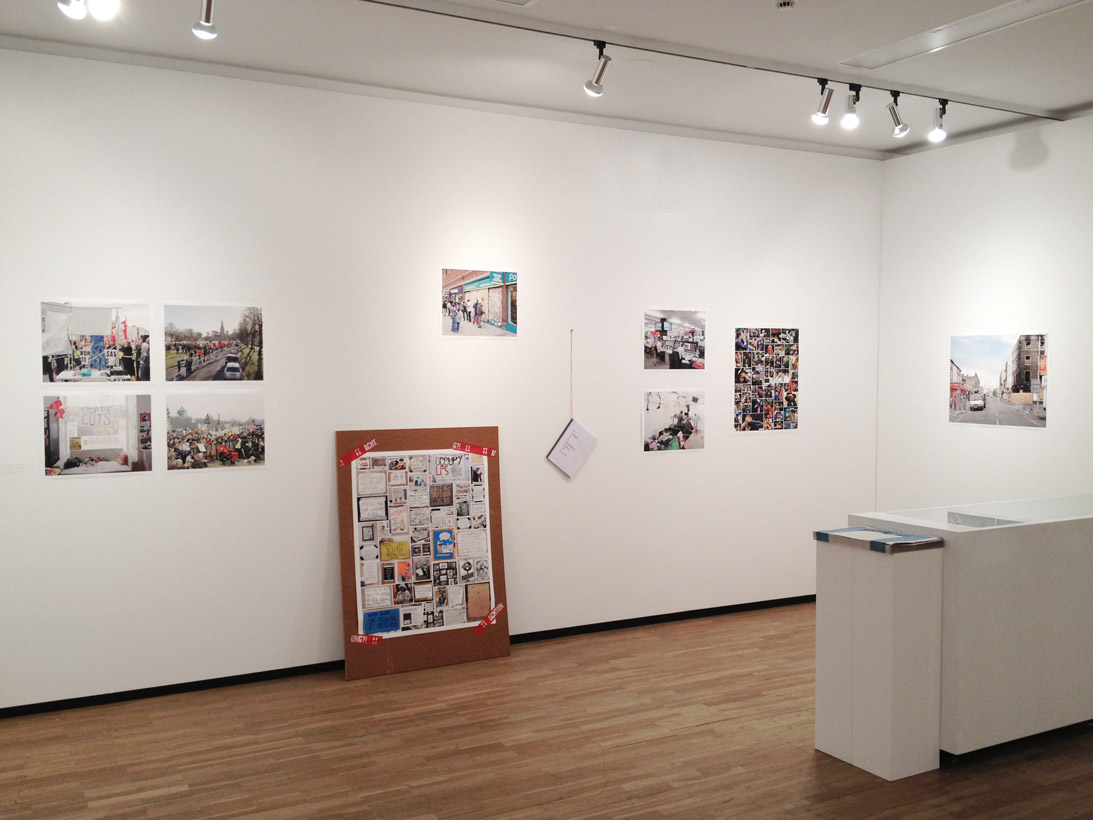 David Cameron on a tour of the Observadores exhibition in Sao Paulo, takes a look at some prints from We English.
Photograph © Everton Amaro.
Observadores: Photographers of the British Scene from the 1930's to now – in on show at Galeria de Arte do Sesi in Sao Paulo about British photography, organised by the British Council and curated by Joao Kulcsar in San Paulo and Martin Caiger-Smith in London.
Read more about the exhibition
here
.
[better_gallery template=simonroberts titles=true]