At this year's Royal Photographic Society Annual Awards held in London on 17th September I was made an Honorary Fellow of the Society, along with the photographers Giles Duley, Tim Flach, Peter Fraser and Jane Hilton.
You can find out more about the 2013 awards here.
About the RPS Awards-
The Society's Annual Awards are offered to individuals who have made significant contributions to the art and science of photography. The Society has adopted a wide definition of photography which refers to the art and science of the recording of light or other radiation on any medium on which an image is produced or from which any image may by any means be produced. Award nominations are considered by a committee headed by the immediate Past President – for the 2013 Awards this will be Rosemary Wilman HonFRPS – and recommendations are put to The Society's Council for confirmation.
The Society has made Awards to photographers and those in photography since 1878 when its Progress medal was first awarded. There are now fifteen categories (see list left each of which includes an historical record of winners). In addition The Society also awards Honorary Fellowships of The Society – an honour it first bestowed in 1895. Recent Award winners have included photographers Terry O'Neill, Albert Watson, Annie Leibovitz and Martin Parr, and individuals Philippe Garner, Sir David Attenborough and Tim Berners-Lee, alongside scientists and museum and gallery curators.
This month the RPS Journal features an interview about my practice, which you can read here.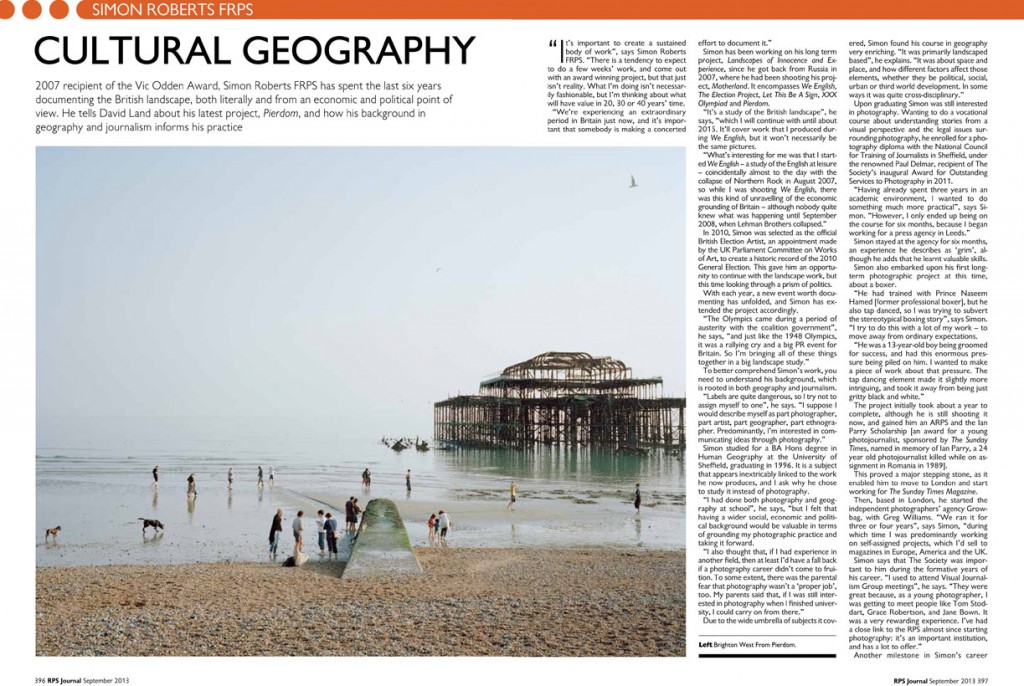 .
Photograph: The Holker family, Ashley Vale Allotments, Bristol © Simon Roberts
Simon Roberts is creating a new body of work reflecting Bristol's culture, landscape/urbanscape and history, including how these relate to Bristol's hospitals. This work will form part of the arts programme for a redevelopment of the Bristol Royal Infirmary (BRI) for University Hospitals Bristol NHS Foundation Trust, which features both refurbishment and new building.
For this project, he will engage with both the hospital and local community and collaborate with cultural partners, including M-shed, Artshine and Ffotogallery. It is due to be completed by August 2014 to fit in with the opening of a new ward block as part of the redevelopment.
This commission has been funded by Above & Beyond, the Trust's charitable fund, which is funding artworks to create a nicer environment for staff and patients in key patient and public areas across the development.
More information on the commission can be found here.
MC2 Gallery will be showing framed prints from We English and Pierdom at the upcoming Milan Image Art Fair, which runs from 4-6th May.
My print 'South Downs Way, West Sussex, 2007' from We English (above) has been chosen as a finalist for the BNL – BNP Paribas Group Award, the winner of which will be announced during the Fair.